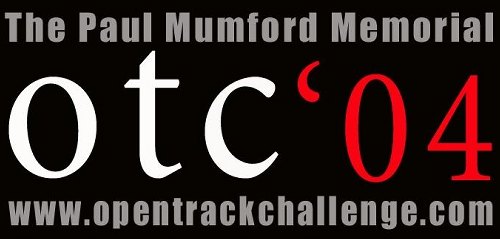 Can You Conquer These Tracks?
(Update: Jan 23, 2004. Date/track change!)
| | | | | |
| --- | --- | --- | --- | --- |
| Las Vegas | Willow Springs | Thunder Hill | Infineon (Sears) | Buttonwillow |
Five World Class Tracks in Five Days - April 18 through April 22
This is the 3rd year of the highly successful Open Track Challenge. It is the best possible motorsports vacation in the world. In one week, you will race you car at five of the best tracks in the nation. At the OTC, you can be a newbie/intermediate driver improving your skills, or you can view it as an opportunity to duke it out with some of America's best club racers. In order to experience these five tracks, you would normally have to give up five weekends to make it happen. We are gonna drive them all in five days, Sunday through Thursday, April 18th through April 22rd. It will be one glorious week of driving at high speeds at spectacular road racing courses.
2003 Unlimited 1 Champ
Radical SR3

Johnson/Dalen/Morris
2003 Touring 1 Champ
Mosler Photon
Bragg-Smith/Vietro
We will start at Las Vegas, on the Derek Daly roadcourse that has been expanded to 2.4 miles. Next up will be Willow Springs Raceway, the fastest track in the West. Next will be Thunderhill, a favorite of club racers. Then off to Infineon (formerly Sears Point), one of the most challenging tracks in the world. We will be ended the event at Buttonwillow Raceway, that has a good combination of twisty turns and high speed straightaways.
2003 Unlimited 2 Champ
BMW M3

Smith/Arnold
2003 Touring 2 Champ
Acura NSX

Hardee/Arnold
There are three main divisions that you can run in, and there are multiple classes within each division for you to compete in. The Touring Challenge is for those people who want to drive their car between each track and compete on street tires (tire wear rating higher than 140). They will have four sessions at each track to post their fastest 3 laps to compare against other people in their class.
2003 Unlimited 3 Champ
Datsun 260Z

Coffey/Lampe
2003 Touring 3 Champ
Honda S2000

Hayashi/Messley/Rhoades
The Unlimited Challenge is for those people who want to run race tires on their car, and want the option to tow their vehicle between the various tracks, and want to compete for three fastest laps at each track. They will have four sessions at each track to post their fastest 3 laps to compare against other people in their class.
2003 Unlimited 4 Champ
BMW 328

Chang/Lee
2003 Touring 4 Champ
BMW 330i

Yoo/LeFrancois/Foo
New for this year is the OTC Grand Prix (race group). You can run any tire and you can trailer your car between tracks. You must have a full roll cage, as this is full on wheel-to-wheel racing like you see on television. You will be competing at the Top of the Pyramid of Speed against experienced club racers. The daily schedule for the race group will be a practice session, a qualifying session, and a 30 minute final race each day, extended to 50 minutes on the last day.
2003 Touring AGT Champ
Ford Mustang

Newton/Morley
Unlimited AGT Champ
Shelby Cobra CSX4180

Rogers/Barnard
Three Divisions to Choose From:
TOURING CHALLENGE
Time Trial

UNLIMITED CHALLENGE
Time Trial

OTC GRAND PRIX
Wheel-to-Wheel Racing

Street tires – must drive car to each track

Any tire – trailering car is allowed

Any tire – trailering car is allowed

Time Trial – use four run groups to get your 3 fastest laps at each track

Time Trial – use four run groups to get your 3 fastest laps at each track

Wheel-to-Wheel Racing
Practice, qualifying, and race at each track

Requirements: Helmet, fire extinguisher, gloves. Neck restraint recommended

Requirements: Helmet, fire extinguisher, gloves. Neck restraint recommended

Requirements: Helmet, racing suit, fire extinguisher, gloves
full roll cage. Neck restraint recommended

$1800 if paid before December 6th. $1000 down before Dec 6th locks in this "early bird" price. Remainder due Jan 31.

$1800 if paid before December 6th. $1000 down before Dec 6th locks in this "early bird" price. Remainder due Jan 31.

$2000 if paid before December 6th. $1000 down before Dec 6th locks in this "early bird" price. Remainder due Jan 31.
(Race group cost more due to insurance regulations)

$1900 if paid after December 6th

$1900 if paid after December 6th

$2100 if paid after December 6th

$2000 if paid after Jan 1st

$2000 if paid after Jan 1st

$2200 if paid after Jan 1st
Some initial predictions are the following:
Touring 4, Unlimited 4, and Race Group 4 are wide open, as the BMW 328/330 was upclassed to T3, U3, and R3. So there will be a big battle between the Miata/Honda Civic drivers for honors in these classes.


Touring 5, Unlimited 5, and Race Group 5, have been added for those VW Beatles, Spec RX-7, Mini-Cooper, Ford Focus, etc. Another wide open class.


A lot of last year's veterans from the Unlimited classes will probably move up to the race group, thus leaving lots of potential podium spots up for grabs for some new guys to win their class.


The OTC Grand Prix is going to look like a mini-LeMans race, with various cars on the track at the same time, with great battles within each of the Race Group classes.
Go to www.opentrackchallenge.com for more details, pricing, rules, classes, smack talking, etc. The Flamemobile will be entered in the OTC Grand Prix, so I can duke it out with the rest of the wheel-to-wheel drivers. Not sure if the S2000 will be entered in Touring 3 again, due to budget restraints. I am sure the competition will be tougher in T3 this year, so I gotta sit around and think about how to win one of the time trial classes without spending a lot of money.....
Here is a 1.4 meg Word document (two page flyer) that you can download, manipulate, and print out so you can convince your friends/sponsors to help your race team. I'll be dropping these off at race shops around Southern California to generate more entries. Hey.......you could help also by printing these out and getting them to anyone you know that might want to partake in 5 Tracks in 5 Days.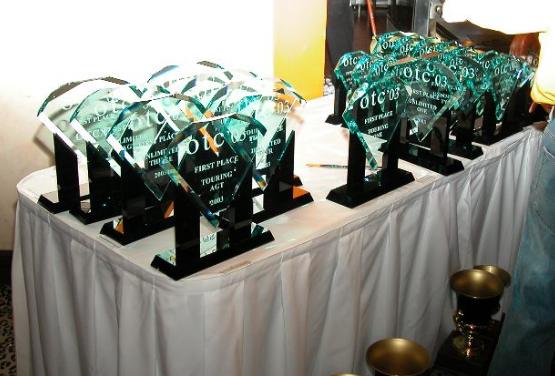 Who Will be King of their Class at the OTC 2004?
In 2002, Paul Mumford took 2nd overall at the Open Track Challenge (OTC) using street tires. In 2003, PMUM again took 2nd overall at the OTC in a Viper Competition Coupe. Six months later, PMUM entered the SPEED World Challenge GT race at Laguna Seca against Bill Auberlen, Randy Pobst, Hans Stuck, Michael Galati, Boris Said, etc. He gave everyone a beat down and took 1st place. OTC is committed to developing the road racing stars of tomorrow. Is it you?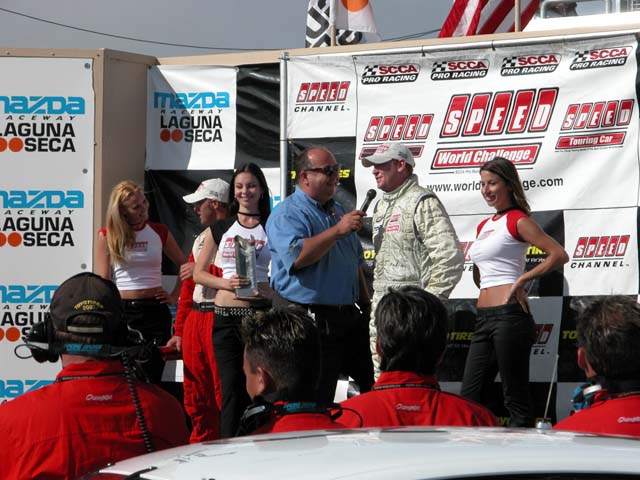 Mumford taking the first place trophy at the SPEED World Challenge GT race at Laguna

Speaking of Mumford, there is a nice article in Sports Car International written by Peter Brock. By the magazine if you get a chance. It was scanned and posted at Viper Alley. A lot of people were asking for more stories about PMUM, so I was able to get another one from Brett, who was a good friend of Mumford's. Brett's story goes like the:

Apparently NOT everybody knew that PMUM was the man....
Paul and I were at Willow Springs as he was out there on "Open Bike Day". He brought his R1 race bike and his new little toy, a Honda CBR600 F4. As his mechanic (known as Motorcycle Dave) was checking out the R1 Paul decides to take the little stock bike out with the big boys. At open bike day they apparently run you by lap time and not CC's. So Paul tapes up the glass on the little stocker and decides to head out. The conversation at the pit exit went something like this...
Starter: You can't go out now
PMUM: OK, Why?
Starter: These guys are running :26's and below. We have a :30 and below and another class that's above :30's.
PMUM: Yeah, I'm aware of that. Isn't this the below :30?
Starter: Yeah, but these guys are all running :26's and they like it that way.
PMUM: Sounds great, let me out with them.
Starter: (in disbelief and loudly) What? No you're not going out with these guys.
(Voice from background) track worker: Paul, what's up? (apparently recognizing the completely thrashed leathers Paul insisted on wearing)
PMUM: This guy won't let me out.
Track worker: You must not know Paul. The fastest club racer here a couple of years ago....three years running.
Starter: He's on a stock 600 and wants to go out now.
Track worker: Have fun Paul, and be nice.
So I find my way to the bleacher section at turn one to watch Paul. As he comes down the front straight the other bikes are blowing by him. I'm thinking Paul has lost the magic....
Then while all the others are braking Paul's still tucked, and slips by about three bikes that are "mixing it up". I get a good little laugh and watch him head to turn two with about four more bikes just ahead of him. As he leans it into the big sweeper I hear a bike horn. Beep beep beep beep, and it's PMUM the layin' the wood to the big boys giving while giving them a friendly reminder that he's going underneath them. This is turn two, knee down and about 15mph faster than the next fastest bike. I watch him proceed to embarrass the field until the back stretch as the bikes start to catch him (giving up about 30 mph of straight away speed to the bigger "race bikes"). He gets to turn 8 and pulls the same stunt, but now at 150mph with knee on the ground, and as he comes out of turn 9 I realize he's "flashing the brights" as well. After completely humiliating the field (horn and lights EVERY lap) he comes in and thanks the starter for "letting him out". And the day had just begun...
MISCELLANEOUS STUFF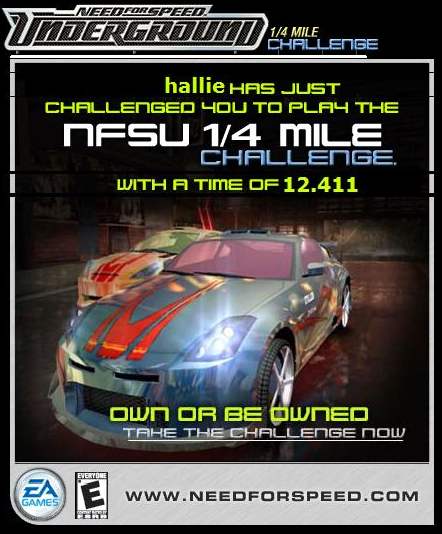 This game sucks
Dumbass Racing Game.
BP and Brett are harrassing me about this drag racing game located at http://nfschallenge.ea.com/. I can't get below 12.5, and they keep emailing me with their 1/4 miles times, which are substantially faster than me. I almost break my keyboard by pressing the keys too hard to get below 12.5. I am somewhat convinced that like most games, there is a way to "cheat" around the game and thus post a faster time.


You haven't hit the big time until people try to parody your site!
I tried using NOS in all the various gears, different shifting points, etc. No way you can get below 12.4 or so without cheating. I bitch and moan about the game sucking. Then BP and Brett find a worthy competitor for me at Hallie Racing.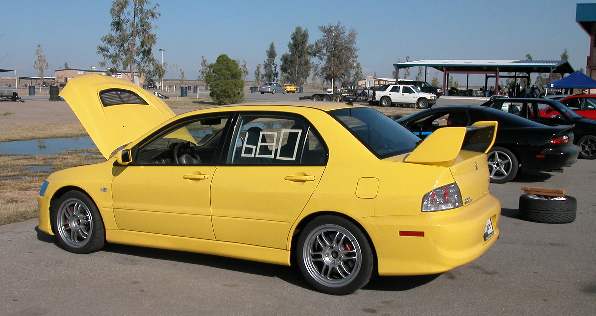 Nice Evo 8 at the SpeedVentures event
SpeedVentures at Buttonwillow
Speedventures had a one day event on a Friday at Buttonwillow. I didn't have any decent racing tires laying around, so I figured that I would pass on the event. But then the weather report said that there was a 60% chance of rain. Yeah! Speedventures was running the course config CCW #13 with the Bus Stop, Magic Mountain, and the Sweeper turn. I figured that I would just drive up on the street tires, and kick some ass in the rain. Just in case it didn't rain, I had John Wurth bring my extra set of rims with year old, bald Hoosiers on them in his SUV. I was really looking forward to sliding around in the rain.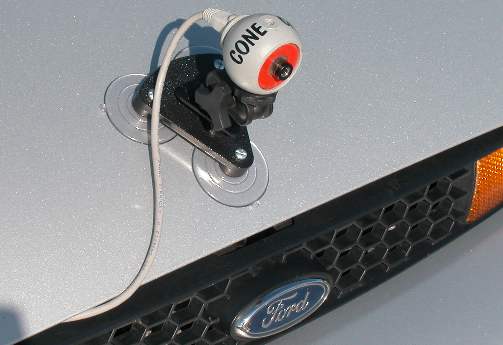 Cool Cone Camera with suction cups
This is the first time I drove up to the track without a support vehicle in quite some time. It was quite fun buzzing up in the S2000. I left my house around 5:00 a.m., and drove with the top down and the windows down.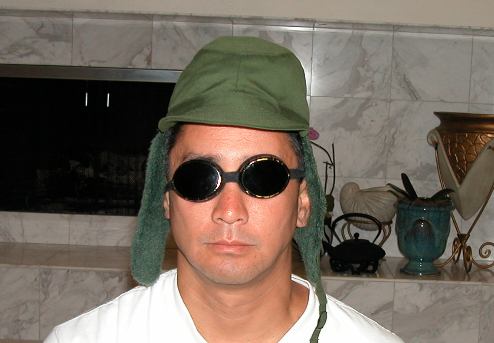 If you see this in your rear view mirror, you should not be in the fast lane
I wore long underwear (it was probably 40 degress in the mountain areas), sweat pants, long sleeve shirt, sweat shirt, gloves, and the Rocky and Bullwinkle hat.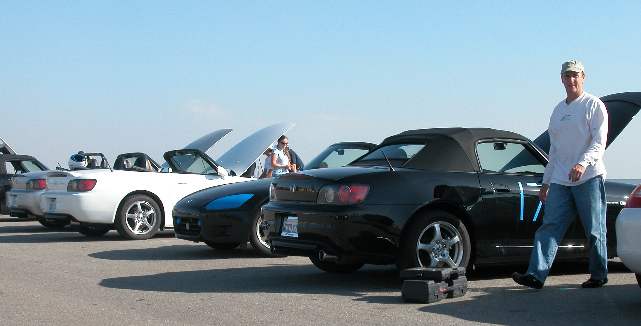 Group of S2000 drivers ditching work on a Friday
Unfortunately, I get to Buttonwillow, and it is a beautiful sunny, 70 degree day with no wind. Sucks to have crappy tires. I go out there and run a respectable 2:07.858 before cording a Hoosier after three sessions. I throw on the non-shaved street tires for the other three sessions (hey, it is Speedventures, you get a lot of track time), and run 2:10.x. Not bad.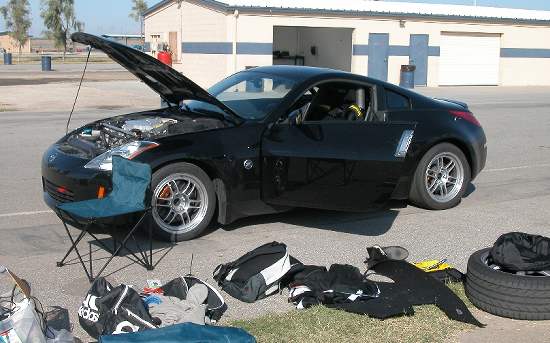 A 350Z that had a faster lap than me at 2:07.746. Next time, I will have good tires!
But it looks like the Speedventures S2000 guys are getting really fast. Richard L. beats me for the first time by a tenth of a second. Steve K. in a black 350z with race tires also beats me by a tenth of a second. Right behind me a bunch of other S2000 guys that used to be "slower" and they are getting a lot faster. Competition is heating up! I think all the Sport Compact car owners fear the S2000 guys at road racing tracks, because the S2000 guys will give them a beatdown that they won't ever forget. As a matter of fact....I think the owners of all cars made in Japan fear the S2000 drivers! <grin>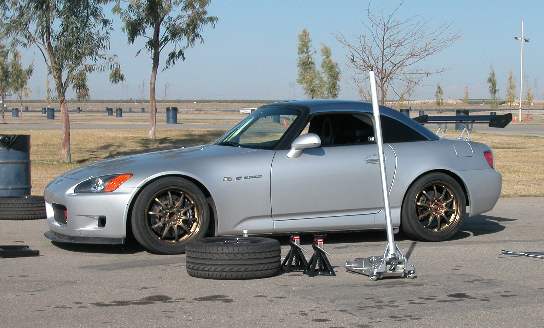 UL's highly modified S2000 checks in with a 2:06.2
Kennedy takes top time of the day with a smoking 1:58.6! Event results are here.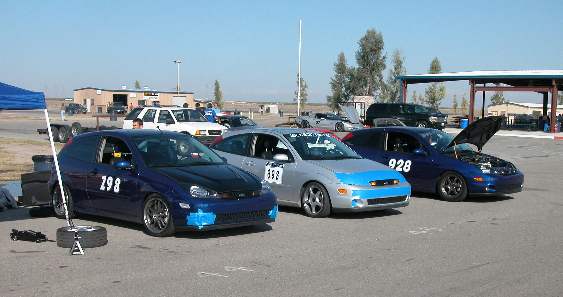 A pack of Ford Focus drivers showed up also.
Get your Christmas gifts at the Pulp Store!
You know you are gonna be running around on December 24th, running into a Savon's or some other store that is open until midnight when you forget to pick up a gift for someone. And there will be 50 other people waiting in that line to buy a last minute gift. Stock up now at the Pulp Store!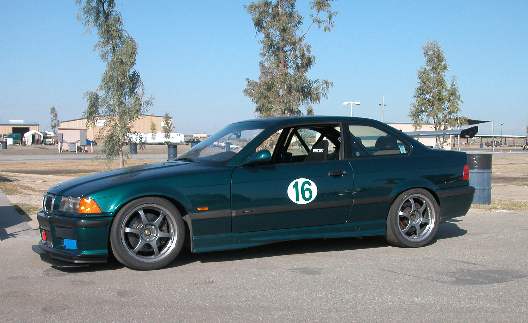 BMW M3 with splitter and wing
Monroe still has some of those cool racing plaques available to give to your racing teammates, pit crew, and mechanics. You can order the plaques at the Pulp Store. And, if you need any trophies or awards, don't forget to shop at Richardson Trophies, so he can sponsor his race car for the 2004 season!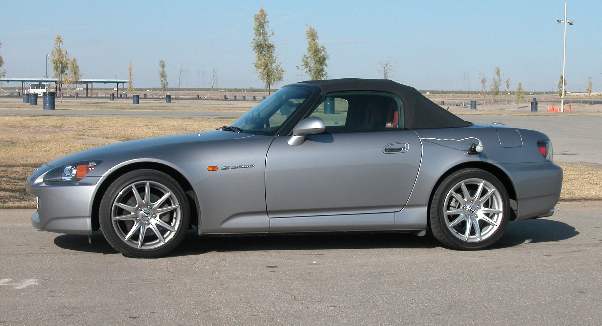 2004 S2000 with cone camera
Next Event?
Not sure when the next event will be. The NSX should be out of the shop next week. OTC Cheating Bastard tactics go into full swing starting today.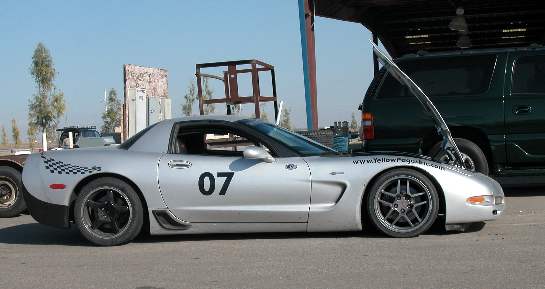 Wurth is getting faster with his Vette...but Kennedy's still whupping his ass!
Go Fast Lab
The Go Fast Lab has expanded their product offerings for S2000 owners. Rumor has it that they are rounding up S2000 owners to participate in the Open Track Challenge, and will be giving out prize money to the top S2000 drivers. They would like to run a "mini-series" within the Unlimited Division, using their own rules. More info here. If there is a group of other marques out there that want to have their own rules within a Division/Class of the OTC (spec tire, minimum weight, etc), contact BP on the OTC board.
We hope you all had a great Thanksgiving! We'll have another racing story in a couple of weeks!