SKUSA Winternationals at California Speedway - January 11 & 12, 2008
and at Qualcomm Stadium - February 2 & 3, 2008
"The New Season Begins"
Who Will be the Winternationals Stock Honda King?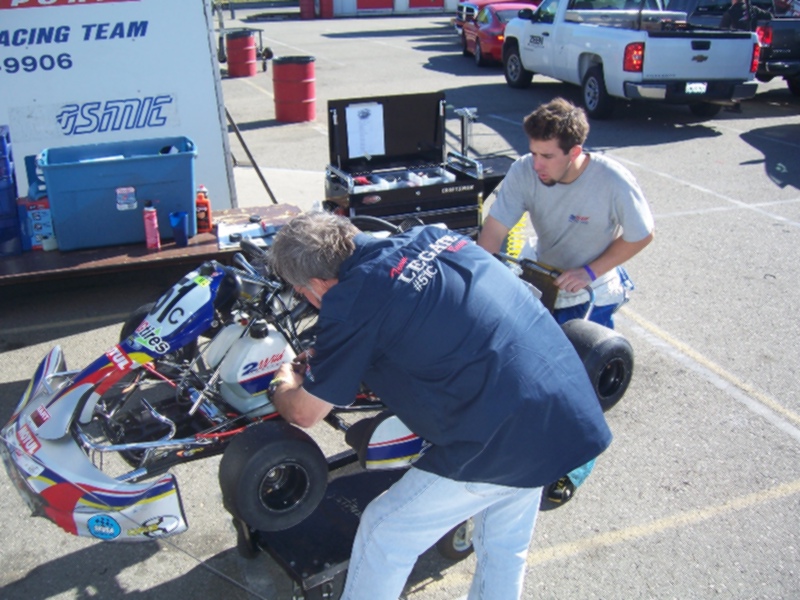 |
Team Legate - The New Big Boys on the Block?
Yeah yeah, I know, another late update. I'm two months behind, so I'll do a quickie update. I'll say it up front: The Loser Cam didn't work very well at Winternats Race 1 & 2 at Cal Speedway. I accidentally cut a cable, I so I had replacement cables shipped to me, but they misinterpreted what I needed and sent me wrong cables. I tried to use an older camera for the rearward facing view, but that didn't record very well. At Winternats Race 3 & 4 at Qualcomm, the buttons seemed to freeze up on the mini-DVR that I have been using. No problem, I got a backup mini-DVR. Ooops. That one gave me a "Memory full" message, no matter what I did, so I don't have any Loser Cam footage from the Qualcomm races either. Plus, at Qualcomm, the microphone wasn't working good on the forward facing camera. I shipped both mini-DVRs back to helmetcamera.com who said they would fix them. Hopefully everything will be back to normal for Winternats Race 5 & 6. That's another reason why the update is late.......I don't have any great footage. I don't have a lot of good pictures from either event, so I'll throw some filler pictures in this chapter.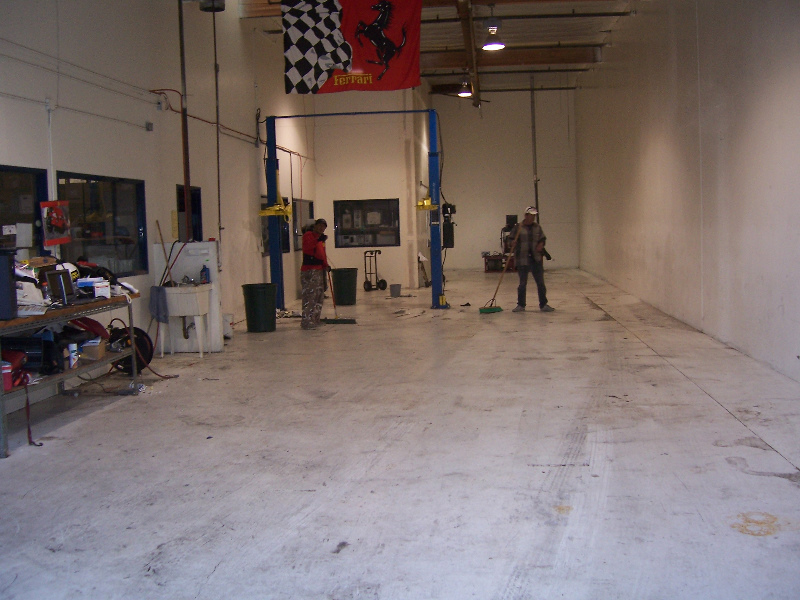 Wayne wants to re-paint the Pulp Racing floor. Pain in the ass to move all the stuff out!
Race Calendar for 2008
The Superkarts USA (SKUSA) calendar for Southern California is the following:
Janaury 4 - SKUSA WinterNats #1 Calspeed
January 5 - SKUSA WinterNats #2 Calspeed
February 3 - SKUSA WinterNats #4 Qualcomm Stadium in San Diego, CA
February 4 - SKUSA WinterNats #4 Qualcomm Stadium in San Diego, CA
March 8 - SKUSA WinterNats #5 CalSpeed (Grande CCW) in Fontana, CA
March 9 - SKUSA WinterNats #6 CalSpeed (Grande CCW) in Fontana, CA
March 29 - PKC #1 CalSpeed (Grande CCW) in Fontana, CA
April 26 - PKC #2 Buttonwillow in Buttonwillow
May 31 - PKC #3 Willow Springs (CW) in Willow Springs
June 28 - PKC #4 CalSpeed (Nuovo) in Fontana, CA
July 26 - PKC #5 Qualcomm (West Course) in Santa Maria, CA
August 30 - PKC #6 Santa Maria in Santa Maria, CA
For the Winternats, I'll probably run most of the events. Jeff will run a few of the Winternats event. Wayne isn't going to run any of the Winternats. We expect to do all of the PKC events, as well as drag some friends along to enter in the S4 Stock Honda class. Wayne, Jeff and I will run S3 Stock Honda. I think the PKC season opener is going to be huge, perhaps the biggest Stock Honda field ever with the exception of the Supernats. You have five weeks to get ready for PKC Race #1, hurry up and pick up a stock Honda shifter kart and get some practice in!
December 29, 2007 - Moran Raceway, R.I.P.
Our favorite race track on the west coast was shut down. There is a big-ass Lowe's distribution center next door that decided they needed to expand, and they made the Morans an offer they couldn't refuse. The Morans were leasing the land the past year(Lowe's bought it about a year ago), as Lowe's wasn't ready to pave over the racetrack at the time of purchase. The Morans got their notice in December that they are being kicked out at the end of the month, so there goes one of the best tracks on the West coast. The really unfortunate part for us is that we believe that if you set up your kart to go fast at Moran, you can pretty much dump that kart onto the Las Vegas Supernats track at Sam Boyd Stadium, and your kart setup will be pretty damn close. This is part of the reason that we think we do so well at the Supernats (plus the fact that we think we are better than we actually are). So our Cheating Bastard Supernats Test Track is demolished. Hopefully the Morans will build another track in the near future. Rumor has it that the Morans found the only way to make money in racing: Build a race track, use it for a few years, then sell the property for a huge profit to someone who needs to demolish it and build something else on the land.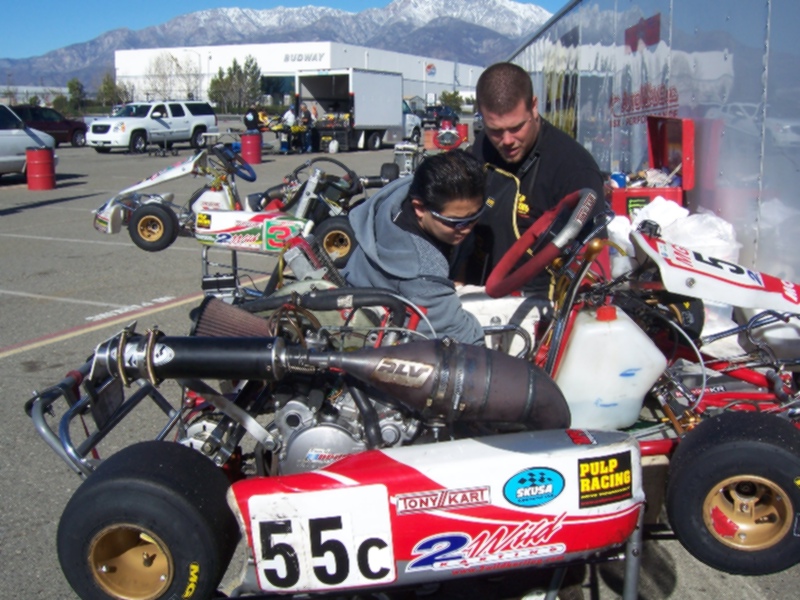 Steaman and Shimane working on my trusty old kart
A New "Professional" Kart Team is Born
There's a new Big Boy race team on the block to compete with Pulp Racing's dominance in....uh..ah...kart Internet web media photojournalism and smack talking. I guess you could call it that. Other people might call it Internet Diarrhea. (Hey, I should copyright that term "ID", as 99% of all message boards/BBS Forums are like "ID". cc.com is probably the only "ID free" BBS/forum that I know of.) Team ARG starts up a rather "prolific" racing blog. It is the opposite of Pulp Racing. I do an update every 4 weeks or so, and they do what seems like 4 updates a day! Check it out, it is quite entertaining if you have decided you have pretty much surfed everything that is worth surfing on the Internet, and you need something to read while the kids are running rampant, destroying the house. Read the ARG blog archives on the right hand side of: http://argracing.blogspot.com/ Team ARG almost makes me want to transform the NSX-Files/Pulp Racing website into lots of short updates like Team ARG. But I don't think I can compete with Team ARG in terms of web media productivity (Internet Diarrhea), those guys can pump out the uuuuhh...words! Put ARG on your daily list of stuff to read, just like the Drudge Report, MSNBC, etc. We'll have the Clash of the Titans on the track with Team ARG when the PKC season starts. Smack talking started in January, and continues on and on and on! Mike G. doing his best Euro-snob interview, and Alonso/Hamilton-like inter-team battle.

The New Year started out wet. Too much damn rain to get our usual Cheating Bastard Practice in. Wayne decided not to run the Winternats series due to cash flow problems. Wayne is real estate rich and car rich, but cash poor at the moment. We sorta boneheaded and we ended up not selling the building, and we didn't have a tenant the past 12 months. We should have just given Teddy ultra cheap rent to stay there until we potentially found a buyer. That way, we woulda had some tire money. We now have Oakwood Apartments as a tenant, and they are storing 8000 square feet of corporate furniture in the building. The other 2000 square feet are used as a secret Pulp Racing Storage facility. Also contributing to his decision not to run the Winternats is that his wife was going to be away for seven weeks in Texas for Homeland Security/INS training. At first Wayne was going to fly out with her and live in a hotel room with her and the kids for seven weeks in Georgia. But then it got switched to Dallas, which is a much closer flight. I told him that I thought that would last for about four days before he goes crazy. I was right. He did even last one hour. He decided to not go to Dallas after all, and Amy would fly home every weekend. So now Wayne becomes Mr. Mom Sunday night through Friday night. People cringe at that thought....but at least he has a nanny helping him out four days a week from 8 a.m. to 4 p.m.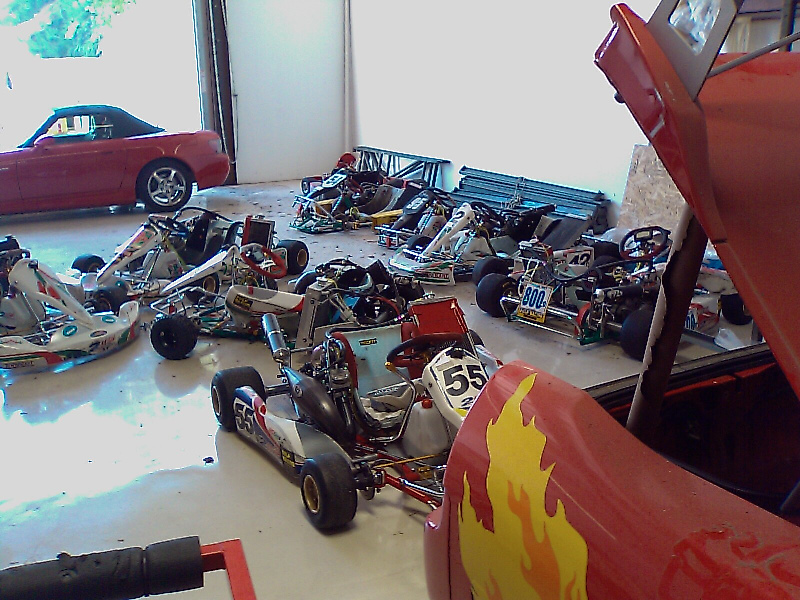 The secret Pulp Racing storage facility, hidden behind the "Oakwood Apartments" store front
(picture taken with 2 megapixel Verizon 6800 camera phone)
Sunday, December 23, 2007
A couple of weeks before the first Winternats race, Jeff and I tried to get Alex Barron to come out and help us with some driver coaching. Turns out that Alex already had a client for that day that just bought a new Birel kart. We get to the track, and we find out that it is one of our competitors, Clinton Schoombee, who beat us to Alex's services for that day. Damn! Out cheated by one of our competitors!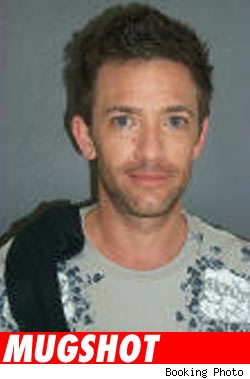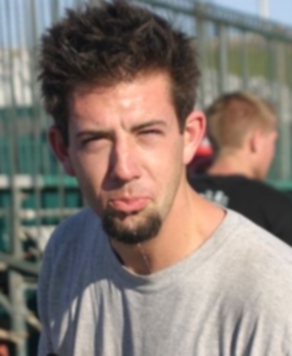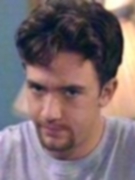 Pick the world famous S3 driver and two pictures of Bud Bundy (Married with Children)
Saturday, December 29, 2007
A week after that, we return the favor, and we get ahold of Alex Barron before Clinton does. I seem to be struggling with my new kart with a brand spanking new Swedetech Stock Honda motor on it. My theory behind the motor purchase is that I sorta believe that the Swedetech 1999 motor might be better for a tight track like Cal Speedway, where it looks like we will have six races this year with the Winternats and the ProKart Challenge. I suck at Calspeedway, so I figure it must be the motor, right? I would sell my backup Darcy motor, and replace it with the Swedetech. Alex drives it, and says that the motor feels pretty strong, and is running 47.0 in the kart. I'm struggling along at 47.6. Jeff is around 47.0 also, so I'm a good 6/10ths off the pace. Not good. I brought my old kart along just for the hell of it, as I was getting ready to sell it and recoup part of the cost of the new kart. Just for kicks, I hop into my old kart, and I run a 46.9x. WTF? My old kart is 7/10ths faster for me? I didn't get a chance to have Barron drive the old the kart, as it was too late in the day. I curse the new kart. Looks like I'll have to drive the old kart for the race next weekend, as I won't have another test day to figure out why the old kart is faster than the new kart.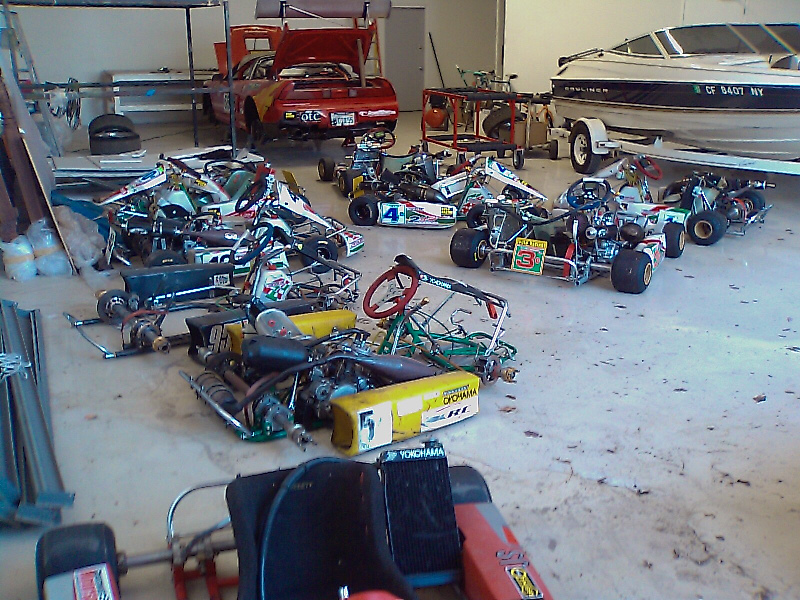 Lots of stuff everywhere at the secret storage facility
(picture taken with 2 megapixel Verizon 6800 camera phone)

The forecast for the next week is heavy rain. Jeff and I figure we'll be Cheating Bastards, and we'll setup our "B" kart for a full rain setup. We change seat position, ride height, front and rear widths, seat struts, mount rain tires, etc. It's about 6-7 hours to do the whole shebang. If it is dry, we'll run our karts that are fastest at Calspeedway. If it turns out that it is going to be a rainy day, we'll pull the "B" karts out of the trailer, and run those, with no additional setup at the track. We'll sit in the heated trailer while other teams scramble to change to a wet setup on their karts in the pouring rain.
But then a few days before the event, SKUSA postpones the Winternats? WHAT? Worried about a little rain? Then it turns out that Wayne emailed SKUSA a weather report saying that 40 mph winds and a possible 8-10 inches of rain where expected for the weekend. Wayne's not even racing this weekend, and he's sending out negative weather reports? That, combined with news from other sources, apparently prompted SKUSA to postpone the event for one week. ARRRGHH! Jeff and I scream and bitch and moan. We are prepared to racing a hurricane. Assuming it is not going to rain next weekend, we'll have to spend another full day setting our "B" karts back to a dry setup. Damn. But then I start thinking.....humm....kart is already setup for rain. My karts are in the trailer, packed and ready to go. What the hell, I'll go out to Calspeedway on Saturday anyways, and practice in this mini hurricane. Racing a shifter kart in the rain is really tough, as it is very easy to spin out, so I figure I'll go and get some seat time in the rain.
Saturday, January 5, 2008
Today was supposed to be the first day of the Winternats series, but the weekend was cancelled due to the potential rain. I go Calspeedway anyways, and of course, despite warnings of major flooding and winds, there is no rain, and there is no wind. Lot of big puddles everywhere. And of course I'm the only moron at the track. I pull out my rain kart with the full rain setup, and proceed to drive for about 3 hours. The experience is horrible. Calspeedway is known for being a parking lot track that is half over gripped, and half real slippery. The real slippery parts of the track seem to be close to impossible to negotiate in a shifter kart in the wet. Hummmm.....do I suck this much? After experiencing about 70 spins using various lines, speeds, braking points, etc, I decide it is time to head home. I would imagine that racing here in a full on downpour will be a crash fest. Spies from Team ARG report on the Pulp bitching about the schedule change.
It is supposed to be sunny and temperatures in the low 70's at Cal Speedway for the race next weekend. I spent another 7 hours switching the new kart back to a regular setup, meaning moving the seat back, hubs, ride height, blah blah blah blah. I change seat postion yet again to see if I can make this new kart go fast at Cal Speedway in the dry.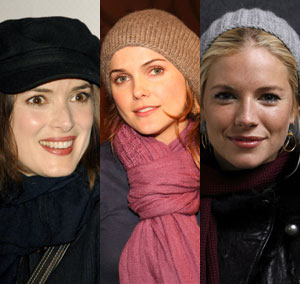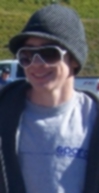 Pick the world famous TaG driver among these Hollywood stars
Friday, January 11, 2008
Official PKC practice day. I'm struggling along running 47.8 in the new kart. I try different hubs, setups, bars, gears, etc. for the next five hours. It won't go any faster. Just for kicks, I hop into my old kart...and within 8 laps I'm again running 7/10ths faster than the new kart. ARRRRGH! I wanted to sell the old chassis. Looks like that ain't gonna happen soon. I decide to run the old kart for this race weekend. Jeff decides not to show up on the practice day, as he thinks he's ready to race this weekend. Jeff probably feels he don't need no stinking practice to whup on on a field of racers that will for the first time in three years, won't have a Nick Halen or a Connor De Phillippi in the field.
Saturday, January 12, 2008
First day of the new racing season. I drove the truck home last night, and came by this morning with the S2000. I haven't driven the S2000 in a month. I put on my long underwear, heavy clothing, goggles, and Rocky-and-Bullwinkle hat and buzz up to the track at 5:00 a.m., top down, music blaring, with a 52 oz Big Gulp full of Snapple and ice, at a high rate of speed. I'm ready for the first race of the new season.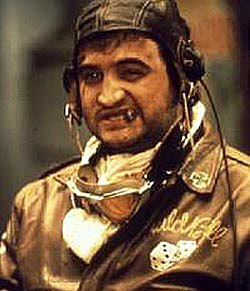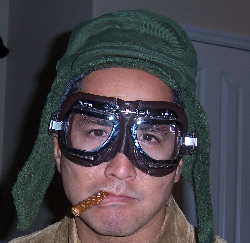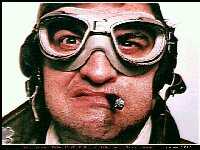 Which of these pictures is a self-proclaimed world famous author/producer/film maker/driver?
It is a MUCH smaller turnout than expected. Since there is $3000 in prize money for the winner of the series in the Stock Honda S3 class, we though we would have 30 S3 drivers. Instead, we have uhhh...ten S3 drivers, and five S4 drivers. Bummer. Which also means that SKUSA rescinds the prize money, as they wanted a minimum of 25 karts in each class. I can't blame them for taking the prize money away.
I have some pretty good tires mounted, so in the morning practice session I'm running pretty fast. In the final practice session, I'm running faster than anyone else. As a matter of fact, I'm the 2nd fastest guy on the track out of all the classes, including the ICC/built motor guys. Of course it is probably because they are running crappy tires, and I'm on a pretty good set of rubber. But I figure if I run with good rubber, I can see if the kart is setup properly for qualifying that will happen in about an hour. I need to know if my kart is going to hop with good rubber on the kart, as Calspeedway can get real grippy on race day.
Qualifying
We all put on new rubber, and head onto the track. I struggle, and go 1/10th SLOWER on new tires that I did with my old tires. Jeff comes in from qualifying all glum-faced, saying he sucked. Bobby Legate is pissed off also, he went a lot slower than he thought he would. We all feel like committing suicide. Turns out Jeff beat both me and Bobby, and is gridded 3rd, with me 4th, and Bobby 6th. Oh well, at least I'm on row 2, which is where I wanted to be in the worst case scenario. Jeff doesn't like how his new kart is handling, and is complaining of way too much grip and hopping. Our new karts were great at the Supernats and Moran, but we can't get them to work at Calspeedway.
Clinton takes his first pole, and Bryan Eady from Norcal takes 2nd. Bryan took 2nd at the Supernats in S3, and he's coming to town to see if he can whup on the SoCal guys on their home tracks.

| | | | |
| --- | --- | --- | --- |
| Best Lap Tm | 46.839 | In Lap | 3 |
| Best Speed | 57.644 | by | Clinton Schoombee |
Heat Race 1
The first heat race of the year ends with not too much drama. I got by Jeff on the start, and held my position. I'm having great starts the past five months. I'm only 2/10ths per lap off the front runners for this race. Nice. Maybe all that Cheating Bastard practice helped. Jeff is complaining that his new kart is hopping and sticking even more than last race. Clinton breaks, with the front drive sprocket on his motor coming off. Bummer, he was on pole! Jason and I have been dodging Raceaflais for quite some time, and not really having a DNF in a long time due to a mechanical problem. A big thanks to Jason for making my kart reliable. Every time I wrench on my own karts, something falls off on the track. Jason wants to re-tighten our front sprocket bolt to ensure it doesn't come off like Clinton's. We tighten this bolt by wedging a wrench on the bolt and lean the wrench against the frame, and we turn the rear wheels to put pressure on the wrench. We start doing this, but Jason puts a little too much muscle in it, and right before I say stop, we snap the head off the bolt. Uh oh. That was a bonehead move. We scramble to take the seat out of the kart, find an EZ-Out, a small drill bit, and delicately proceed to take the rest of the bolt out of the motor. Jason gets it done with about 5 minutes to spare for the next race. Whew! That was a close one......

| | | | |
| --- | --- | --- | --- |
| Best Lap Tm | 46.889 | In Lap | 6 |
| Best Speed | 57.583 | by | Bobby Legate |
Heat Race 2
Another uneventful race, as the fields is too small for action amongst us mid packers, and we don't have Wayne on the track causing mass havoc. (just kidding) I end up behind Littrell, and take 4th place. Eady and Legate seemed to have made proper adjustments to their karts, as they go as fast as they did in Heat Race 1. Jeff and I fall off about 15/100ths of a second. Shit. We finish well ahead of Tyler Bennett and Kyle Zirkle. Jeff is really complaining about his kart now.
| | | | |
| --- | --- | --- | --- |
| Best Lap Tm | 46.919 | In Lap | 4 |
| Best Speed | 57.546 | by | Bobby Legate |
Main Race
Lights go off, and we begin the money race. Jeff and I are thinking we have a shot at a podium finish in our first race. I felt I had a great start, but Bennett and Zirkle blow by Jeff on the inside, and thus now they are in front of me also. Someone do a replay of that start, I want to see if someone jumped! I can't believe Jeff let both those guys get by him on the start. Jeff's starts are starting to suck like my starts used to. Going into turn 2, Zirkle and I are side by side, and on my left side is a tire barrier that I clear by a few inches, but Zirkle starts to turn in a little too quickly on this turn, (he probably can't see that I am alongside the tire that delineates the track) and I probably drift out a little too much on this turn and our tires touch, Zirkle drives over my front wheel, and I go flying off to the right of the infield. Damn! I jump my way back into line, but my kart isn't driving correctly. Damn! Going down the back straight, I let everyone pass me, as I'm not sure if my kart is going to handle properly in the next two sweeper turns, and I don't want to cause a big wreck because my kart won't turn. After driving for a lap in last place, I determine that my kart isn't optimal, but at least it is drivable, I pick up the speed a bit, trying to chase down the S4 guys. I make it right behind the three leaders in S4, Henderson, Westmoreland, and Cox, and since they are having such a great race for first place in the S4 class, I decide to just follow them and video tape them, instead diving between them and screwing up their race. I mean, I'm already last in my class, passing them ain't gonna get me any more points toward the S3 championship. Jeff has a miserable race, saying that on some of the tight hopping turns, his neck was giving out, and he was looking at birds in the sky coming around those turns.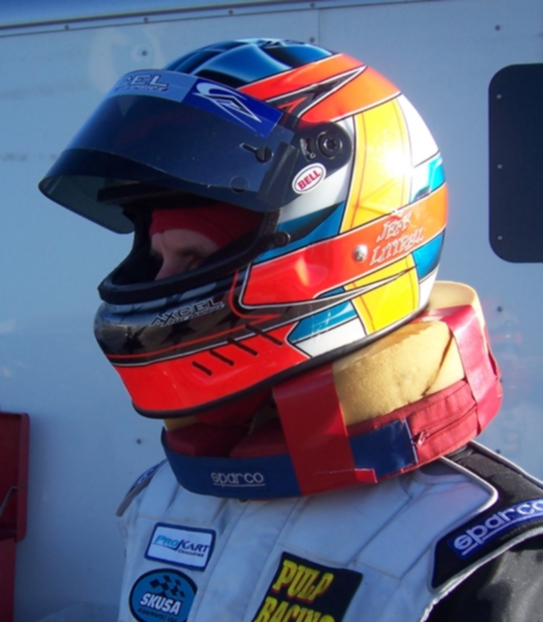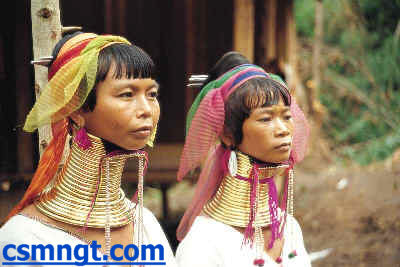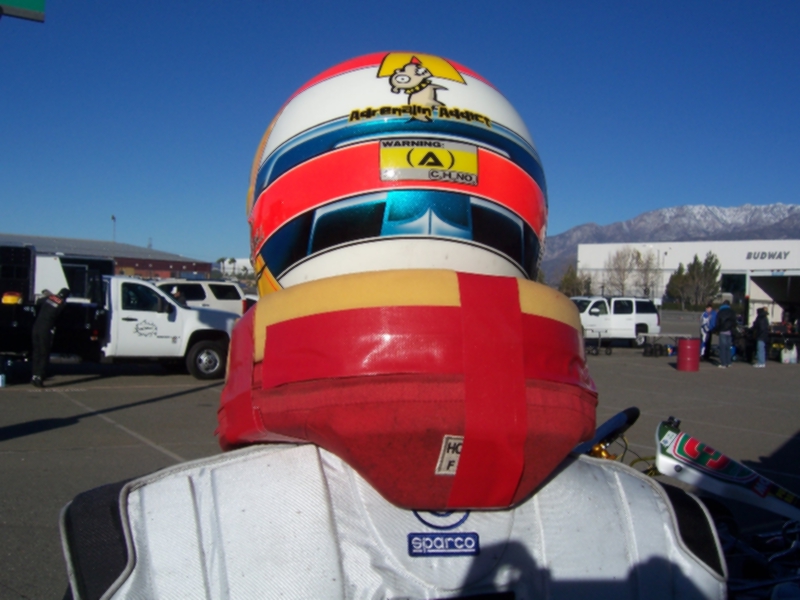 Which pictures are of S3 driver with sore neck. Which are neck extending tribeswomen?
Back in the pit rear, I have a bent steering shaft and two bent tie rods. Oh well....maybe better luck tomorrow. Legate, Eady, and Clinton again run as fast as they did in qualifying. Nice. It's gonna be a problem catching them......
| | | | |
| --- | --- | --- | --- |
| est Lap Tm | 46.836 | In Lap | 12 |
| Best Speed | 57.648 | by | Clinton Schoombee |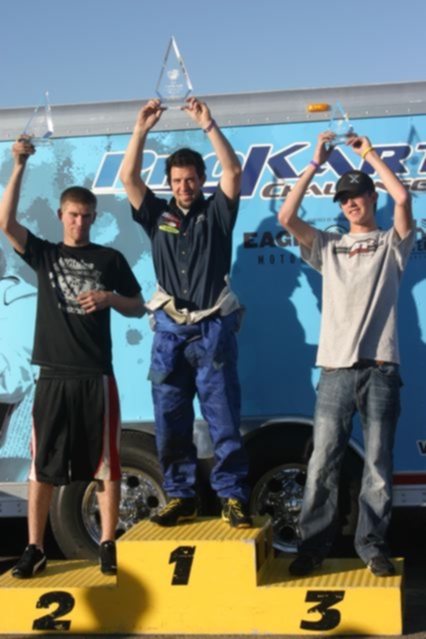 Legate, Eady, and Bennett make it to the podium
Sunday, January 13, 2008 Qualifying
Superpro Lorenzo Mandarino is running in the S3 class today. Mandarino won the Supernats Superpro Category in 2005, and is racing in the Star Mazda Series. Mandarino takes pole by 2/10ths of a second over Eady and Legate. Jeff and I are way off pace today, obviously we aren't getting the kart setup correctly. Bennett is showing some speed today, looks like his team is getting him dialed in at this track.
| | | | |
| --- | --- | --- | --- |
| Best Lap Tm | 46.643 | In Lap | 2 |
| Best Speed | 57.886 | by | Lorenzo Mandarino |
Heat Race 1
Crap. Still off pace. Jeff is having more neck problems. He puts on two neck collars to give his neck more support, but now he can't turn his head to see the apex. That's gotta make things tough. We are pushed back to the midpack. Mandarino is still 2/10th faster than the rest of the field.

| | | | |
| --- | --- | --- | --- |
| Best Lap Tm | 46.602 | In Lap | 6 |
| Best Speed | 57.937 | by | Lorenzo Mandarino |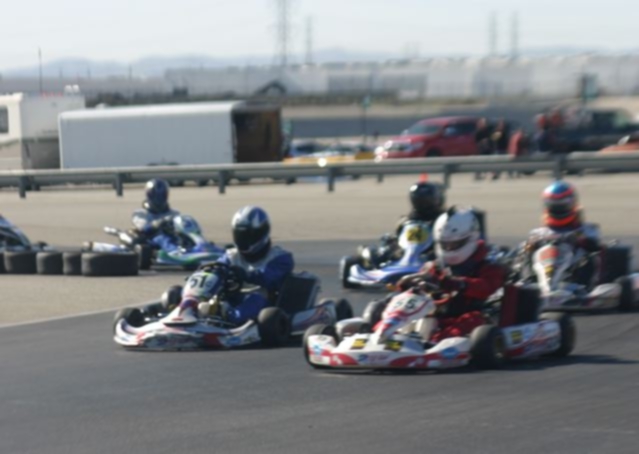 Legate trying to make his move on the inside
Heat Race 2
Still off pace. I got nothing for Legate, Schoombee, and Bennett, and they are running behind Mandarino and Eady. Jeff pulls off the track due to neck pains.

| | | | |
| --- | --- | --- | --- |
| Best Lap Tm | 46.732 | In Lap | 4 |
| Best Speed | 57.776 | by | Lorenzo Mandarino |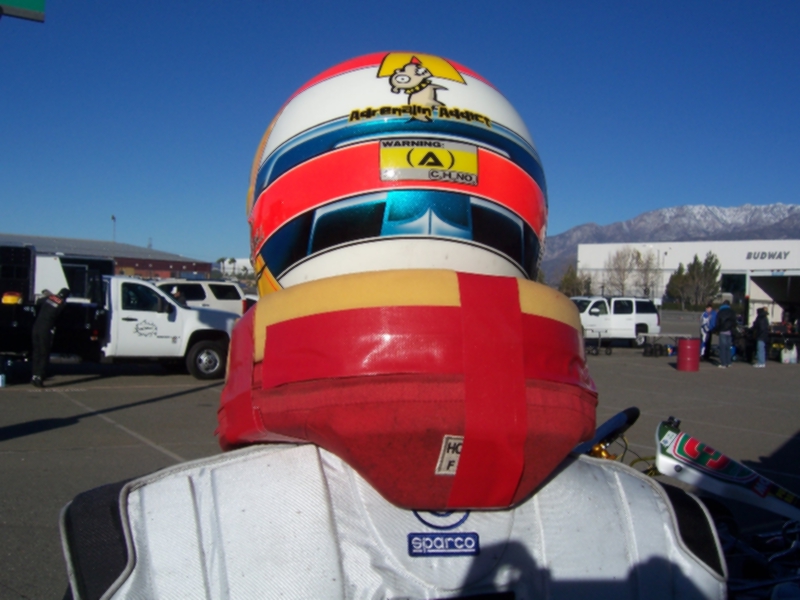 Jeff's neck is hurting a bit, so he improvised and created a bigger neck collar
Main Race
The Main was an all out calamity, with Raceaflais at his best. Here I am, sitting on the start, ready to get a good launch. The three red lights go on one by one, just like in Formula 1. When all the lights go out, then you drop the clutch and go. After all three red lights go ON, then the starter will turn the lights off somewhere between 1 to 5 seconds, in order to keep the drivers guessing when to gently dump the clutch. Except this time, as the three lights are turning on, I start to slowly engage the clutch while braking and giving it gas. After all three lights are on, and within 1/10 of a second, all the lights go out. WTF? THEY ARE SUPPOSED TO WAIT A MINIMUM OF 1 FULL SECOND BEFORE TURNING OFF THE LIGHTS. I panic, let the clutch out too quickly, and severely bog my first start in about 20 tries. SHIT. Everyone behind me blows by me. Damn. At the start of lap 2, coming around the hairpin turn by the grandstands, Mandarino and Eady are duking it out REALLY CLOSELY, someone touches someone, karts go flying. Clinton is right behind them and his kart gets jacked up and starts tumbling sideways. Clinton's kart lands on top of Clinton. Luckily he is okay. The race is red flagged, people are arguing as to what really happened. You'd think I'd have video footage of the incident, but uhhh...remember I bogged the start, so they were a good 100 feet in front of me around the next turn, so I didn't see anything.
It is determined that there will be a rolling restart. Clinton and Eady's kart need to have work done on it, so they are out. Bummer for them, but I move up two spots. Hey, maybe I can pull a podium finish out of my ass. I'm gridded around 4th for the restart, and I remember how last time we had a restart at Calspeedway, Bonnier Moulton (who was on pole for that restart) started hauling ass right when he got around the last turn of the warm-up lap. I ain't gonna let that happen again. As we come around the last turn, whoever is in front starts hauling ass, and everyone behind him is at full throttle, trying to make sure the leader doesn't get away. Except as we are coming down the front straightaway at full speed, a flag is thrown to stop the race, but only the guy in front can see it. Someone slams into Legate's kart from behind as the two guys in front are slowing down, and everyone else is speeding up. I almost ram the guy in front of me. Apparently our race was cancelled at the last second, and will be run at the END of the day, so Clinton and Eady can fix their karts. Clinton's kart is mangled pretty good, he'll need steering column, axle, etc. Awe man, no podium for me, as I don't have the speed today to get by Eady or Clinton.
Restart of the Restart for the Main Race
Legate has a great race, and takes his 2nd win in the main in two races. Eady takes 2nd. Bennettt steps up, takes 3rd. Clinton breaks, is a DNF. Jeff goes as far as he can, then says screw it, his neck is gone. Kyle Zirkle is pretty fast his first couple of laps in the race. I'm pretty slow the first couple of laps. It takes me about 15 laps to catch up to Zirkle. I try to decide whether to force a pass on the kid, or if I should just make sure I bring my kart home in one piece. On the last turn of the last lap, Zirkle and I have a drag race to the finish line, and he beats me about about 1/100th of a second or about 6 inches. He takes 4th, I take 5th. Nice driving by Zirkle, he didn't make any blatant mistakes. Next time I'll have to dive in on him!
| | | | |
| --- | --- | --- | --- |
| Best Lap Tm | 47.031 | In Lap | 16 |
| Best Speed | 57.409 | by | Tyler Bennett |
HELMET CAM VIDEO LINK
Not all the great, but ends kinda spectacularly. No Loser Cam or data on this one. Has parts of Race #1, Heat Race 1, Main Race, and Race #2, Main race. Right click, save target as, 60 meg Windows media file.
Grammy Awards, and the Pulp Racing "Rehab" video
On the subject of videos, did any of you watch the Grammy Awards? Usually they suck so bad that it isn't worth watching. But this year, I thought the Grammys were fantastic in terms of performances. I wonder who was in charge of production for that show, they did a damn good job. The Grammys used to be "uncool". Yeah, Kanye is an ass, but he's a damn good performer, weaving "Hey Mama" into a story about the death of his mother. Rhianna is a babette. Beyonce is getting fat, but can still sing. Yeah, Amy Winehouse will be dead in a two years from either suicide or accidental overdose, but her mesmerizing performance combined wackiness, weirdness, stage presence, great vocals, all in a wrapper that made it look like she could self-destruct any minute and walk off the stage, so you kept watching with your head cocked to one side, wondering, "This is one wacky chick". Anyways, after seeing that performance, I had to get my "Rehab" video out before anyone else did, as I'm sure there are a lot of people thinking the same thing I was when thinking about their hobby. Here is the 19 meg Windows Media Pulp Racing Rehab Video.
Winternats Race # 3 & 4 at Qualcomm Stadium - And Then There was One
The next race is at Qualcomm Stadium. Jeff says he isn't going to run this weekend, as his daughters have to be at two different places this weekend, so his wife is taking one daughter and he's taking the other. Wayne isn't running, so it's just me for the Pulp Racing guys. The forecast for this weekend is probably rain on Sunday, which is Super Bowl Sunday. We are running a new course for us at Qualcomm. I start out with my new kart, and after about four gear changes, numerous kart settings, I'm struggling at 1:02.6. I'm a full second off of Legate and Clinton in practice. Five hours later, I decide to fire up old reliable kart with the Darcy motor on it, and within five laps I'm running a second faster than my old kart. Doh! I throw the new kart into the trailer, disgusted that I can't make $10,000 worth of new go-fast parts go as fast as $5000 worth of old go fast parts.
Saturday, February 2, 2008. Qualifying
Unfortunately, we have a lower turnout than at the CalSpeed race last month. I take 5th in qualifying, about a half second off of pole, and a mere 8/100ths from 3rd, and 2/100ths from being in row 2 for the start of heat race 1. I got a legimate shot at 3rd place, but I got nothing for Eady and Legate, who take 1st and 2nd.
| | | | |
| --- | --- | --- | --- |
| Best Lap Tm | 59.270 | In Lap | 1 |
| Best Speed | 66.813 | by | Bryan Eady |
Heat Race 1
I take 4th due to Brad Dunford being docked position for jumping the start. More importantly, I'm only 2/10ths off from fast lap in the race. Hey now, I'm a contender. There is some contact between Eady and Legate, who are having a great shootout between the two of them. After the race, Eady is warned about making too much contact.

| | | | |
| --- | --- | --- | --- |
| Best Lap Tm | 59.524 | In Lap | 4 |
| Best Speed | 66.528 | by | Clinton Schoombee |
Heat Race 2
Not sure what happened, but it seems that Eady let off the throttle going down the main straightaway on the first or second lap, causing some minor confusion. Later on in the race, Eady's kart breaks. Legate takes Heat 2. Clinton is right on Bobby's bumper. Bennett gets by me, and I can't take it back from him. My laps time are off by a full second from last race. Legate is running the same pace as last race. Did I burn up my tires in qualifying and the first heat race? Hummm. The kart is pretty loose now. Maybe I should go to longer rear hubs and try to get some of that grip back. Jason Steaman also notices that there is a small hairline crack in the motor mount. Shit, not enough time to swap it out. I think I can finish the race like that.
| | | | |
| --- | --- | --- | --- |
| Best Lap Tm | 59.702 | In Lap | 6 |
| Best Speed | 66.329 | by | Bobby Legate |
Main Event
Easy has to start near the back of this race since he was a DNF last race. Lights are off, and we are in the hunt again! Unfortunately, my kart still seems bad, maybe even worse with the long hubs on it. Oh great. Eady blows by me after a few laps. I try to keep Eady and Clinton somewhat close, but I got no rear grip, and am fighting to make sure I don't spin out and have the entire field pass me. Damn! Eady and Legate have another fantastic race against each other, with multiple lead changes, and Eady ends up taking first. Clinton is only a few seconds behind them, but I'm 16 full seconds behind Clinton. Hummmm...back to the drawing board. The crack on the motor mount is bigger now, I wonder if that could have caused some of the problems? Did I stupidly burn up my tires in qualifying and the heat race trying to keep up with Eady/Legate/Clinton? Who knows.
| | | | |
| --- | --- | --- | --- |
| Best Lap Tm | 59.876 | In Lap | 9 |
| Best Speed | 66.137 | by | Bryan Eady |
February 3, 2008. Superbowl Sunday.
I decided the other day that I didn't feel like racing in the rain, especially since I didn't think I had a chance at taking 3rd overall in the series, as Clinton is starting to pull away points wise. Screw it, I'll pass on the Sunday race, and instead stay home and relax and watch part of the Superbowl. The ProKart Challenge races have us conditioned to a Friday practice, race on Saturday routine. The Winternats adds on another day, and it just seems like a tremendous amount of time and effort to race on Sunday after practicing and racing the previous two days. Especially if it is going to be cold and rainy. The turnout is really low, and SKUSA combined a lot of classes together. Eady picks up two wins this weekend to make up for Legate's two wins at CalSpeedway. Those guys will duke it out in a month to see who is the Winternats Stock Honda King. Right now Eady is in first by about 40 points.
Since I hate the Boston Celtics, and since New England Patriots fans must be Celtic Fans, I didn't want the Patriots to win. I want those Celtic fans to cry in their beers, instead of wearing "19-0 Super Bowl Champs shirts" for the rest of their Celtic-loving life. I was a little scared to bet against the Patriots machine, as they seemed to be rolling pretty good. But Sports Illustrated's Dr. Z picked the New York Giants to win, straight up, not needing any points. I read his article, and hummm......he make some good points. Screw it....I'll put $200 bucks on the Giants to win via a bookie, but I'll take the 12 points, instead of betting on the Giant to win outright with no points (which is good for a 4-1 pay off, versus a 1-1 payoff (+10% if you lose) and taking the 12 points. Eli Manning makes me proud. cc.com discusses the Superbowl.
Connor De Phillippi, last year's ProKart Challenge Stock Honda King, wins the Skip Barber Karting Scholarship Shoot Out against 50 other drivers. He'll get a fully paid, 14 race season in the BFGoodrich/Skip Barber Series Presented by Mazda, worth about $45,000. No wonder he was kicking our ass all last year. And he's only 15 years old. More at: http://www.ekartingnews.com/viewtopic.php?t=66793 Nice job Connor, go out there and kick some butt! Show them what a Stock Honda driver can do in race car!
Softball
After winning the championship of the world (or at least our world) last season, we were eagerly awaiting our championship T-shirts that were to arrive before the start of the new season. That way, we could pimp around Huntington Beach like we own the town. Much to our dismay, we get the championship T-shirts, AND THE BACK OF THE SHIRTS DON'T SAY "CHAMPS" ON IT! The back of our shirts look like this: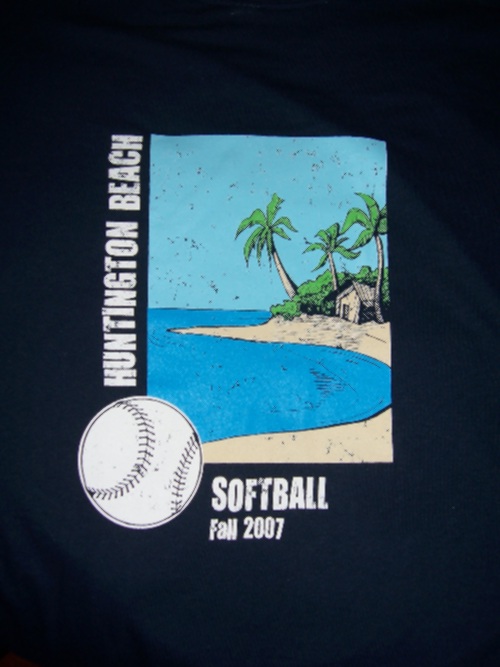 Our championship shirts don't say "Champs" on it. They look like shirts in the 3 for $5 markdown basket
The front of the shirts says "Champs" in small print, but no one looks at they, they are too busy looking at our pretty mugs. I complain to Ray Fran*key, who is the Commissioner of Huntington Beach Softball, who is the H.B. equivalent of Bud Selig. He said he tried different designs to get "Champions" on the shirt, but he didn't like any of them. I even ordered extra shirts for myself in advance, as we only win the championship of the world every 3 to 4 years. That way I can walk around until 2012 wearing a Championship shirt on my back. So now I have call around and see if I can find a T-shirt company that will silkscreen "World Champs" on these shirts. Bastards!
Feb 6, 2008
Our first softball game of the season. We get crushed, something like 19-6. We can't hit or field. We were short two girls and I had to recruit two girls from another team to play in our late game. We always start out slow in February, as it is a two month layoff between seasons, and none of us play tournament softball, like many of these other teams in the top league do. I bring a propane heater to the field, as it is blazingly cold.....like 45 degrees.
February 11, 2008
It's the middle of February. It's -40 degrees below zero in Minnesota. I'll admit, you Minnesota folks are pretty studly, I wouldn't last five minutes in that weather. Meanwhile, over here in the Center of the Universe (HB), we have a minor heat wave, and it is about 77 degrees. I'm sitting on an upside down 5 gallon bucket, listening to Howard Stern on my Sirius S50 radio, reading the LA Times, feet in the sand, trying to keep an eye on the kids. Pictures below: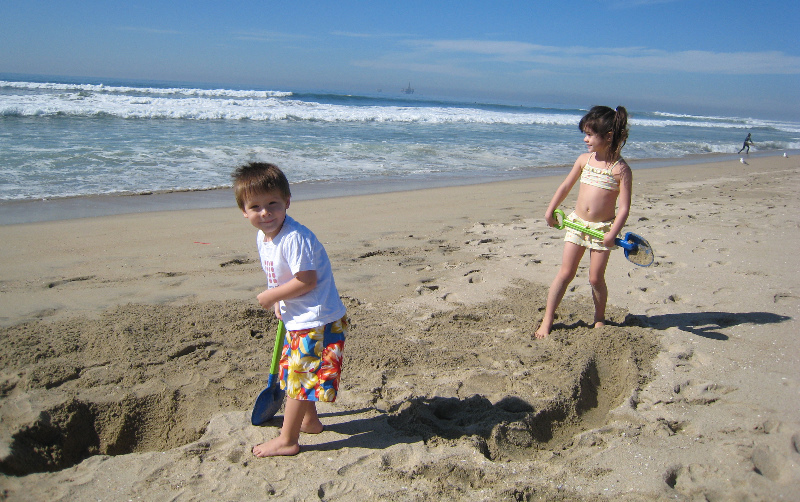 Coop: "Hey. Stop freezing your ass off, move to SoCal! C'mon, help me dig, my dad is useless at the beach!"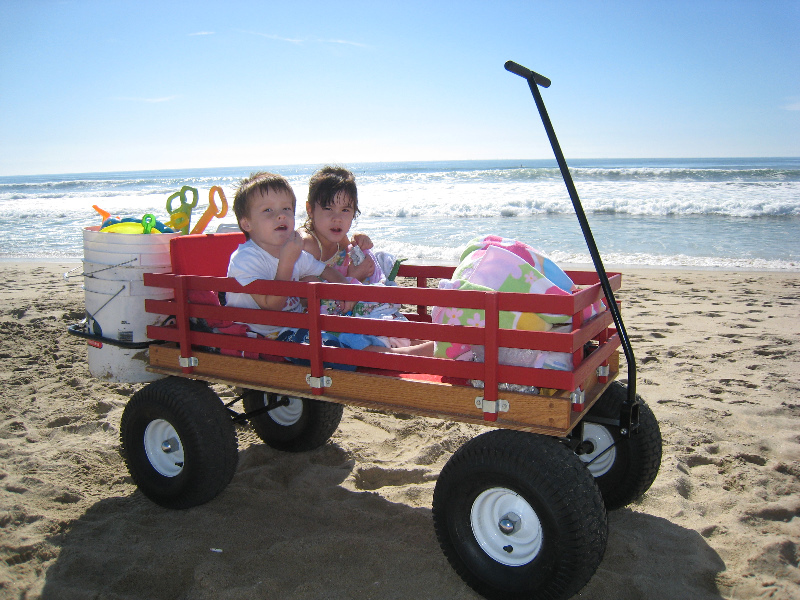 48 foot trailer for the karts. 48 inch trailer for the kids.
February 13, 2008
Cold front moves in again. It's going down to 45 degrees tonight. (or 85 degrees warmer than Minnesota). We are short girls again for our coed softball team, so I recruit the same two girls from last week to help us out. Rumor has it that one of the girls we recruited could be 68+ years old. She's a damn good player. Which means I got at least 19 more years of softball in front of me. Anyways, she claims that warm aluminum bats hit the ball farther than cold aluminum bats, and starts stacking our bats next to the heater. I Esniped three Easton Redline C-core softball bats on Ebay over the past few months, heh heh. These bats seem to be the best legal softball bats for Hunt*ington Be*ach, and are no longer made by Easton. You have to pick them up used on Ebay. It's like having a cheater motor on your kart. HB doesn't allow any exotic double wall/triple wall/composite softball bats, for fear that someone will hit the ball too hard and kill the pitcher. These Easton bats tread a thin line bordering on illegal, but the commissioner has grandfathered them in to be legal. So we definitely have the best weapons, and anytime I see one on Ebay, I snag it, figuring I want to keep it out of the hands of our competitors. Esnipe is a web application that makes it so it will automatically start firing in your Ebay bids with seconds left in the auction, ensuring that you win the bid, so those other suckers who at sitting at their keyboard, frantically clicking away to see if their lowball bid will win, end up losing at the last second against Esnipe. Ha ha, that makes me laugh.
We put the bats next to propane heater to warm up. Teddy, our biggest hitter, promptly launches two 330 foot home runs in first two at bats using a 28 oz Redline bat. Nice, that is probably the farthest we have seen him hit the ball. We score 14 runs in the first inning! But the other team is consistently scoring 3-4 runs per inning, catches us and goes up one run in the last inning. We score a run in the last inning, so we end up tying again, 20-20. We are now 0-1-1 in the top Coed Division.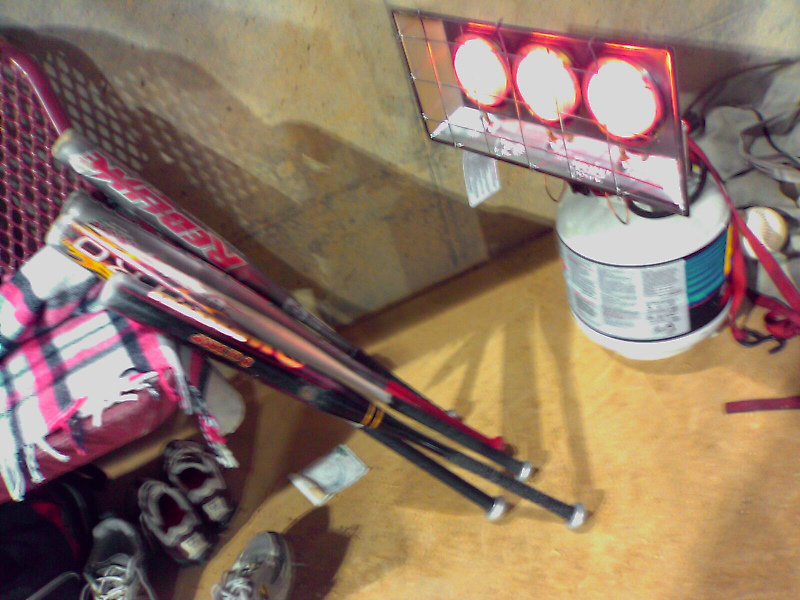 Propane heater keeping our dugout, our women, and more importantly, our bats warm
Tech Upgrade
It was time to upgrade my laptop, which is 4 years old, and my piece of crap Verizon 6700 phone, which is 2 years old. A lot of people are excited about those new Macbook Air laptops. Super light, super thin, only 3 lbs. Now for me, super light and super thin are important qualities if you are a hot chick, but it ain't what I look for in laptops. Dell had their XPS M2010 on sale, and I couldn't resist the pull of a Mega Laptop. How mega?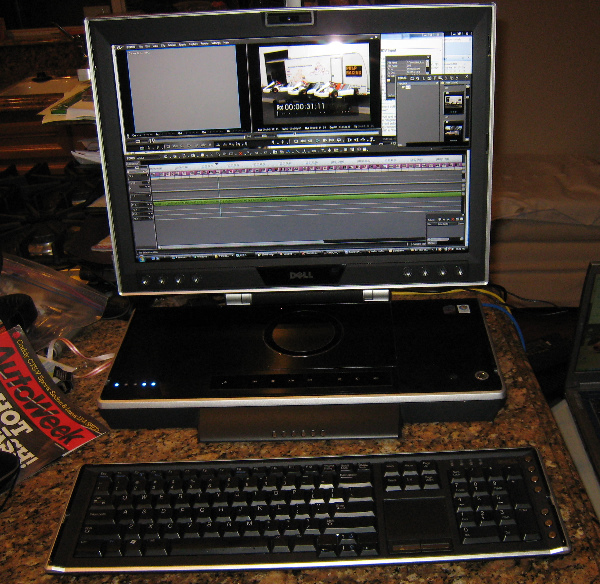 The new beast of a laptop. This is the machine that Rambo would pick!
1. Intel Core 2 Duo 2.0 processor
2. 4 gig of RAM
3. Two 200 gig drives in a RAID 0 array for speed
4. Eight speakers and a subwoofer BUILT INTO THE LAPTOP
5. Removable Bluetooth keyboard(with built in rechargeable battery) and bluetooth mouse
6. 20 inch viewable widescreen LCD flat panel BUILT INTO THE LAPTOP (23 inches from corner to corner)
7. Weighs about 19 lbs. But it is a true desktop replacement in a laptop "form factor". Perfect for taking to the shop or the track once a week. Might be tough to drag it around on a daily basis.
Dell doesn't market this product properly. They should show photos of the M2010 in comparison with known items, such as: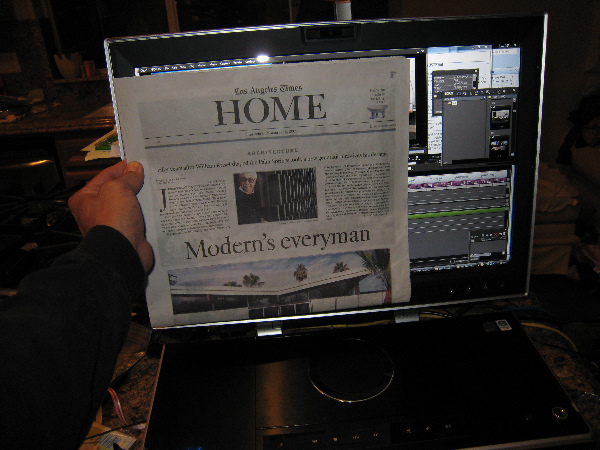 How big is it? Here is the LA Times folded in half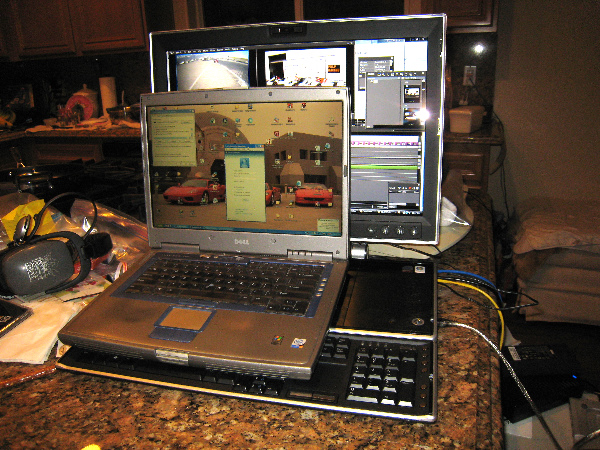 My old 17 inch (corner to corner) Dell 8500 looks like a Gameboy next to M2010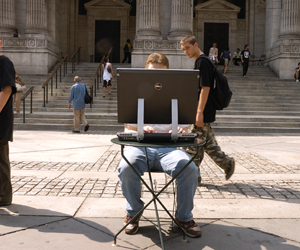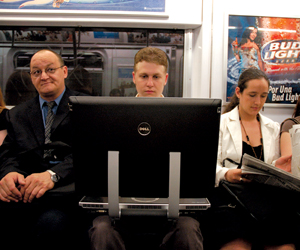 Pictures of someone using the Dell XPS M2010 on an outside table and on the subway
After some initial glitches like:
1. Upgrade from Vista to Vista Ultimate automagically got rid of sound drivers
2. Hard drive spun for a couple of days indexing all my stuff I moved over from the old laptop
3. Learning to navigate around in Vista was a pain the first week or so.
My impressions are that the Dell M2010 is a superior machine. Highly recommended. I can edit video footage with Edius and encode a video file with Windows Media encoder at the same time. My eyesight is coming back now, as I don't have to squint at my old, tiny 17 inch laptop anymore. I'll be able to edit helmet cam footage in my hotel room on race days. After getting used to Vista, I now like it more than XP. Another review of the M2010 here.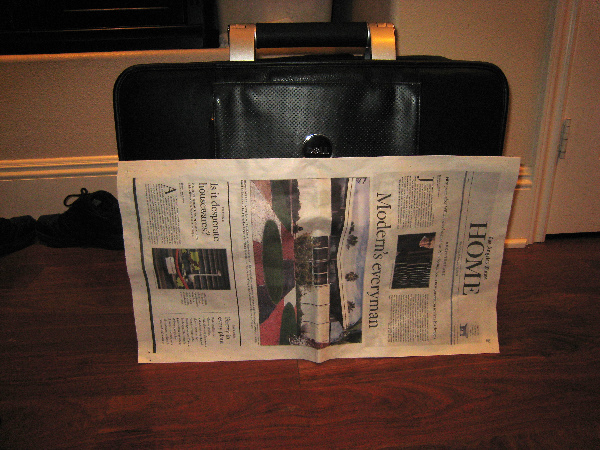 Minor problem. Carrying case (which uses laptop screen hinge as a handle) is uhhhh...big
Veri*zon 6800 Phone. (asterisks "*" are so Google search, Veri*zon rent-a-cops, and H*B softball commissioner can't search for it. Ha ha!)
My VX6700 wasn't a very good phone. The 6800 with Windows Mobile 6, however, is pretty damn good. Veri*zon, being a phone company, is doing their usual stupid shit. The 6800 comes with GPS capability in it, but Verizon won't activate the feature. It seems like Verizon wants people to buy only the the phones with Veri*zon's stupid ass operating system on it, and force them to use their proprietary navigation software which costs an extra $10+ a month. And they they try to get you to sign up for that Vcast TV and Vcast Music crap for even more monthly fees. Those bastards. Ver*izon sales reps don't even have the 6800 on display, you have to ask for it, and they pull it out of their storage room. They are screwing the Sheeple, and the Sheeple don't even know about it. Kinda like how Congress and the Mortgage industry are screwing the Sheeple. Sprint has had a version of the 6800 on the market for 6+ months earlier than Verizon did with their version.
Anyways, some hackers on the internet wrote some new R*OM software for the 6800, so if you screw around with R*OM updates and learning to flash your phone for a couple of hours, you can download their killer hack, which enables the GPS on the phone. So now on my 6800 I can run Google maps, get full GPS directions and real time traffic reports while driving around, etc. And since it runs Windows Mobile 6 I can get the mini-Office apps for the phone, I can run Slingbox Mobile so I can watch my Tivo on the phone, run Windows Media player, synch with Outlook, etc. The Veri*zon EVDO networks downloads data off the net at 500-800k, so the phone actually surfs the net pretty damn fast. I can "tether" the 6800 to the Dell M2010 using the normal USB cable 6800 cable, enable Internet Connection Sharing, and then my laptop can surf the net via the phone connection at 800k! Fight the Power!
So between the phone and the laptop, I'm good technology-wise until 2011, or until Dell grows even bigger balls and launches a 27 inch laptop that weighs 25 lbs. I'll be the first in line for that uber-mega laptop. Come on Dell, create one of those, I'll help you market it properly.
Speaking of Hacker Geeks
I've been following the Anony*mous vs. Scien*ToLogy battle with great interest. In the past, Anony*mous apparently has taken down a white supremacist who they felt was cluttering up the internet. Can a group of anonymous Internet dorks collectively band together to take down a money-sucking, brain washing cult, especially when government agencies and the wussy-fied mainstream media have failed? Scien*tology is well known to be relentless, filing lawsuits and harrassing anyone in its path. But how can Scien*tology attack a group of people who are anony*mous, congregate on Internet forums, and have no real identity? Note: some of the links below might not work, as hackers from pro-Scientology groups are trying the same denial of service attacks against the Anon*ymous supporters. Click back again later.
1. Scien*tology tried to suppress this video on the Internet, which started the war.
2. Link to video that announced the "war". http://www.findinternettv.com/Video,item,1948357192.aspx (it occasionally gets pulled off of YouTube. Sci-dorks probably trying to sue it off the internet?)
3. Link to another video explaining the war. http://www.youtube.com/watch?v=QubW_LhiqDY
4. Scient*ology victims. http://www.youtube.com/watch?v=rCGP-0545EU
5. The Ides of March - more raids/protests outside Scien*tology "churches"
6. More on Pro*ject Chano*logy.
7. Wikipedia on Chan*logy.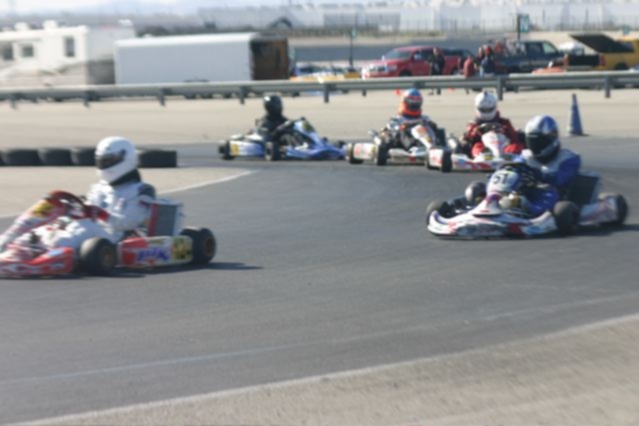 We'll be duking it out again on March 9th and 10th at Cal Speedway.
That's it for this update. Hopefully I'll have all the electronics working properly for the next race, and hopefully the weather will be good and we'll get a big turnout at Calspeedway for Winternats Weekend Race #5 & #6. PKC starts three weeks after this race, so I'm thinking we might get some people wanting a "warm-up race" to make sure they are ready to do battle to become the PKC champion in their respective class.