PRO and TCC at Buttonwillow - April 3/4, 1999
"Matching Wits and Strategy
Against Fate and Your Racing Opponents"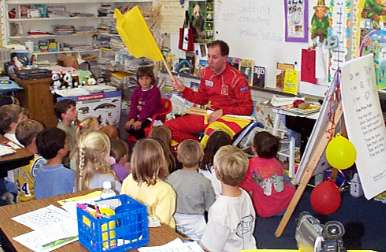 Jeff teaching flags and racing strategy to the next crop of racers
I actually thought that a better title would be "Racing - The Thinking Man's Game", but that does kinda sound sexist. And I don't want the wife reading that title and making her sarcastic comments like, "Honey, maybe a better title would be:

'Racing - how to waste more time and money that you can ever imagine',
or
'Racing - Can you spell R-A-T-H-O-L-E',
or
'Racing - The hobby for people with way too much time on their hands'

So let's just go with "Racing - Matching wits with Fate and Your Opponent". But at least you know what I REALLY wanted it to be……..
Three days before the event, Jeff asked if I would drive my NSX to his daughter's school for show-and-tell. He was going to to talk about his race car hobby, and he wanted my car there for "wow" factor. After all, kids go crazy when they see my car with the flames and stickers all over it. I said, "Sure, sounds like fun".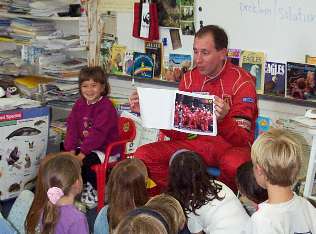 Jeff explaining that the Ferrari F1 Team can change four tires and fill gas tank in 7 seconds
Jeff and I went down to the school, and Jeff walked into the classroom with his helmet on and racing suit. I was sitting in the back room videotaping and taking pictures. It was pretty cool, Jeff explained to the kids about how racing is like riding a rollercoaster, in that both are kinda scary and make your heart beat really fast, but that is what makes it fun. He explained strategy, pit stops, safety equipment, etc. The kids asked a zillion questions, and Jeff patiently answered them all. Then we all went outside and had the kids sit in my "race car". At the end, Jeff explained to the kids about how he was going to beat me at the big enduro this weekend, and asked the kids who they were going to root for. They all of course said they are rooting for him. I wanted to tell the little rug rats that Jeff and Doug Ota are 0-2 against me and Wayne in enduro racing, but I didn't have the heart to do it in front of the kids. After all, one of these days I will have some kids and I will ask the same favor of Jeff......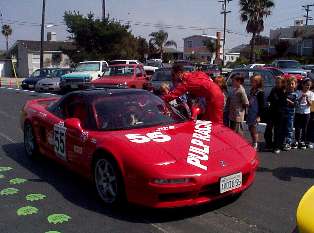 Kids lined up outside waiting to sit in the Flamemobile
Some women came by to pickup their kids, and wanted to know what all the commotion was about. I told her it was show-and-tell, and Jeff was talking about his racing hobby. One of the women said something like, "Oh great, last week one of the student's dad came in dressed in hockey gear and did show-and-tell about his professional hockey job. This week it is race car drivers. You guys RUINED show-and-tell, no other dads will want to come down and talk about their normal jobs now!"
The event at Buttonwillow was a joint Touring Car Club event and PRO Racing Series event. TCC would run their normal program of time trials and sprint races, and PRO drivers would also get to run in the TCC race groups, and at the end of Sunday, TCC drivers would join the PRO drivers in the PRO 2 hour enduro. Wayne and I decided to run the sprint races against each other for bragging rights, and then team up in my NSX vs. Doug Ota's M3 with Jeff Littrell as co-driver. Weather forecast was okay for Saturday, but possible rain on Sunday. PRO was supposed to run at Laguna Seca, but it turns out that there is already 50+ cars in the field, and if PRO was at Laguna, that would make for 75+ cars on the track at the same time, which could get ugly.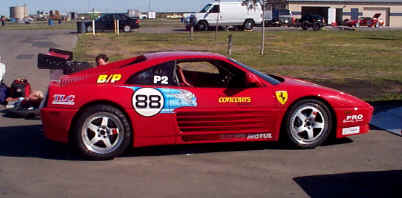 Gary's nice looking 348 with adjustable wing
We are getting better at preparing for events, due mostly in part to the checklist. For this event, Wayne decides to tow up his 944 Turbo, Ota will tow up his M3, and I will drive my NSX to and from the event. Jeff is going to meet us up there on Sunday for the enduro. I pack up the trailer with 18 tires, extra muffler, 10 gas cans, etc., and off we go. The reason for so many tires is that since we are going to get at least 3 hours of serious racing in, and at least 1 hour of warm-ups, we need to take spares. We don't want to lose against Fate, and end up with not enough tires to properly run the enduro. It would suck if we get all prepared for this race, and at the last minute we are short one good tire for the enduro. So, we make our first move against Fate. We take up:
a. My spare set of rims with 50% used Hoosiers on them.
b. Four new Hoosiers so my car is ready for the enduro
c. One extra front and rear Hoosier, just in case I happen to blow out a tire
d. Four new Hoosiers for Doug Ota's car
e. Two new Hoosiers for Wayne's car, and two used ones as spares.
So in thinking about how to setup suspension, I gotta figure out what to do. Buttonwillow is a really tight, technical track. I decide to take my car to my suspension guy, Dale at Dave's Frame and Alignment in Huntington Beach, about 400 feet from the PhoneGuys USA. I tell him that I am going to Buttonwillow, and I need him to dial in a lot of steering. I know that Ota will have his M3 dialed in good for this track, and Ota also has the big wing and splitter on his car to help with technical tracks like Buttonwillow. Dales say that if he dials in more steering, my front tires will wear abnormally on the inside edges, especially since I am driving with my street tires to the track. I tell him I don't care, tire wear is not an issue, I just want to make sure we beat Ota and Jeff in the enduro. He dials in the extra steering.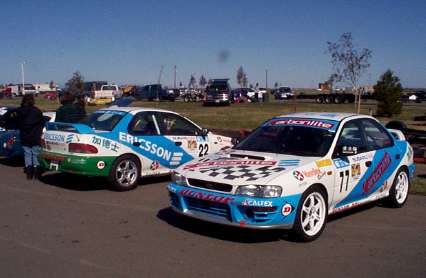 Emil and the gang pick some Subaru WRX race cars(4WD, 285 HP) from Japan
Don't ask me about camber/caster/toe in. Quite frankly, I don't understand how anyone can get everything dialed in exactly correct, and also since my ride height is adjustable via the Ground Control shocks, along with my tire/rim setup, there seem to be too many variables to replicate it and make sense of it. Meaning you have to take into account camber, caster, toe in, toe out, ride height, rebound rate, tire compound, rim size, rim offset, tire pressure, tire size, and type of track. If you change any one variable, you screw up the whole equation, right? So how many permutations is that, about a billion or so? I figure to make it easy and simple for me, I either want to set the car up for a sweeping track like Willow Springs/Laguna, or a tight track like Buttonwillow. Dale doesn't use those laser beam alignment thingys, he does it by hand the old-fashion way. After he is done with the car, that night I go the Beach Blvd freeway on ramp, and I get on the freeway, get off the freeway, get back on, and get back off in a cloverleaf pattern for about 15 minutes. I do about six loops of the freeway onramps and offramps. Steering feels real good, car turns in quick. Prior to this, car was understeering a tiny bit, which would be fine for a sweeping track, but I want to be able to turn in quickly at Buttonwillow, and keep Ota's BMW M3 off by butt.
So let's plan out the weekend tire strategy here. I drove up on my street rims. I brought the spare set of race rims that had Hoosiers with 50% tread left on them. But that is not enough tread to last through two warm-up sessions, two sprint races, and a two hour enduro. So I brought up a full set of new Hoosiers. So I decided to put on the new Hoosiers on the rims with the street tires on them. Then, I end up with two sets of rims with Hoosiers on them. I go over to the tire shack at Buttonwillow, and Warren and Scott who work there said that their tire machine doesn't work good with big rims and Hoosiers, and I would have to sign a wavier stating that they are not responsible if they crack a rim. I really have no other choice, as the nearest tire place that might be able to do it is in Bakersfield, which is probably 40+ minutes away, if I could even get there in time to mount it, and then I would have to find a place that could mount the large rims and skinny tires.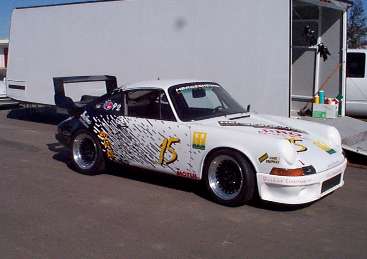 Rudy's 911 with cool graphics
I make another move against Fate, and sign the release form.
Scott isn't the regular tire guy, but says that he is willing to help out. It takes Scott, Warren, Wayne, and I about 40 minutes to mount the FIRST tire. The height of the Hoosiers is short, as is the Bridgestone street tire we are taking off. It was a pain to get the tire off, and also a pain to get the Hoosier on the rim. After we got the tire mounted on, he filled it with air to get the bead to seal, except the tire was too tight around the middle part of the rim, and it would not seal. So Warren got out a tie down strap, put it around the center of the tire, tightened it as far as it would go, and then put air in the tire. Since the strap was putting pressure on the middle of the tire, the theory was that the tire bead would bulge to the side and pop on. It didn't work. So then Warren got a mini-sledge hammer, and kept hitting the tire where it would not seal, until it finally moved over millimeter by millimeter and popped on. Only three more tires to go. Or about two more hours of this…….and I thought I was going to have a relaxing day at the track between sessions….instead I am helping Scott mount the tires between my sessions. Warren is trying to manage all the stuff going on at the track, and can't be there helping with the tires the whole time.
Meanwhile, I start thinking about the rain. Now that I took the street tires off, I now have no rain tires. The Hoosiers would be horrible in the rain. But if it doesn't rain, I will need a full set of Hoosiers to finished the two hour enduro tomorrow. Given that it will take the tire guys at least two hours to remount the street tires, what is the best choice? Against Fate, I could:

1. Mount all eight rims with Hoosiers. Screw the rain
2. Keep four street tires on the rims. After I burn up the rims with Hoosiers on them, quickly take them off, go see Scott, and see if he can swap off old Hoosiers with new Hoosiers in-between sessions. He has 90 minutes to do it, and it takes 40 minutes or so a tire right now…..hummm…
3. Drive into Bakersfield 45 minutes away right after Saturday sprint race, and find a place that can mount tires before 5:00 p.m.
I make my move against Fate, and decided to bet on dry weather, as there is no way Scott will be able to remount the tires in a timely fashion. Doug Ota also needs to get four Hoosiers mounted, and Wayne also needs two tires mounted. Ota said that Scott was working his ass off, bleeding all over the rims and tires to get them on and ready for us to race. If it wasn't for Scott, we would be screwed for this weekend. This is a real pain in the ass.......it almost makes me want to get a THIRD set of rims so I won't have to screw around with this headache at the track......
So we do the warm-up session. It is sunny with some clouds in the sky. Since it rained there the day before or so, there are big puddles, kinda almost pond size on some of the runoff areas. At the end of the back straight, they decided to use the configuration of the track that puts a real tight chicane at the end, where I almost have to go into first gear to get around the first two turns. I haven't seen this configuration run before. In one of the warm-up sessions, a Viper misses a turn and ends up in a lake. The track officials have to fish it out of the lake. Next session, TCC decides, "Well, let's ahh…get rid of that chicane. Or else we will have a lot of waterlogged cars that will slow down the event with a tow truck".
In getting ready for the first sprint race on Saturday, it is decided to grid the cars based on lottery. We have a wide variety of cars there, ranging from big time 911's to a bunch of BMW's to 944's to Cobras to MGs, etc. I get gridded 13th or so out of about 20+ cars.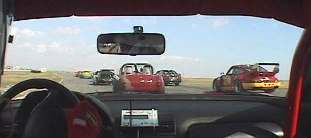 What the grid looked like right before the flag dropped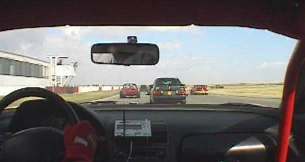 Should I go inside or outside? I'll pick.....inside
Green flag drops, and I have to make a decision to dive inside or go to the outside. I make my bet against Fate, and dive to the inside. The BMW driver in front of me shuts down the lane, so I follow her through the first turn. Unfortunately, everyone else is taking the outside line. Going into the second turn, the BMW driver misses a shift, and I am stuck behind her again. Three more cars zip by on the outside. DAMN!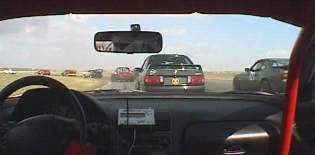 Dwaine gets by on the outside. Damn.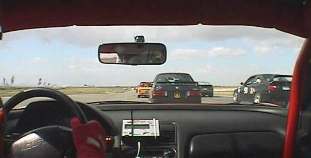 Ota gets by on the outside. Damn Again.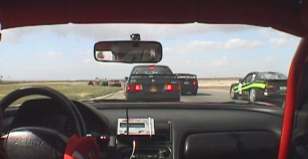 Wayne gets by on outside. This sucks.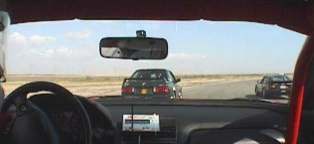 Another 944 gets by on outside. This REALLY sucks.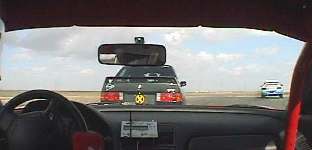 Emil gets by on outside. Will it ever end?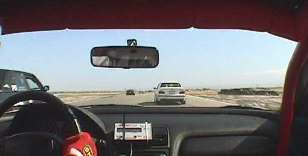 I guess not. White BMW also gets by on outside
I finally get passed the BMW that was holding me up. Okay, time to start working. I power on the supercharger, and we pass another BMW, a 944, a BMW 2002, a 911, a four wheel drive Subaru WRX race car with 285 HP, another BMW. So three laps later, I am back where I was on the grid prior to the start of the race. I get by Dwaine in 944 Turbo who is pretty fast, and now by lap 6, I am lapping the slower cars. I see Wayne and Ota in the distance, and I am reeling them in. Then I hear Wayne on the radio saying, "Damn, my turbo ain't working. I don't have any boost." Heh heh heh. He is toast, I am going to blow by him and get it on videotape! I check the boost gauge for the supercharger, and I see that I am down to 3 lbs. of boost instead of 6 or 7. Thirty seconds later it is down to 2 lbs., then 1 lbs. Then 0 lbs. Uh oh. Supercharger belt has broken. Engine light is on. But Wayne doesn't know that I just lost 80 hp. So maybe if I don't tell him, he will pull over and let me by. Heh heh heh. Dwaine in his 944 blows right back by me as I have no boost, and I am slowly approaching Wayne, and he lets me by. I figure I can go a couple of more laps before the battery dies(supercharger belt also pulls the alternator). It was supposed to be a 10-lap race, but we are on lap 12 or so. Suddenly, there is a waving yellow at every turn, so the five cars in front of me pull off into the pits. Wayne and I follow them. Then, we realize that we probably did a stupid thing, and should have stayed out until they waved the checkered flag, instead of following the rest of the bozos in. DAMN. Bonehead racing strikes again….but then we find out that they are gridding us according to the standings at the end of the 10th lap due to a mistake in when to end the race. Unfortunately, Wayne was in front of me at that point, so I am gridded behind Wayne and Ota for the next sprint race on Sunday as well as the enduro……….but at least tomorrow I will have boost.
After the race, Wayne is scrambling to figure out why his turbo isn't working. I am checking my supercharger belt. Ota is wondering why his differential is leaking a bit. I rent one of the garages, as there are dark clouds moving in, and we gotta change the belt. Wayne and I are getting better and better at this, and we are down to less than 30 minutes to make the change. But now it the rain is coming down HARD. I mean pouring. The wind is kicking up. Uh oh…. this sucks…..I don't have any rain tires mounted. Fate is smiling down at me, thinking she has me beat this time. We fix the belt, and I drive the car back to the hotel on the Hoosiers. Wayne fixes his 944 Turbo simply by hitting the battery kill switch, and then turning it back on. Turbo is back. Ota is leaking a little tranny fluid, but still looks driveable .
Next day, it is bright and sunny. Ha ha, I beat Fate, since it is now dry, and I got eight Hoosiers mounted and ready to, with four of them brand new! For the race group, there is one warm-up session in the morning, then the TCC sprint race, then the Enduro. The warm-up session is at 10:00 a.m. Ota and I leave the hotel at 7:45 a.m., as we want to put the rims with the new Hoosiers on the cars. Wayne, as usual, is still sleeping. Wayne has insomnia on race weekends, and has problems falling asleep at night. He probably has nightmares about me passing him in the race and kicking his ass. I called him and woke him up around 8:00 a.m., and told him to be there in time for the 10:00 a.m. run group. At 9:55 a.m., Wayne is no where to be found. So much for Wayne running a practice session in my NSX prior to the enduro. I wanted him to get used to the car in the warm-up session, but he is too late. Oh well……I take my car in the warm-up session, enjoying the new tires.
In the sprint race on Sunday, I am gridded 6th behind three 911's, Ota and Wayne. Wayne and I are lined up against each other in the 3rd row, pointing fingers at each other, saying how we are going to kick the other person's ass. During the warm-up lap, one of the 911's pits.
Green flag drops, and Ota and Wayne are side by side into turn 1, and I can't get by them. In turn 3, I out brake Wayne, and get by him.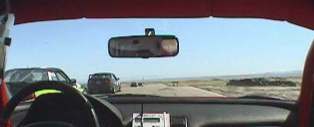 Wayne(on the left) becomes victim of supercharger and Brembos within two turns
Going down the back straight, I blow by Ota. Now there are only the two 911's in front of me. Thank God for the Porsche guys on this Easter Sunday, or else I wouldn't have any competition.......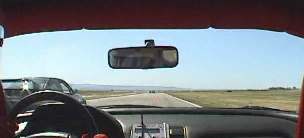 I get by Ota(left) on the back straight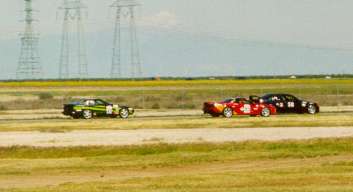 Passing Ota, with Wayne right behind
One of Porsches is running 1:55 or so lap times earlier, so no way will I catch him. He is in the lead. The first 911 drops two wheels off exiting the chicane. The 2nd 911 goes totally off the track coming out of the chicane. It seems like someone spilled oil, and it was a bit slippery there on the exit. I almost go off the track, but am able to catch it before following him into the weeds. Anyways, this 911 goes off the track into the grass for at least eight seconds at 90 mph, he but expertly holds it straight through the weeds and skillfully navigates back on the track and apexes the turn before the straightaway without spinning.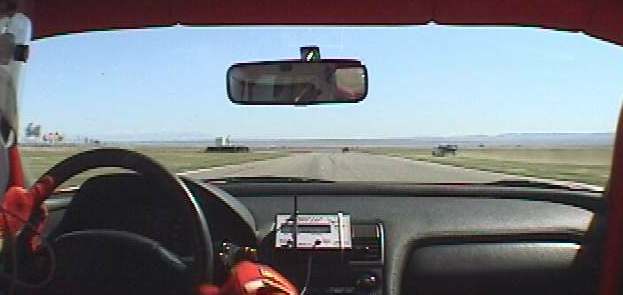 Checkout 911's vapor trail through the weeds at 90 mph!
Pretty slick move, I gotta remember that one! Since he was slowed down a bit coming back on the track, I blow by him on the straight. So now only one car is in front of me, the red/yellow 911 that is booking pretty fast. I catch up a little bit under braking and on the twisties, but down the straightaways the 911 is pulling away from me big time. In two more laps, the 911 is about a quarter mile ahead, and there is no way I can catch him. So now all I have to worry about is 2nd place, because even if the 911 spins, I still won't catch him. Ota, on the other hand, is right on my butt.
We are even through the twisties, but I can pull on him exiting the turns. All I have to do is not spin, and I got 2nd place to myself. So I just try to make sure that when entering the turns, I have at least four car lengths on him, and then I can pull him on the straight. So now I just concentrate on not spinning. But then I heard Jeff on the radio saying, "hey, the red 911 pitted, so Hayashi's in first!". Cool! So now I just take a time trial line, and make sure not to spin, and don't give an opening to Ota to sneak in. A 10 lap race feels like an eternity, especially when someone is on your butt, and you know he isn't going to make any mistakes, and is just waiting for you to screw up a turn or a shift. They finally throw the checker, and I got my 2nd win in a row with the Touring Car Club! Ota takes 2nd, Wayne takes 3rd. As it should be!
So now we have about a half hour until the enduro. Wayne starts jumping up and down, saying he knows what he can do to help us change the supercharger belt should it break on us. Since the most time is spent taking the alternator off, Wayne suggests that we take the alternator out, and loop a second belt around the alternator, and then tie it up with tie wraps so it is out of the way. This way, if we break a belt in the enduro, we simply cut the tie wrap, and throw the belt around the pulleys, make a couple of adjustments, and then we are back up and running. I tell Wayne the only problem with his theory is that I just won the sprint race, everything is working fine, and I am scared to touch the existing belt and alternator, incase we screw something up and can't get it fixed before the enduro.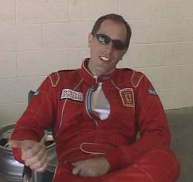 Jeff basically telling us that he and Ota are going to kick my ass and Wayne's ass
Prior to the big enduro race, the posturing and trashing talking between Team NSX and Team M3 heats up. We are all good friends, but we really rag on each other's driving "skills" and cars. Jeff mentions that he is very happy that Ota qualified his "family sedan" ahead of my supercharged NSX. I mention that the only reason for that is because my supercharger belt broke, otherwise Ota woulda been dead meat. Jeff says that is no excuse, that I go around saying that Team NSX is 2-0 against Team M3 in enduro racing, and the only reason for that is the overheating problems their M3 had. Jeff also mentions he is happy that I hired only the best co-driver, one who can't even get out of bed to the only practice session that he can drive in my car!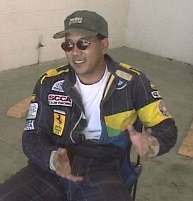 Ota talking about how his "family sedan" is going to beat us
Ota and Jeff are saying stuff like I should be ashamed that I am running a highly modified, supercharged car against their normally aspirated family sedan. They neglect to mention that it is a family sedan with the entire rear seats ripped out of the car, huge RSR style wing, big front splitter, new cams, differential, exhaust, headers, adjustable shocks/swaybars/camber plates etc. I don't see any Irvine Stepford Wives driving their kids to school in a family sedan with those modifications! Jeff asks me don't I feel bad about just barely beating a family sedan in the sprint race with all my mods, and I reply, "No a win is a win, no matter how you get it, no matter how much money you spend, no matter how much you have to cheat and lie". I tell him that I bet the cars at the back of the Formula One grid probably say, "Yeah, we are in the back of the grid, but if we spent as much money as Ferrari does on F1, we would be on the first row also". If you ask me, Whining + Complaining = You Must Be Losing......or About To Lose....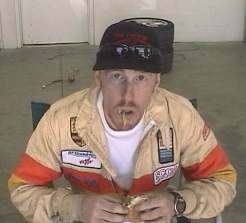 My co-driver, who overslept through practice, with hamburger and lettuce hanging out of his mouth
So to sum it up, I mention that I am running 1:58 lap times, which is a second faster than Jeff in the M3, and Jeff is a second faster than Ota in his M3. Wayne is the unknown factor, since he hasn't driven my car on the track in probably five months. I figure that as long as Wayne can match Ota's time using my NSX, we can beat Jeff and Ota. We have four racing radios, and Jeff wonders if we should have "secure channels" so only the two members of each team can hear each other, so we can do our own separate strategies. But Jeff's mom is keeping track of the lap charts, and she needs to holler the times out to both of the drivers. So for right now, we agree to share the frequency....
Jeff gets out a piece of duct tape, and writes "Hi Hayashi" on it, and puts it on the rear license plate of the M3. He is figuring he is going to screw up my videotape, as he is gridded in front of me, and the videotape will be focusing on his message to everyone who purchases Volume IV of the NSX-Files. And he doesn't plan on letting me pass him……
We need to have either one 10-minute pit stop, or two five minute pit stops during the race. We tell Jeff and Ota we are planning on two five-minute pits. But instead, we are secretly planning on one 10-minute pit stop, if I can run for at least 50 minutes on a full tank of gas. We figure one pit stop will save us about 30 seconds as opposed to two five-minute stops, since you have to enter and leave the pits at a max of 25 mph. We are hoping that they will go for two five-minute stops, so we can gain 30 seconds on them. Bluffing and outthinking your opponents is part of the game, as well as lying and cheating.…..and we are trying to become expert racing strategists.....
I am gridded about 7th or so, and Jeff is gridded 5th. I try to get some tunes cranking on the CD player to get ready for the start of the race, but my head unit says, "Error -01". I have NEVER seen that error on my CD player. Oh well, so much for cranking some tunes during the enduro.....
The green flag drops, and Jeff tries to go wide around a Porsche 911. But since he isn't used to Ota's car, he hits the rev limiter, and I blow by him!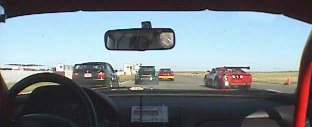 Green flag drops, Jeff goes inside, 911 cuts him off, he hits rev limiter, and gets two wheels off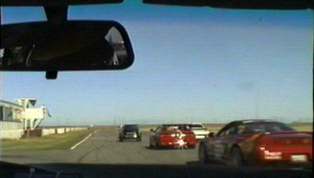 Jeff's multiple mistakes allow me to pass him in 4.2 seconds on the start. See ya Jeff!
(photo from Jeff's camcorder)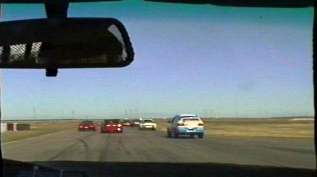 I pass the Ferrari 348 on the start in another 4.2 seconds.(I am on the far left)
(photo from Jeff's camcorder)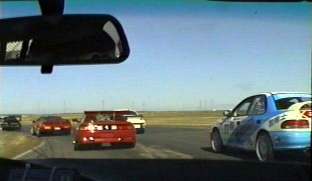 Another couple of seconds, I get by white 930 Turbo. Finally, I get a good start for a change!
(photo from Jeff's camcorder)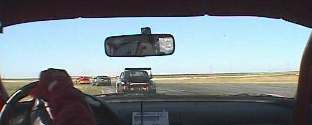 Exiting the first turn, only three cars are in front of me! Two 911's and a 944 Turbo
Dwaine in the grey 944 on the side of me on the grid shoots all the way to 2nd on the outside, and he started lined up to the right of me on the grid. That was some nice driving by Dwaine. So we got a Red 911 leading the pack, a grey 944, then a white/black 911, then me. Right behind me is a white 930 Turbo, and right on his butt is Jeff. I am keeping up with the white 911 and the grey 944. Through the next couple of laps, the white 911 and the grey 944 swap leads a couple of times. I get by the 944 using the Brembos, but on the exit of the turn he carried more speed and he passes me again down the straight. Meanwhile, Jeff passes the 930 turbo, and on the twisties he is right on my butt, as I can't get by the 944 and 911 in front of me. Jeff owns some of the track records at Buttonwillow in the Sports 2000 class, as he is the S2000 SCCA Regional points champ here the past 3 years for Southern Cal. He thought he was going to kick my ass in Ota's M3. But he ends up looking at my tail lights his ENTIRE first session(15+ laps) of the enduro. I think the real reason why he decided to do the Sports 2000 SCCA racing is because he KNOWS he can't beat me with any of his "street cars" against my NSX "street car", so he has pretty much given up chasing me with his RX-7 or any of his other cars. He claims he gets better racing in the Sports 2000 class, since all cars are "equal". Yeah, whatever. For that matter, I don't think that Ota can take me in his M3 on any track, whether it is a fast track like Willow Springs, or a twisty track like Buttonwillow. My NSX with the Comptech go-fast parts on it is getting pretty tough to beat, and I think I am able to crush just about any BMW or 944 Turbo <Big Grin> (Now watch, the BMW guys will upgrade to superchargers, the 944 Turbo folks will upgrade and get more HP, and the escalation will start again). Maybe that is why Ota also just bought a Sports 2000, as he secretly KNOWS he can't ever beat my NSX again unless my car breaks. I feel sorta bad making them completely change to a different racing class. <Big Grin> I guess I will have to continue to beat on Wayne's 944 Turbo. The 911 Twin Turbo/RSR guys/gals are still on a completely different level when it comes to going fast, I would have to go with some RADICAL mods to keep up with them in a sprint race.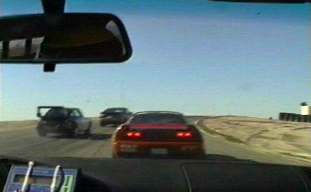 I see Jeff in my rear view mirror ready to dive for inside to pass up the hill. I expertly cut his lane off.
(photo from Jeff's camcorder)
I see Jeff in my rear view mirror getting ready to pass me on the inside of Magic Mountain, but I shut the lane off. (Spending the last 24 years of my life looking for law enforcement officers in the rear view mirror has finely honed my ability to know what is going on behind me at all times!) The Porsche guys are taking the racing line through the turns, but if I were to follow them in the same line, Jeff would dive to inside and pass one or two of us. Meanwhile, the 911 and 944 are still duking it out. The white 911 is faster, but the 944 is doing a great job of doing some clean blocking. If it was a sprint race, I might have tried to dive in on them also, but we got 105 more minutes of racing, so no use taking a chance right now on spinning out or crashing. Three times Jeff makes a move to the inside, and I have to shut the lane down and take a slower line through the next turn. I finally get by the 944 Turbo, and start to chase down the white 911.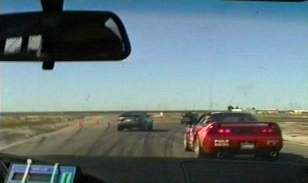 Next lap, I have to block Jeff from taking the inside passing line at the hairpin
(photo from Jeff's camcorder)
The white 911 is going at a good steady, clip. I can't really gain on him, and he pulls me in the straight. After about 12 laps, Jeff radios to Ota and says that the M3 is stumbling at 6500 RPMs, a little smoke is in the cockpit(probably from the diff) and the brakes are getting squishy. Heh heh heh. Meanwhile, I am running consistent 1:58/1:59's, and am pulling away from Jeff. Jeff pits on lap 16, as he wants Ota to get some track time before the M3 breaks. So it looks like they are on a two pit stop pace, which means Wayne and I gained another 30 seconds on them, providing I can go 50 minutes without pitting. I am getting pretty tired, and Marty in the 930 is making his move on me. I get really sloppy, and opt to let him by before I spin out. The next lap, I come into the pits. I ran 20 of 25 laps under 2:00, and a couple in the low 1:57 range. We put almost 14 gallons of gas in the car. So I averaged about 5 miles to the gallon, assuming a 3 mile lap.
I hand the car over to Wayne. Jeff and I are on the sidelines, wondering what he's gonna do in my car. Will he suck because he slept in too late and didn't get any practice in my car? Or will he remember how to drive my car, given that he used to have an NSX as his daily driver? His first lap he clocks in a 1:59, and then proceeds to run 1:58, and a high 1:57. Ota, in a crippled car, is running 2:02-2:03. I do the mental calculations in my head….humm…..30 seconds + four seconds a lap, 25 more laps, YEAH BABY, we going to lap them, and have it on video tape for NSX-Files Volume IV! And we ain't gonna be humble about our win at all. Jeff is amazed at how well we are doing, especially since Wayne is running sub 2:00 times right out of the box with no practice. I tell Jeff it is because Wayne has driven my car in three other enduros, and probably at least four other track events. Wayne also put 40,000 miles on his old NSX before he sold it to get an F355. Jeff says it justs means that I am a crummy driver, if Wayne can run almost as quick as I can in MY car. Personally, I think it just means that Wayne in my car would also be kicking Jeff's ass.....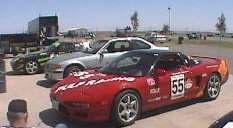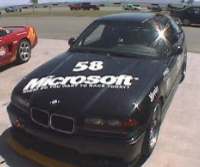 It was Team NSX vs Team M3 in the big grudge match

Then, disaster strikes. I mean total disaster. Wayne starts screaming, "The supercharger belt broke!". Suddenly we go from 324 rear wheel horsepower to ~240 rear wheel horsepower. Uh oh, there is 50+ minutes to go. Engine light comes on, as supercharger belt powers the alternator. I tell Wayne to keep plugging along, and let's go as far as the car can before the battery dies. Jeff is smiling now, say, "Okay, so now we got normally aspirated M3 vs. normally aspirated NSX, now we are on even ground." Wayne clocks a 2:12 lap, as he has to get used to have zero boost. Jeff and I speculate what will happen when the battery finally dies. We think that the car will start to sputter, and then that is when we will have Wayne pull into the pits, but we ain't giving up yet.
Getting used to a new shifting pattern and getting on the gas much sooner, Wayne slowly drops times to 2:10, 2:09, 2:07, 2:05, 2:04, and then no improvement from there. So on this track, the supercharger is good for seven seconds a lap when Wayne is driving. My NSX is also stumbling for some reason at around 7000 RPMs, so Wayne cannot dip into the 2:03's. Ota and Jeff do a driver swap, and Jeff is now running 2:01/2:02. All of us start doing mental calculations. "Let's see, Team NSX was up about 60+ seconds before belt broke, Then the belt broke and Team M3 starting gaining 7 seconds a lap for five laps, now they are gaining three seconds a lap…..humm…….".
20 minutes left in the race. I tell Wayne to use the Brembos and dive down on the slower cars, as they don't know he no longer has 324 HP to the wheels, and hopefully they will just let him by, even though he doesn't have the power to legitimately get by them. We need to at least get some cars between us and Jeff, as Jeff knows we are wounded, and he is like a crazed Rotweiler moving in for the kill. Wayne says that another yellow idiot light came on in the car, but he is going too fast to see what it is. I tell him yellow lights aren't bad, we only worry about red idiot lights, and keep the pedal to the metal because we HAVE to beat Ota and Jeff. We want to continue to be 3-0 against them, to show our total dominance in enduro racing……
10 more minutes left in the race, only five more laps. So far we are beating Fate and Team M3, and are holding on to 2nd place overall in the field. Jeff is now a mere 7 car lengths behind Wayne and gaining rapidly. I radio to Wayne and tell him to make sure that he can start blocking the passing lanes so Jeff doesn't get by, and to make his car really wide. Suddenly, from the pit area, we see a huge cloud of dust at the turn before the start of the straightaway. Someone went off. Ota's goes, "I think it was Wayne". Wayne is on the radio screaming and cursing. Jeff is on the radio, "Wayne, I can't believe you CRACKED under pressure". Wayne is screaming that he didn't crack under pressure and lock the wheels up, but that all four wheels and the tranny seemed to lockup by themselves, thus forcing him into a 360 degree spin off the track. Since the battery is now officially dead, Wayne can't restart the car. Oh well…….looks like we lost the battle today. Fate and Team M3 defeat us this time.....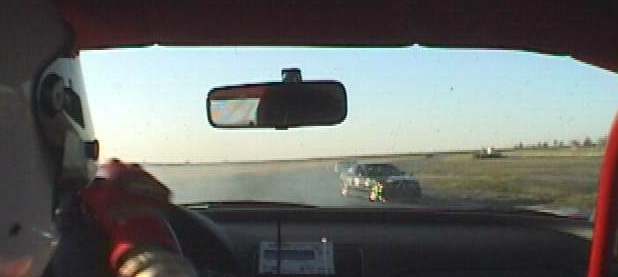 Wayne in a 180 degree spin with tire smoke, watching Jeff going the CORRECT way around the turn
Jeff and Ota are TOTALLY gloating over their victory. They end up 2nd overall in the enduro. So if our belt would not have broken, we would have taken 2nd, and probably lapped them. Woulda shoulda coulda. The white 911 with black sprinkles on it won the race, and Rudy Poe drove the entire two hours in that car. We are forced to congratulate Team M3 on their win…….but we really know that we were gonna kick their ass.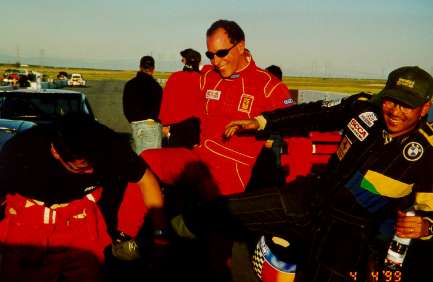 Team NSX DNF's, so Jeff and Ota celebrate by kicking my ass after race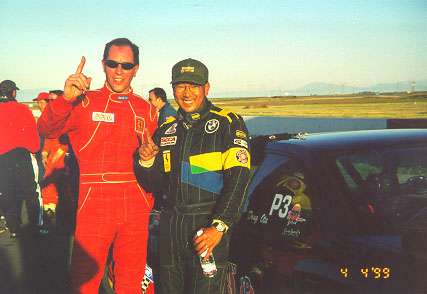 More gloating by Jeff and Ota
We speculate that when the battery finally died with five laps to go, the ECU/ABS barfed big time, and locked up the wheels, thus causing Wayne to spin off the track. So I guess you can say that the car doesn't die gracefully when the battery gives out, so be careful on the highway when the alternator belt breaks, sooner or later you might be experiencing four wheel lockup like Wayne did on this day.


Bummer. I think this might be the first time I had to be completely towed off a race track in 80+ events.
A lot of cars DNFed. The two monster 911 machines didn't finish. One of them had fastest lap at 1:51. The 944 and the 930 Turbo that I was battling out with early in the race didn't finish either.
Okay, so now we got two trailers. Ota's car probably can't make it home, so we have to trailer it. We got to trailer Wayne's car home. Luckily, on my track checklist I have put down "spare battery". We throw the new Black Panther battery on the car, another supercharger belt, and the NSX fires up and is ready to go. Hey, its a Japanese car, and it keeps all those qualities of a well built Honda econobox. Jeff can't believe I got all the tools and a spare battery, as he knows I am mechanically stupid. I now feel like a genius. I start packing up, and I can't find the air tank to put in the box. I look all over the garage and the truck, and it is nowhere to be found. Uh oh. Bonehead racing strikes again. I left it in the trunk of my NSX.....during the sprint race AND the enduro race.....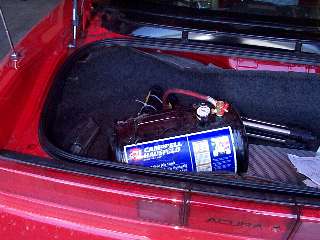 Bonehead Racing strikes again. We were doing so good this weekend.......
It rolled back and forth in my trunk and I now have all these little dents in my trunk lid now from the valve stem of the tank hitting the lid. And when I made those violently sharp right hand turns the 10 lb air tank went flying across the inside of the trunk, and pancaked the CD player. That's where the "Error-01" came from on the head unit on the stereo. DAMN! What an idiot.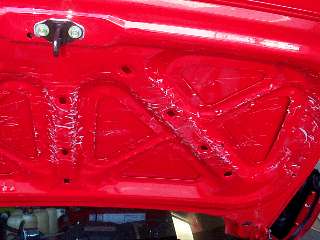 Trunk is all scraped up on the inside. A bunch of small dents can be seen on the outside....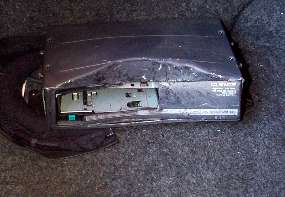 One slightly used CD player for sale. Like new, $300 or best offer......
Looks like I might have to find a new carbon fiber trunk lid, with maybe a big carbon fiber wing on it.....and a new CD player........anyways, we are now just 2-1 against Team M3, and looking forward to the next battle.....stay tuned......
I of course feel that this was a totally objective report on what happened over the weekend. But, to hear it from another perspective, checkout http://jefflit.net/racing/pro/bw9904.asp to hear Team M3's side of the story......
Final Results from PRO Enduro
| | | | | |
| --- | --- | --- | --- | --- |
| Finish | Car # | Driver(s) | Car | Class |
| 1st | #15 | Rudy Poe | Porsche 911 3.2 | 1st-PRO 2 |
| 2nd | #55 | Doug Ota , Jeff Littrell | BMW M3 E 36 | 2nd-PRO 2 |
| 3rd | #69 | Robyn and Blaine McNutt | BMW M3 E 30 | 1st-PRO 5 |
| 4th | #07 | Andy Hope, Chris Quintana | Honda CRX Si | 2nd-PRO 5 |
| 5th | #88 | Joe Kunz, Gary Becker | Ferrari 348 C | 3rd-PRO 2 |
| 6th | #59 | Jeff Hays, R.Michaelangelo | BMW 2002 | 1st-PRO 4 |
| 7th | #55 | Doug Hayashi, Wayne Mello | Acura NSX * | 4th-PRO 2 |
| 8th | #39 | John Sweeney, Jon Lange | Porsche 911 3.5* | 1st-PRO 1 |
| 9th | #9 | Jim Shirey | Cobra | 3rd-PRO 5 |
| 10th | #27 | Marty Mehterian,J Sadinsky | Porsche 930 3.2* | 5th-PRO 2 |
| 11th | #57 | Tino Saloomen, D Young | BMW M3 E 36 | 4th-PRO 5 |
| 12th | #77 | Leung, Morales,McNiff, etc | Subaru STi * | 6th-PRO 5 |
| 13th | #70 | Tak Ishida, Dwaine Dement | Porsche 944 T | DNF |
| 14th | #16 | Bruce Parker,Kevin Roush | Porsche 911 Turbo | DNF |
| 15th | #90 | Chris Von Goetz | Porsche C-4 3.6 | DNF |
| 16th | #10 | Lo | ? | DNS |
Fastest time of weekend- Bruce Parker #16 1:51.350
* = Not running at finish