Buttonwillow Touring Car Club Time Trials - March 1/2, 1997
The SoCal NSXers Take Over Buttonwillow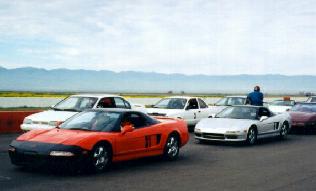 Alex and Alan lined up to race!
This was the first track event that had a bunch of SoCal NSX List members attended with their cars. Brad Smith, Mark Schulten, Alex Vizcarra, Alan Watkins, Julia Yarbough, and myself were there with our NSXes. Other list members attended, Wayne Mello with his 944 Turbo, Peter Hsieh with his RX7, Daniel Seidner with his Mercedes.
Out of the Time Trialers, the fastest time of the day went to a stripped down racing Corvette driven by Rick Doria, (who also won the unlimited class of the Pony Express) probably putting out 450-500 horsepower, running around 1:17.5 or so on the 1.9 mile East? loop of the track.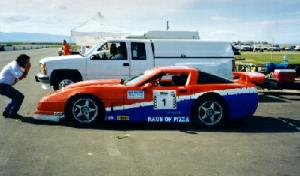 Fastest guy at the Time Trial Event with a 1:17.5 or so
There was a fast-guy in a brand new M3 with R1s on it that did a 1:19.2, who ran a lot back east at Lime Rock and Watkins Glen before moving recently to Socal. I was next at 1:19.5, despite severe braking problems. Alan gave me the hands on tutorial on changing the rear pad Saturday evening, and by Sunday evening I burned through the second pad down to the metal. So I blew through two new right rear pads in two days. Alan and Alex gave me the tutorial on bleeding brakes, which we did Sunday afternoon, but the pedal was still mushy during the actual time trial. Obviously a problem that needs to be fixed.....especially when you have to brake 3 seconds earlier than you normally do because you are trying to pump the brakes to stop the fricking car. I probably toasted my clutch using it to help brake, but I am throwing in a new clutch soon anyways. (Note: problem seemed to be a hand brake adjustment, so this is now fixed) Next I think was a Z28 at 1:22:4 or so.
Tilo Steurer ran a 928 in the race group, and he easily won the race group with his stripped down, supercharged car. He wasn't in the time trials, but he was probably doing 1:17, maybe even faster.
The SoCal NSXers took home three trophies, including Alan and Alex on some great driving their first time on the track with their NSX with times around 1:27.8
.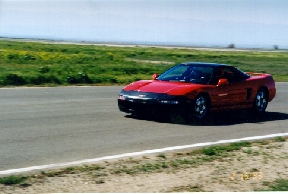 Alex at Speed on the Track. Winner of the Novice 3-Liter Modified Class at 1:27.3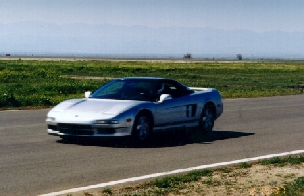 Alan at Speed on the Track. Winner of the Novice 3-Liter Stock Class at 1:28:8
Brad Smith with his racing slicks and Koni shocks were burning up the track on Saturday with some very impressive 1:20s before he had to leave for Germany.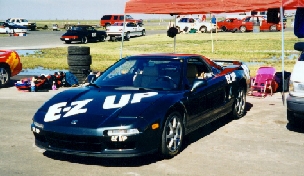 Brad's NSX. Ya gotta love his Decal Design! Running 1:20's!
Wayne was running around 1:20/1:21 in his 944 Turbo on Saturday before his car broke a front suspension piece or something, and had to be towed home 180 miles or so. Big Bummer.
Mark Shulton was running somewhere around 1:24/1:25 prior to the actual time trials, not sure if he got a posted time.
Julia from KCBS Channel 2 in her NSX, and I would guess she was running around 1:38 or so. She was there with a cameraman shooting footage for one of those 2 minute filler spots on the news, probably not aired until May or so.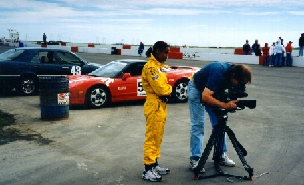 Julia with her cameraman getting some shots
There was also a 96 Turbo running around 1:34 or so, along with an assortment of other cars running from 1:25 through 1:47 or so.
All in all, a pretty good weekend, first time I ever saw six NSXes participating at a track event. Next track event, I think we will make an even more impressive showing!
p.s. I won $50 bucks from Wayne, due to his DNF! Ya gotta finish the event in order to collect the dough!

Wayne looking disgustedly at his broken down 944 Turbo
I gave a copy of the NSX-Files Volume 1 to James Sofronas, the driver of the white M3 that beat me. He was doing some seriously good driving, and making the last second passes as he was outbraking me(since my brakes sucked at this event). After he watches the tape, THEN he calls me on the phone and 'fesses up to occasionally driving World Challenge Oldsmobile cars in Pro SCCA Racing. He never mentioned this when we were at Buttonwillow, he just casually mentioned that he did some driving back east. I tell ya, everyone is a damn sandbagger in this sport..... :-)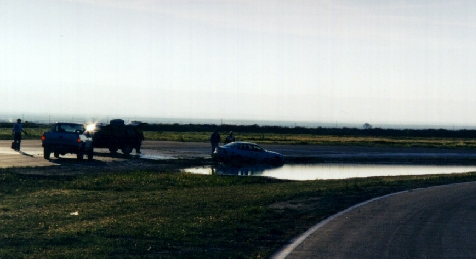 Anonymous BMW Driver who ended up in a puddle. Pond? Lake?