1996 Virginia City Hill Climb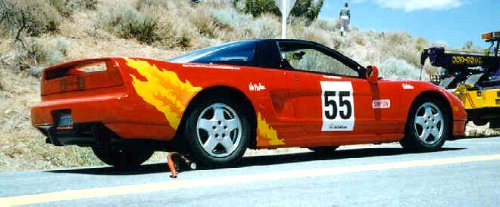 Waiting in line at the hill climb. Block is by the rear tire is so that you don't have to use your brakes while waiting for your turn up the hill.

Okay, after yesterday's (August 4th) impromptu meeting with members of the NSX Listserver, I finally got motivated to hackup this page since more people wanted to see what's all this talk about flames and stickers on my car. Format will be ugly, but below is the info on the Hill Climb, and above is what my car looks like today. It is hard to see, but the driver's door has my name, "1996 Virginia City Hill Climb", "Powered by Honda". On the rear quarter panel, it has my URL for the web site, and a No Fear sticker, and of course, the flames.
---
DATELINE: June 21st, 1996, 4:30 p.m.
June 22/23rd is the 1996 Virginia City Hill Climb. I have been psyching up for this event for since last year's Hill Climb. Here is a short chronology:
Thursday June 13th - I go into Acura dealer for oil change + replace all 4 drilled rotors with stock NSX rotors. For full explanation as to why I went back to stock, see the Modifications Pages of my site. Acura NSX Mechanic and Service Advisor mention that since I have 82,000 miles, good preventive maintenance would be to replace timing belt before I leave for Virginia City. I think about it (hummm…..car is running like a dream. But if belt break at Virginia City, I want to avoid that 500 mile towing fee, and possibly falling off the cliff. But if I get it fixed, what if there isn't enough time to shakeout any problems with the new install of timing belt. But I got EIGHT days until I am supposed to leave, Friday, 6:00 a.m., June 23rd. Hummm…….) I end up agreeing, and they order timing belt. Since we missed the order deadline for Thursday, June 13th, we have to order on Friday, which mean part gets there on Monday. I start to sweat. I also send back performance chip to manufacturer, as we determine that it is not programmed for my SuperTrapp exhaust. Manufacturer promised to fedex back new chip as soon as he gets the old one.
Monday June 17 - Belt comes in. Chip doesn't, as manufacturer doesn't get chip until today. I start to sweat a bit. But hey, four more days, right? Meantime, Wayne and I decide to get decals with our name on it to put on the windshield and doors our cars. And then the idea grows, and pretty soon my wife is designing flames, and Wayne and I are begging for stickers from all the go-fast shops around the area. We decided to go overboard, and put company logos all the way across the hood of our cars.
Tuesday, June 18 - timing belt installed, car ready to go, so I can test for a couple of days to make sure everything is okay. Unfortunately chip doesn't come in. I call chip manufacturer, and reminded them they were supposed to fedex to me. He checks, yes it was fedexed, but second day air. DUH, I didn't need it two days from when we talked, I needed it asap. Since when does fedex mean second day delivery? Car is still torn apart, waiting for chip, as entire rear of passenger compartment is ripped up, which means to replace chip, which also means five point harnesses, camera mount, etc, have to be also removed. I sweat a little more, and also start cursing profusely.
Wednesday, June 19 - Chip finally comes in. I pickup the car!!! NSX mechanic drove it around for 15 miles, said it feels pretty good. I drive it back home , rip up and down a couple of empty streets, and feel I am ready for the Hill Climb. Then, when coming up to a stoplight, car stalls and I coast to a stop. Car doesn't startup. My friend Wayne pushes my car into parking lot. Car still doesn't start. We call tow truck. Now I really start to sweat. Car gets towed back to Acura dealer.
Thursday June 20 - I am sweating big time now. I go directly to dealer in the morning. And see my car on a rack six feet high, and my motor, exhaust, etc, on the ground. NSX mechanic says, "uh oh". Apparently new timing belt slipped, and at least two intake valves were bent.. I go, "no problem, just fix it." No one in Southern Cal has NSX intake valves. I offer to pay for courier service to pickup at Norcal distribution center the valves, put them on a plane to the airport, and I will pick them up. Unfortunately, mechanic believes that more than two valves are damaged, and wants to order 12 intake valves, which means they get three from Norcal, and 3 from back east, etc. etc. Acura Service rep and Mechanic are wigging, as they understand that I HAVE to be at this event, as I have been preparing for a year for it.
Thursday night, June 20 - The wife and I are at the Acura Dealer from 7:30 p.m. to Midnight putting stickers and decals on the car. Wayne says, why bother, if they don't fix the car tomorrow, you are screwed, and you have all these stickers on your car for nothing. I take a positive attitude, and say that if I invest all this time with the stickers prepping the car, the car gods(and fedex gods) will be with me and the NSX mechanic tomorrow, and everything will work out.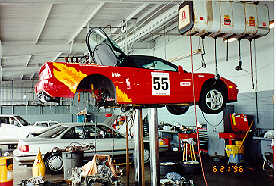 My car with no engine, no rear end, no muffler, etc.
Friday, June 21. 6:00 a.m.(when we were supposed to leave) passes. I have a car with a new set of R1s, decals all over the damn car, new timing belt installed, new performance chip installed, and no engine in the car and 12 bent intake valves. Talk about a bummer of a day.
9:00 a.m. Fedex guy arrives(I thank the fedex gods). Valves are then moved to local machine shop.
2:00 p.m. Engine head comes back from machine shop, where they checked new valves, ground the heads or whatever they heck they do, and proclaimed it ready to run.
2:01 p.m. NSX mechanic then begins piecing the car together, from what looks like scratch.
3:00 p.m. Another NSX mechanic starts helping him out.
4:00 p.m. Service advisor calls, say she has 4-5 guys working on the car, trying to get it done by 6:00 or 7:00 tonight. Which means we gotta drive all night to Virginia City(500 Miles or so), trying to avoid CHP at night. Which is extremely difficult, as you can't see what is behind you at night. (for you east coasters, most of CHP does NOT use radar, they have to search you out, and tail you, and clock you. It's a California thing.)
So, if you don't hear from me any more, it means I am on my way to Virginia City. I got my poster today of Jeff Cunningham's Honda sponsored NSX, and it maybe really fast, but the decals/design on that thing really sucks. I think flames look a hell of a lot better.
---
DATELINE: June 24th, 9:00 p.m. Back home after the Hill Climb. Continuation of the story:
Friday 7:00 p.m - 4 Mechanics at the Acura dealer finished the car. I paged Wayne, and told him to meet me at the dealer. I have my wife drive me over to the dealer. As we get within a block or so of the dealer, I see my car go ripping down the street, since the mechanic was taking it for a test drive. My wife and I start cracking up, as this is the first time we have seen the car on the road with the flames and decals. It looks pretty cool, like a real race car! I ask the mechanics if I have to baby it, since the new valves are in, and they say just go for it, it should be okay. I am totally amazed that they got it all back together and it worked! Steve from South Coast Acura at 714-979-2500 is the NSX Tech, and Laurie is the service rep. Great work by them them and their teams to get me up and running again. They have done virtually all the maintenance and repair work on my car, and I am really happy with their service.
Friday 7:30 p.m - Me, Wayne Mello in a 944 turbo, and his brother in a van with extra tires, blast up to Virginia City. We arrive at 4:30 a.m. in the morning, dead tired. Denise Stillman (she drives a Ferrari 328) told us to get rooms at the Silver Queen, and that it is a quaint little place 10 minutes from the Hill. We arrive at the Silver Queen. No phones in the room. No TV in the room. No room service. No ice machine. No person on duty(they left our rooms open for us). Welcome to beautiful Virginia City.....needless to say, we ain't gonna ask Denise what airline she recommends......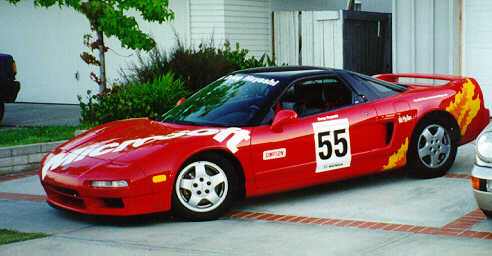 Hill Climb starts at 9:30 a.m. - I drop a second off my time up the hill from last year in the morning to a 3:52. As the day gets hotter, times get worse and worse.
3:00 p.m. Saturday - Local cable access TV crew is there (couple of 21year olds) start filming portions of the race. I take one of their interns for a spin. Literally. Blasting out of turn 20, my large radiator hose from the engine block bursts, and drops coolant right in from of my rear left tire going about 80 mph. We proceed to do a 360 spin down the pavement, mountain on one side, short drop off on the other side. Lucky, I keep it on the road and we end up in a short run off area. Intern says, "wow man, that was awesome." I am thankful we are alive and no car damage, and I don't have to explain to his parents why their son is in the hospital/morgue. We proceed to replace the hose.
Carnage report for Saturday - Five cars crash into the mountain. A 512 Boxer(he came back to run again later in the day), a 914 with a 350 small block in it(cracked his custom fiberglass front end), two Audi Quattros, and one other car. One of the Quattros blew a tire in the process, flipped and rolled and ended upside down, about 10 feet from a 400 foot drop off. Driver is fine, but car is totalled, along with some fire damage. Unfortunately, I could not get any footage of the car upside down, as I was rushing to get a hose before the auto shops closed on Saturday. I feel like a tabloid reporter, I wish I was there for the destruction and humiliation.
Sunday - After the Big Spin on Saturday, my times are noticeably slower, like by 3 seconds. Total lack of confidence after that spin, I know longer have that "Me and my NSX are invincible" attitude. As the day gets hotter, times get worse, and I give up trying to break into the 3:40s. I now understand that my strategy for next year is to go all out by myself in the morning while it is cool and then in the afternoon take some of the important people for a "leisurely" drive through the hill. Important people meaning the promoter's daughter, newpaper people, friends, etc.
Sunday night - An absolutely hilarious awards banquet. I got it all on video tape. Host by the guy running a 512TR, the guy is a comic genius. I end up 11th out of 49, missing the top 10 by 3 seconds to a guy in a 993 4WD. (damn those Porsche guys). Winner of the event by 1/10 of a second was a Mercedes sedan(prepared by Renntech), with a 3:34. Car had Yoko slicks(Saturday, on those new Yoko A032?, he was 10 seconds slower), and lots of engine work. He brought a total of eight tires with him. This guy was 7th in the One Lap the week before. Second place was a 512TR, with slicks, who came in I think 3rd or 4th last year. 3rd was a Viper using street tires! The rest of the cars were something like a 355, a Lotus, , a stock 993 4WD, heavily modified 911, raced out 911, Vette with big horsepower, a 944 Turbo(piloted by my friend Wayne (who dumped $3200 into his suspension to prepare for this race, and won $3000 bucks at the blackjack table. That lucky bastard, he beat me up the hill and beat the casino.) but not in that exact order. Notice that virtually all of the cars faster than me with the exception of the Lotus and the stock 993 4WD had 50 to 150 more horsepower than my NSX. ACURA ARE YOU LISTENING! WE NEED MORE POWER!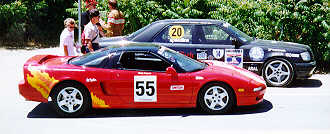 My car next to the winning Renntech Mercedes. But notice, he aint got no flames, and my car at least LOOKS faster...
Monday Afternoon - Blasting through Kern County with Wayne and Sal in a 911 C2. We get pulled over by a Kern County Sheriff, and I am highly upset as I was in the back watching for cops, and as soon as he popped up in the rear view mirror, I radioed to everyone to slow down, so there was no way he got a reading on us by tailing us, and the radar detector did not go off(but he probably saw all our decals from two miles away). He says he is going to write me and the 911(Wayne, that lucky bastard did not get stopped). He fumbles in his car, and comes back and says it is our lucky day, as he is OUT OF TICKETS! So he lets us go, and tells us to keep it at the speed limit for 13 miles, as it is his territory, and he doesn't care what we do in LA jurisdiction.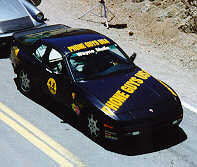 Picture of Wayne's 944 Turbo(he won't race his NSX)
Monday - Just finished washing the car. Decals look pretty cool. I think I will keep them on for the weekend, and drive around like a wanna be racer.

One YEAR later - I still have the decals on. Notice how boring Wayne's NSX now looks since he has no decals. I keep saying I am going to take them off when the weekend rolls around, but I haven't been able to do it yet……
VIrginia City Hill Climb, June 25-26, 1996

Final Results

POS

Driver
Make
Best Time
Top Speed

1

Kim Crumb
Renntech Mercedes
3:34.422

117.4

2

Amir Rosenbaum
Ferrari 512 TR
3:34.506

119.0

3

Tim Landis
Dodge Viper
3:39.284

117.7

4

Randy Harris
Corvette ZR1
3:43.094

117.1

5

David LeSage
Porsche 911 GT2
3:43.318

104.2

6

Tom Mildren
Porsche 911 S
3:45.432

100.8

7

Dan Crow
Lotus
3:45.700

112.7

8

Steve Westrate
Ferrari F355
3:45.901

109.5

9

Wayne Mello
Porsche 944 Turbo
3:47.852

106.6

10

Carl Young
Porsche 911
3:49.229

100.6

11

Doug Hayashi
Acura NSX
3:52.320

103.5

12

Richard Clewett
Porsche 914
3:52.691

99.2

13

Darrin Hale
Audi Quattro
3:55.370

91.7

14

Andy Bennett
Audi Quattro
3:55.395

91.9

15

Doug Barron
Porsche 911
3:55.830

97.2

16

Gary Bergman
Audi Quattro
3:59.093

86.4

17

Denise Stillman
Ferrari 328
4:01.989

94.0

18

Richard Forman
Porsche 914-6
4:02.607

95.6

19

Robert Davis
Mustang
4:03.551

99.9

20

Charlie Turner
Mustang Steeda
4:03.551

101.8

21

Jim Condon
Ferrari 365BB
4:07.115

99.1

22

Ken Day
Ferrari 365BB
4:07.561

102.4

23

Chris Pederson
Porsche 911 SC
4:08.025

87.9

24

______Forman
Porsche 914- 6
4:08.279

92.2

25

Gary Raugh
Ferrari 328
4:08.295

94.9

26

Jane McKenna
Caterham
4:09.203

83.5

27

Dean Treadway
Audi Quattro
4:13.008

97.4

28

Tim Strann
Mazda Miata (Monster 5.0)
4:13.213

98.4

29

Darin Bourgevis
Mustang Saleen
4:14.889

99.0

30

Eddie Delgado
Audi Quattro
4:14.992

88.8

31

John Lefcourte
Caterham
4:14.555

85.1

32

Brian Cummings
Audi Quattro
4:16.535

No time

33

Dean Schneider
Audi Quattro
4:16.803

94.9

34

Harry Feser
Audi Quattro
4:17.508

95.4

35

John Adkins
Ferrari 365 GTC/4
4:20.001

93.3

36

Doug Bourgenvis
Mustang Saleen
4:22.772

98.7

37

Dan Chavetz
Mustang
4:24.102

88.5

38

Monte Lieberfarb
Porsche 914 w/Chevy Engine
4:24.347

96.3

39

Joe Maddocks
1984 Ferrari 512 BB
4:26.068

95.1

40

Randy Evans
Audi Quattro
4:26.937

75.4

41

Michael Norman
Audi Quattro
4:27.085

75.2

42

Homare Sakata
Nissan 280Z
4:28.219

81.4

43

Sal Manzo
Porsche 911
4:28.346

98.4

44

Tim Strombo
Ferrari 308
4:28.402

79.1

45

George Smith
Cobra Replica
4:28.944

83.9

46

Robert Dalrymple
Porsche 930
4:29.551

82.6

47

Duane Hale
Audi Quattro
4:30.385

72.6

48

Bruno Miramont
VW Golf
4:30.782

73.5

49

Aidan McLeer
Audi Quattro
4:36.596

96.2

50

Ken Bennet
Audi Quattro
4:37.680

69.8

51

Steven McGregor
Audi Quattro
4:47.281

74.2