Stan Brown Event
Thunderhill Raceway, March 28, 2002
"The Backup of the Backup Car"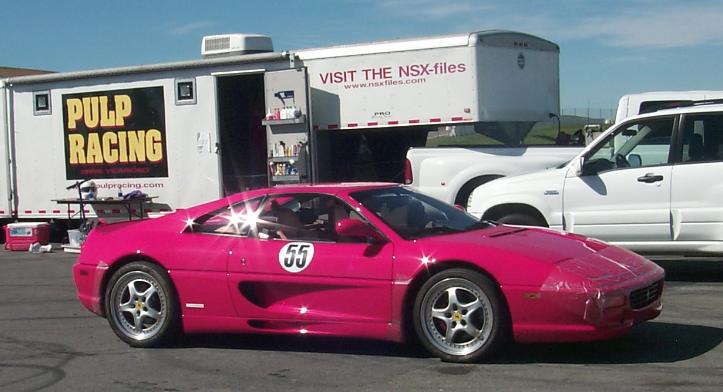 NSX on a lift the last 120 days. S2000 on a lift last three weeks. What's left.....
Thunderhill is Track #5 in the Open Track Challenge. Unfortunately for Wayne and I, we have never been there, and we need to get some practice on this track. We signed up for the Stan Brown track event on Thursday, March 28th at Thunderhill. Two days after that, Wurth/Bitterman/Speed Ventures/whatever they call themselves these days were having their Time Trial event at Sears Point on March 30th and 31st. A tour of northern California seemed to be the right thing to do. Around March 10th or so I dropped off the S2000 for the 15,000 mile checkup and to have them check the synchro grinding I have been occasionally hearing. About once every other week there is a nasty grind that happens, and I know it can't be me. After all, I am a professional. <grin>

I figure I can leave it with them for a week or so, get everything done, and I will still have a couple weeks to get ready for the event. I am pretty certain that the NSX still won't be done by then...hell, its only been about 120 days since it was last on the track.......so the S2000 backup track car will have to do.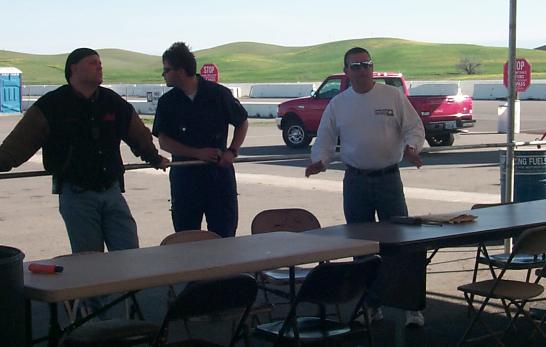 Stan Brown giving directions at the driver's meeting

March 12th.
I take the Ferrari in for servicing, as it puked a one foot by one foot puddle of tranny fluid on the ground. The mechanics in the service department look at it, and they feel it is the F1 tranny actuator that is leaking. But it is not a serviceable part, you have to replace the whole unit. Hummm....how much is that? They tell me $4900! Which is absolutely ricockulous. My other option is to just put in some tranny fluid when it gets low, and hope for the best. I decide to go with $8 solution of buying a can of tranny fluid. The suspension kinda sucks on the car also, maybe it needs new shocks? I don't even bother asking what those cost.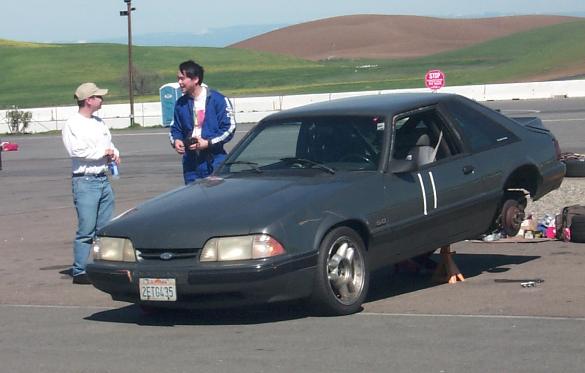 Matt and Scott (from www.corner-carvers.com)
March 20th.
They get the parts in for the S2000 syncho, and open up the tranny. But the tranny bearings seem to have gotten trashed, probably from the occasional grinding of 2nd gear. Metal went into the bearings, and they have to be replaced. Except that the tranny bearings are on world wide backorder until some time in early April. Now this is a problem......the NSX still isn't ready. If the S2000 isn't ready, I already sent in my entry fee to Stan Brown and to Wurth/Bitterman, and technically it might be too late to ask for a refund. Damn. I really need to get practice at Thunderhill, and it sounds like the NSX Thunderhill event in late April might get cancelled due to lack of participation. Thunderhill is suddenly very popular, and it is real hard to get an open track date these days. With no practice, I will get decimated at this track at the OTC.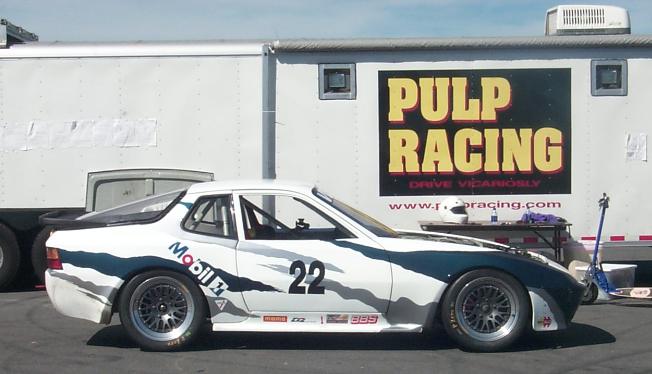 Wayne's car with new tranny installed by Vision
March 25th
Wayne agrees that he needs to practice at Thunderhill also. His plan is to fly into Sacramento the night before, rent a car, drive 100 miles to the track, practice, and then fly right back. Since there is no wheel-to-wheel race at Sears, he decides to bail on the Wurth event. Remember, the Go-Fast buzz is highly intensified in a wheel-to-wheel race. The difference between Time Trials and wheel-to-wheel racing is kinda like the difference between hitting a heavy bag at the gym vs. climbing into a boxing ring and going mano-a-mano against another human being. The wheel-to-wheel drivers are the modern day gladiators.
I figured that I would tow the 48 foot trailer with Wayne's car and the S2000. The wife said she wants to go also, as Sears Point is close to Wine Country, and San Francisco, which in her mind, means unrestricted wine tasting and shopping while I am at the track. But if the NSX isn't working, and the S2000 isn't working.....I gotta find a car. I guess I could just rent a car, like Lou Young and Young-Kyu Yoo have been doing for various track events to get their OTC practice.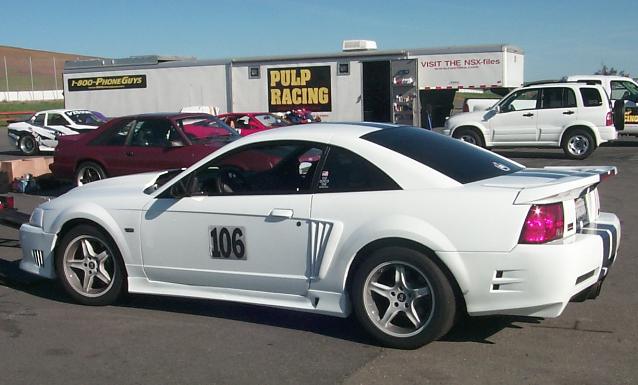 Stan's Mustang
Hummm.....I have a 2nd set of Speedline wheels for the F355 with Hoosiers on them that I last used about two years ago at Willow Springs. I could just throw those on......and take the Ferrari to the track. The wife says that is an insane idea....and could be a five figure mistake if something goes wrong. But strangely, the F355 hasn't puked any tranny fluid since that day earlier in the month. Maybe it fixed itself? I go out and get some Porterfield R4 pads, Larry helps me flush the brake fluid out and replace it ATE Super Blue, and we put the Hoosiers on the car. I go ripping around town, and the F355 feels GREAT with Hoosiers on it. The suspension feels good again. Maybe this car will work out for the weekend...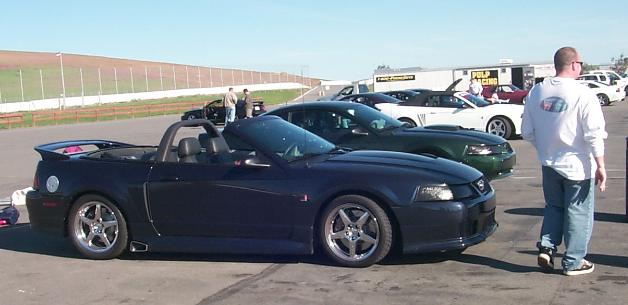 Convertible Mustang
March 26th.
The Costa Mesa Honda guys say that the S2000 will be ready on Thursday afternoon, which is a miracle to me. Dick is the S2000 technician there, and he is extremely knowledgeable about servicing the S2000. Highly recommended. Call them at 714-436-5050 to get your S2000 serviced, ask for Paul.
But Thursday afternoon is too late to make it to the Thunderhill event. I wonder if I can get Donald to pickup the S2000, and drive it to Sears Point on Friday. That way, Donald does the "500 mile break in" on the tranny, and I can participate in the S2000 Challenge, and I don't have to thrash the F355 at Sears Point. That could work. Racing is a hobby that presents hundreds of "problems" that have to be solved in order to have a good racing weekend. Problems such as logistics, mechanical problems, and supply problems that have to be solved under severe time constraints.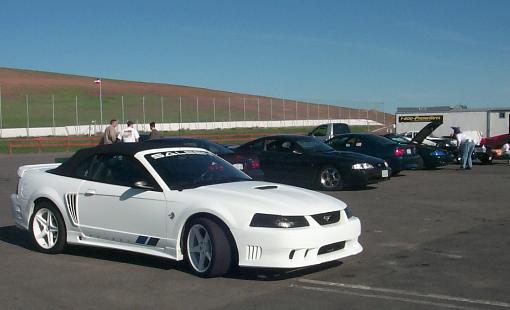 Another convertible Mustang
March 27th.
At 6:00 a.m., the wife and I leave Huntington Beach with the big ass trailer. By 2:30 p.m, we arrive at the lovely town of Willows, and we kick back in a Jacuzzi tub to rest our weary bones. I realize that if I drove up with Wayne with the trailer, we wouldn't get to Willows until 5:30 p.m., because Wayne HAS to eat breakfast at Denny's (kills one hour), has to make additional bathroom stops (kills another hour), and has to eat lunch at a Burger King or other fast food joint (kills another hour). The wife and I pack up some snacks, stop at two rest stops to go to the bathroom and pump diesel into the truck via the auxiliary diesel tank, and we get to Willows in record time.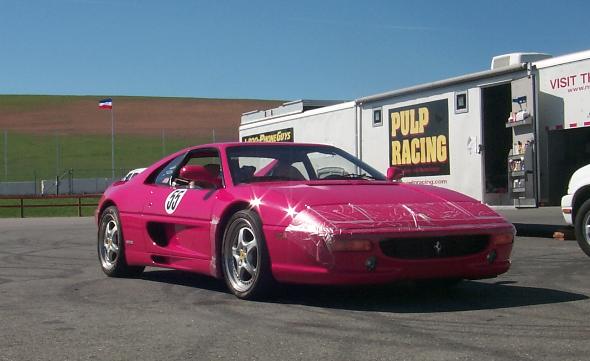 All wrapped up with clear shelving paper
March 28th.
We get to the track. There is a 30 mph wind, and the temperature is around 78 degrees. I put some of that clear shelving paper on the F355 to prevent rock dings on the car. We do a three lap lead follow at low speed, just to get a "feel" for the track.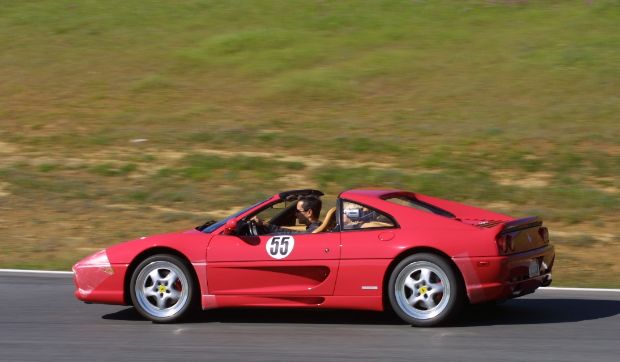 Warming up the car in the lead/follow session (Click here for bigger)
© 2002 Darron Spohn http://www.photobitstream.com
I come in, and check the tranny/motor, and it is all wet with fluid. No fluid on the ground, just on the tranny and motor. DAMN! Entire weekend ruined. I decide to take it out for a hot lap session anyways. Maybe it will blow up and catch on fire. Then I could plead innocent to my insurance company, and get some cash for another car. Let's see, what would I replace the F355 with.....it would have to be something cheap, since the stock market is still wobbling around like a guy who had both his knees shot out, and is now trying to protect his ah...groin.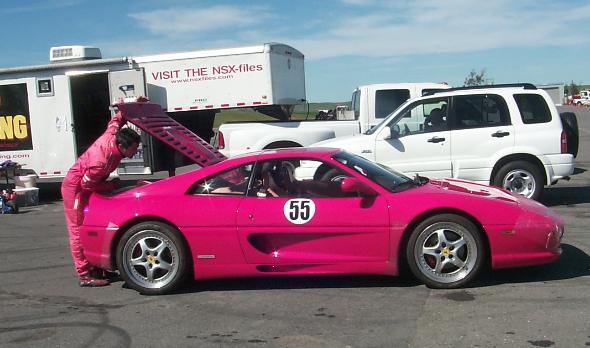 Checking for leaks, smoke, fire, etc.
I take the car on the track, thrash it for about 10 laps, and then bring the car in. I am only running about 2:28 lap times, as I still need to get the hang of the track. I open up the engine lid, and everything got so hot, that it burned off all the leaking fluids. And, it is not leaking. Curious. Maybe thrashing the car at the track got the tranny/motor so hot, the gaskets expanded, and everything sealed up? Unlikely, but let's do another session. Ferrari motors run extremely hot, you can see heat rising up from the engine compartment when you are at a stop light. For example, at a stop light, the temperature on my F355 will go from 190 degrees to 210 or so by the time the light turns green.
The Mustang guys at this even are familiar with this track, and they are blowing by me with their video cameras recording the moment. I don't blame them, I would be doing the same thing! This session, I follow Scott H., Mustang driver, around the track, and I drop another 8 seconds off my lap time, so I am down to 2:20. Thanks Scott! Thunderhill is an awesome track. It is fast, challenging, and a lot of fun. It could be one of my favorite tracks!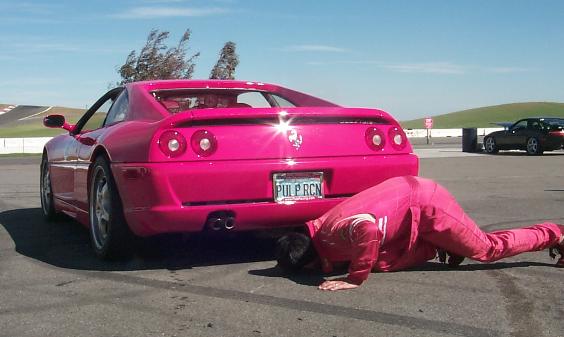 Checking to see if any parts fell off
I go out for another session, thrash the car for 10 laps, run a 2:17, bring it in and check it. Nothing leaking. I check the oil level and the tranny fluid level.....seems okay. What the heck. I continue to do about 3 more sessions, and I get down to a 2:12. Not spectacular, but I don't want to take a chance at flying off the track into a cow with the F355. I have never been to a track with green grass in the run off area. I am not sure what would happen if you spun off and hit the grass with your brakes locked up. Would you slide for a 100 feet? Would the tires stick in the soft grass as you go sideways, thus causing you to flip?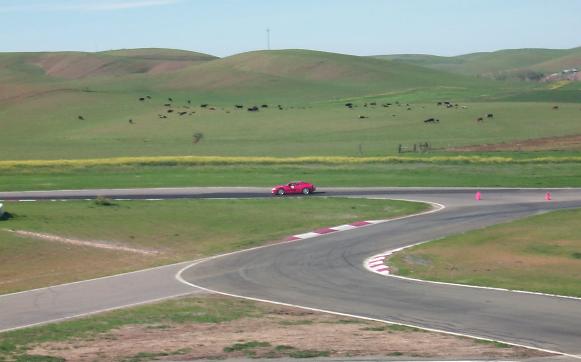 Green rolling hills, cows, and a very, very fast track
Wayne's having a blast in the 944 Turbo. Within about 10-15 hot laps, he is down to 2:06, and he feels he can get below 2:00. He needs to put gas in his car, and he starts pumping 100 octane into the car at the pumps at the track. Except he feels a gas mist blowing into his face, and a couple of workers on top of the big external, above ground gas tank are waving their hands yelling, "STOP STOP". Apparently something is wrong with the 100 octane pump, and gas is being sprayed from the top of the big ass external gas holding tank that is situated 50 feet from the pumps, hitting the 30 mph wind, and blowing right back at Wayne. So Wayne throws in the 91/92 octane gas instead, thus making sure he doesn't blow up the track.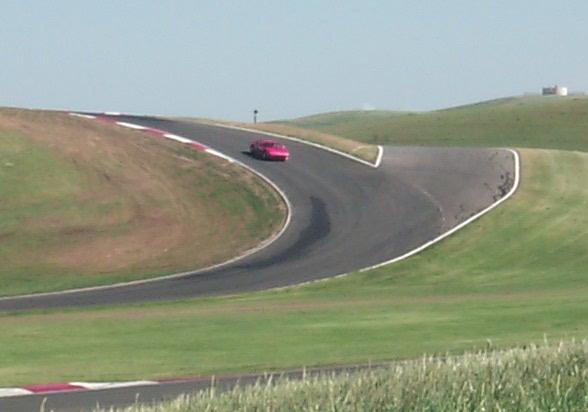 Coming down the Cyclone
Back on the track, Wayne's car starts heating up. This isn't good. He comes in, checks the car. Checks his spark plugs.....and it looks like a plug blew up in his car. Not sure why. Maybe the lower octane gas blew it up? Maybe the wrong spark plugs?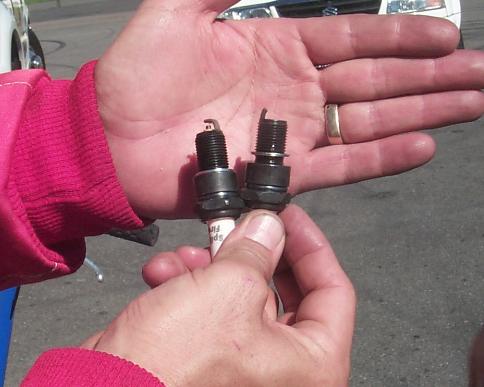 Wayne's spark plug blew up.

Bummer. We use one of those magnet thingys to see if we can find the other part of his spark plug that is missing.....but the metal hooky thing has ah...disappeared. Did it vaporize? Get spit out the exhaust? Stuck in the turbo? Not good. Wayne calls it quits for the day, and heads back to the airport. He stops at that little Indian casino on the way.....and drops $300 at the blackjack table. But at least he is happy that he understands the line at the track, and he will be able to probably get to under 2:00 during the OTC.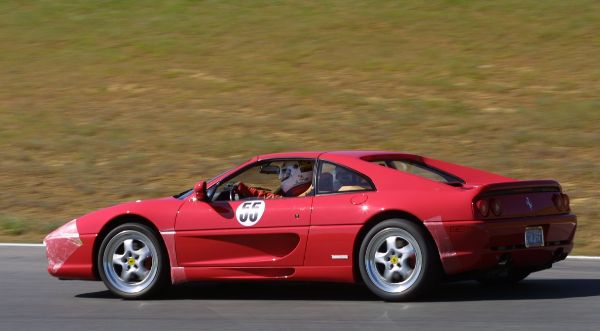 Going a little faster in the car. (Click here for Bigger)
© 2002 Darron Spohn http://www.photobitstream.com
So I get about 3 hours of track time in one day at Stan's event, and the Ferrari stays in one piece. And it isn't leaking anymore. The wife and I finish packing up the trailer, and we then drive 130 miles to Novato, which is about 15 minutes from Sears Point.


The Big Ass Trailer
So the Ferrari did good. The front Hoosiers don't wear very fast. I have about 20 used rear Hoosiers for the NSX that have less than 50% tread on them, and they fit on the rear rims of the F355. Hummmm.....yeah....that's what I will do. I will just run Hoosiers on the F355 as my street tire, until I get busted for using sticky race rubber on the street. I mean, what the heck? It will stick like glue as long as you get the tires heated up and it isn't raining. And all you people back east know that it never rains in Southern California......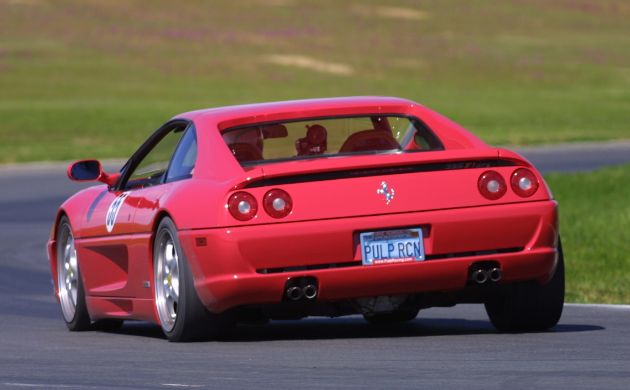 Loading up the stock suspension (Click here for bigger)
© 2002 Darron Spohn http://www.photobitstream.com

I might as well keep the R4 pads on the car, as on May 26/27 is the Ferrari Club of America's annual meet at the California Speedway. This is only 5 days after the OTC, so we will not have any time to prep the Ferraris. Wayne will be taking his 360 on the track. Hopefully we can get some video footage of us chasing down F40's, F50's, and Formula One cars in the Red Group session! Despite the fact that the FCA is only giving each run group two 20 minute run sessions each day.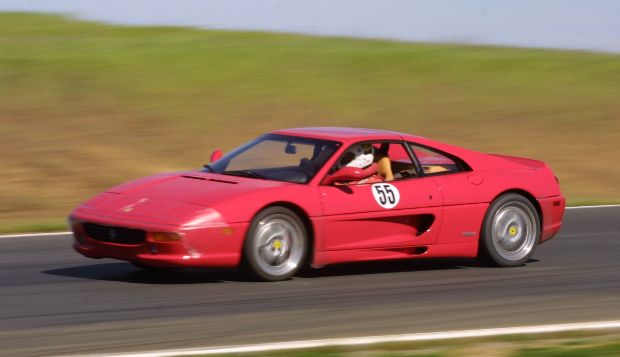 At speed, getting a Go-Fast Crackpipe buzz! (Click here for bigger)
© 2002 Darron Spohn http://www.photobitstream.com
After comparing my pictures in my Kodak DC260 to Darron's professional pictures, I think I need a new digital camera! The red in Darron's pictures are superior to my uh...pinkish red. Darron was there snapping pictures, and for $25 he will send you a CD with a bunch of good pictures of your car on the track.
Wouldn't it be cool to rent a Ferrari F40, F50, or 288 GTO, and drive it at high speed on the Autobahn in Germany? Check out this cover letter that I got.

And check out their price sheet. The next thing that should click in your brain is uh....the Nurburgring race track, where you pay about $10 to drive the 130+ turns, is in Germany......catch my drift? Yeah, I know their prices are out of control......but if ya hit the lotto, or had a sudden influx of cash come your way.....you would clearly remember that day rest of your life when you rented the Ferrari of your dreams, and beat the living crap out of it at the 'Ring!
April 13th.
Wayne's car isn't overheating at the shop. A Porsche mechanic looks at it, checks compression, bleeds the cooling system, and it seems okay. We won't know until we do a test day. The NSX is still on the lift, getting suspension work done.
The Ferrari is still doing good! No leaks, nothing has blown up. The R4 pads and Hoosiers are working awesome on the street. Wayne has not encountered any problems with the 2000 miles he already put on his 360 Modena. FORZA! FERRARI FOREVER!!