June 21/22, 2002, Thunderhill Raceway
SpeedVentures/S2KI Builds an Army of Fast Drivers
"Timing. The Key is Timing"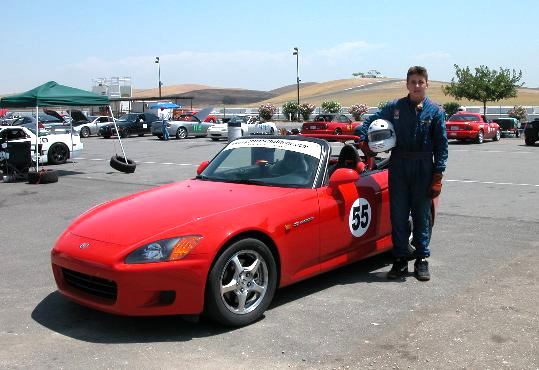 Dana joins the S2KI Army
Yes, you read the title above correctly. I know a lot of you view S2000 as those irritating little ricer cars that drive erratically. Now I can't blame you for thinking that, as many of you have seen some of those dubious videos circulating around the Internet. But, I think I can lay down some smack talk as we go through this article.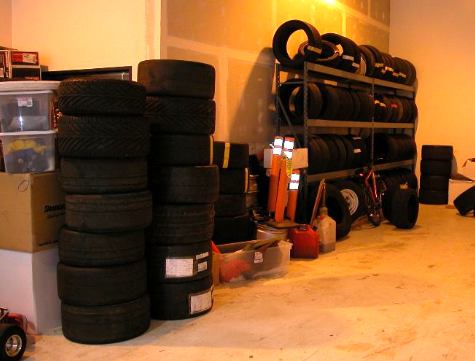 We got probably 160 used tires laying around our shop
S2KI teamed up with SpeedVentures (used to be called Wurthmotorsports/Bitterman Time Trials) for this event at Thunderhill. For those of you not familiar with the Speedventures format, they usually have about three run groups, Advanced, Intermediate, and Beginner. You get four or five 25-30 minute sessions each day on the track. Optional AMB transponders can be rented from them, which allow for printouts showing your fastest laps in each session, so you can compare them to other people. Then you can ask the faster guys for tips on how to improve your driving and your laptimes.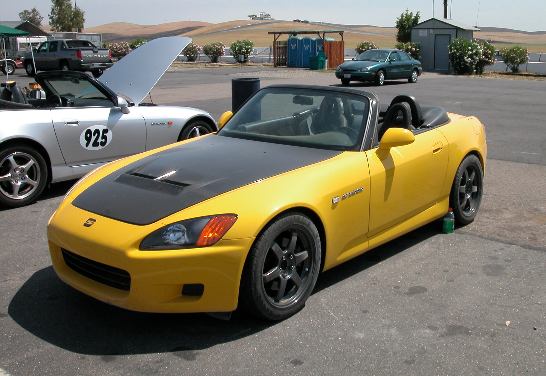 Nice looking S2000
This format seems to be a good way to enhance a person's ability to turn fast laps. The reason I say this is because the S2000 drivers are getting pretty damn fast. How fast? Read the rest of the story and find out. But first, a downshift into a side story:

Virginia City Hill Climb
On another note, we missed the Virginia City Hill Climb this year. Wayne's car needed a new head gasket (he blew it up at the OTC), and he and Brent (warehouse manager for 1-800-Phoneguys) are attempting to do this by themselves, along with re-O-ringing a cylinder. They didn't finish in time. I needed to get my new engine built, installed, tuned, tested, etc, but we didn't make it in time either. A lot of people were saying that Wayne and I should take the Ferrari's there, but I could probably use new shocks on the F355, and Wayne's 360 is his rolling 401k. Meaning that the stock market continues to go down, but the money he has in the 360 is staying constant, and he gets to drive it around town everyday. I didn't want to take a chance at crashing the F355 or having it break at the Hill Climb. Some people said just take the cars and drive leisurely at the Hill, but we all know that would never not happen. We would be flogging the car like idiots up the hill. I didn't want to take the S2000, as it doesn't have a full roll cage. Oh, and Wayne bought a Fuch exhaust from Premier Motorsports (used, of course) for his 360, and it sounds FANTASTIC. I really don't like the exhaust note of the stock 360, but this Fuchs exhaust is awesome.

Tires everywhere. Here we try to sort out what we got
There was a tragic accident at this year's Hill Climb. Saturday morning, a guy went off the cliff with a passenger, killing both of them. The event was shut down on Saturday, but continued on Sunday. Amir set a world record at the Hill Climb, and is the new King of the Hill with his F40. He ran 3:10 up the hill, which is mind boggling. As a comparison, Wayne ran 3:23 last year, and I ran 3:26 the year before. And we beat Amir at just about all the track events at the OTC. Rumor has it that Amir said the 7 tracks in 7 days helped him dial in the F40 and his driving skills, thus making it so that he is the new King of the Hill.

John's Viper
More info on the Hill Climb at these links at Corner-Carvers and the Viper Club. The Hill Climb will most probably be run again next year. And we plan on being there this time. Any type of auto racing has risks, and the Hill Climb is probably a more risky event than your average track event. So if you plan to attend the event, just remember that you need to be careful, as the Hill can bite back.

Tires everywhere. Usually the 48 footer goes here
Wayne gets ready to sell 1-800-Phoneguys
A lot of stuff was going on after the OTC. Wayne decided to sell out, and sell 1-800-Phoneguys to another guy. Wayne thinks he is going to "retire" and just live on a budget, but we all know that won't happen. I figure I give him three months, and then he is going to get the itch to find out how he can afford whatever car Ferrari replaces the 360 Modena with. He started this process about February with a business broker, and the broker found a prospective buyer pretty quickly (turned out to be one of Wayne's existing customers), and they started doing the negotiations the past few months.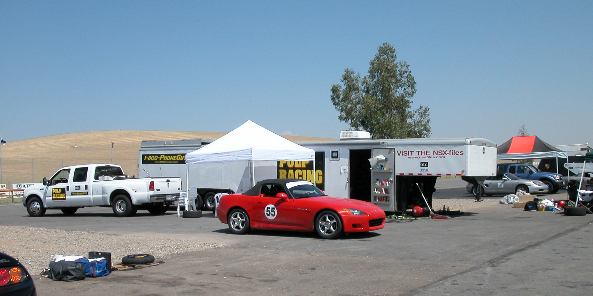 At Thunderhill, with all the support equipment
Upshift back to main story:
Okay, so since I missed the Hill Climb, I figured I would go to the Speedventures event at Thunderhill to get my Go-Fast fix. I decided to trailer the S2000 up there in the 48 foot trailer, so I would have all the tools, ice chest, EZ-Ups, extra tires/rims, etc, with me. Larry and Donald couldn't make it to this event. Wayne was still dealing with lawyers and brokers and accountants, so he couldn't make it. Dagmar said there are no decent malls within 2.5 hours of Thunderhill, so she passed on it also. I needed a crew chief, so I got Dana, Wayne's 16 year old nephew, to help me out.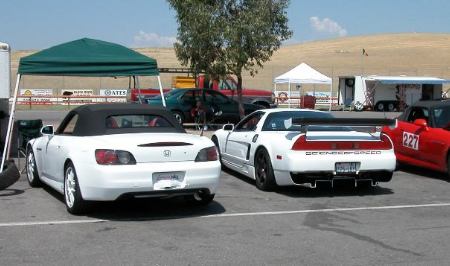 Chris Wilson brings his S2000 and his NSX to Thunderhill
So on Wednesday morning, June 20th, we begin our 508 mile journey to Thunderhill.
Thursday Morning, June 21st, 2002
We get at the track, and are first in line for the gates to open. About 30+ S2000s are entered in the event, along with some Vipers, Vettes, Mustangs, NSXs, and other cars.

Nice Z8 at the track
Aaron Bitterman, currently leading in points in the S2000 Challenge, is there, but his car isn't working. He teams up with Rylan, and they use Rylan's car at this event. Rylan's car has 275 Hoosiers on the stock rear wheels, intake, straight pipe, Comptech lightweight flywheel, race pads, and probably some other cheating bastard stuff that he isn't talking about. Both of us have stock springs and shocks.
My S2000 is equipped with used Hoosiers (245 rear, 225 front on stock wheels), Comptech front sway bar, brake ducts, Porterfield R4 pads. My first session I run a leisurely 2:18 or so, just warming up. This is my first time at Thunderhill with the S2000. Next session I run 2:15. Next session 2:13. Next session 2:12. Last session, I run a 2:11.755. I am pretty happy with my times, except Aaron runs a 2:09.993, and Rylan runs a 2:10.513. Damn. 3rd place in the MOD-R class, which essentially means stock suspension with race tires. I can't believe Rylan beat me, but this is his home track. I can't believe that Aaron beat me by 1.7 seconds, but then again he is driving someone else's car, and if he crashes, so what? <grin>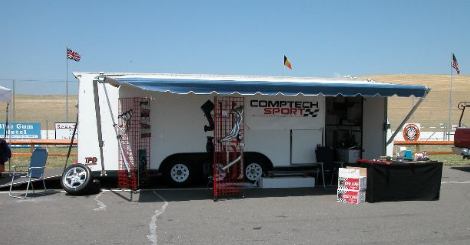 The Comptech Go-Fast Crack Dealer Trailer
I haven't put on my new rear Hoosiers yet, but I figure maybe my car is down on power. Humm....Comptech is there with a trailer full of S2000 Go-Fast parts. I guess I could throw in a cold air intake, since cheating bastard Rylan has a modified intake on his car. Maybe that is why he is faster. I tell Shad to throw it on my car. So tomorrow, I will have the new intake, new rear Hoosiers. Which means that Aaron and Rylan are going down for the count.
Friday Morning.
I tell Dana that since he is my crew chief, I will have him drive my S2000 in the beginner group today. I also tell him that if he spins or crashes my car, I will have to kick his ass! So the plan is I will drive in the advanced group, take a breather during the intermediate group, and then hop back in and be a passenger with Dana in the beginner group. So we will flog the S2000 for about 5 hours on the track today.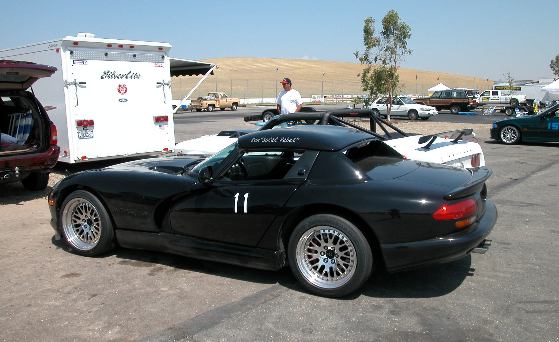 Wasserman's Viper. He can make your girlfriend/wife famous! (I mean infamous)
The air is cooler today, and seems like real good conditions. Should be some record times today! I go out, and for some reason, the inside rear wheel is lifting on turns 3, 5, 14, and 15. And I mean lifting a lot, as I am smoking the rear wheel around these turns, trying to get some traction. Hummm.....something is wrong. Diff? Clutch? Shocks dying? Too much power from Comptech Intake? <grin> Anyways, my times suck the first couple of sessions, as I am up in in the 2:15-2:17 range with new tires. I can't keep the power down in the turns. To make matters worse, everyone else is getting faster. Damn. I struggle the entire day, never getting faster than 2:12, which is ridiculous, as I have better tires and the car feels peppier with the new air intake. The S2000 autocross guys speculate that the problem I am having with the inside rear wheel is that because the track was exceptionally grippy today, and I also had new Hoosiers on, the S2000 tends to lift the inside rear on turns.
Dana does good in his first time ever on a race track, and he does all five sessions without spinning or crashing.
Josh's front rotor severely cracks, so since I am trailering home, I swap out his rotor for my good rotor, so he can drive back home. Turns out that Ray's front rotor is also severely cracked, so I swap out my other front rotor.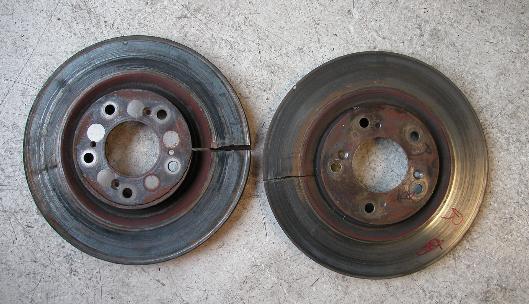 Josh's and Ray's cracked front rotors. (Hint: Next time, don't use brakes so much! <grin>)
[Note: Update July 1st, I drive Erik around a couple of favorite turns by the shop, and show him how the suspension doesn't "sound right", and doesn't "bite" around these turns like it used to. He checks it out, and says my rear shocks are dying a quick death. No wonder all those guys whomped on my at Thunderhill! <grin>. I order some new stock shocks, so I can continue in the MOD-R class for the S2000 Challenge]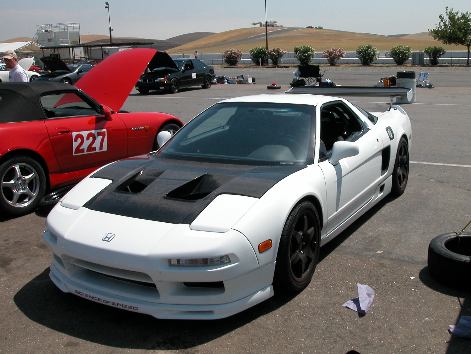 Chris's NSX
Anyways, the point of this title of this story is that at this event, we had six S2000 under 2:12 at Thunderhill. The six fastest S2000 at this event were:
1. David Kennedy - 2:08.121 - Supercharged, Moton, Hoosiers
2. Aaron Bitterman - 2:08.820 - Stock engine and suspension, Hoosiers, straight pipe
3. Rylan Hazelton - 2:09.779 - Stock engine and suspension, Hoosiers, straight pipe
4. Jason Rhoades - 2:11.280 - Stock engine, suspension and exhaust, Michelin Pilot Sport Cups.
[Jason's comments: Would've been faster, but a slow-ass Miata ruined my best lap. Thanks to RM Racing for the chin spoiler.]

5. Josh Goldberg - 2:11.424 - Stock engine and suspension,
6. Doug Hayashi - 2:11.775 - Stock engine and suspension, Hoosiers. (Note: This is my time from first day. Car suspension was screwed up on Day 2. Everyone else's time are Day 2 times. If my car was working, I woulda coulda shoulda been on top, or near the top. <grin>)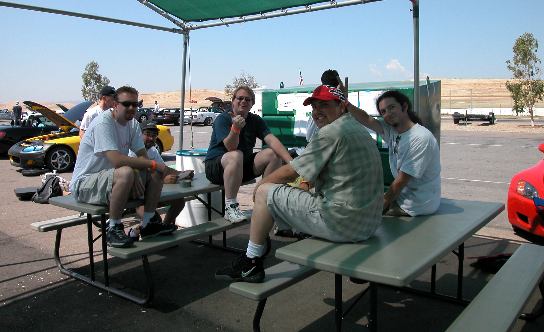 S2000 drivers who are happy about kicking my ass on Sunday
So now, anyone that thinks that S2000 drivers suck, let's see if you can get a group of similar street cars that can get six cars/drivers under 2:12 at Thunderhill in relatively STOCK cars with race tires. You must use transponders for timing, none of that stopwatch crap. Wasserman and Dearing, OTC participants, were at this event with their Vipers and they ran 2:07 and 2:08, narrowly beating Aaron and Dave in their S2000s. But I don't think they can get four other Viper friends under 2:12. I am sure you Mustang guys can't get six stock Mustangs under 2:12. I know we can't get six stock NSXs under 2:12 at the same event. BMW Club events don't use timing, so they lose by default, among other things.
I maintain that the Speedventures format for their track events is building an army of fast S2000 drivers. Everyone is improving their driving skills and getting a lot faster, and more competitive. You guys that aren't using timing.....we are gonna leave you in the dust! Pretty soon you will ban S2000 drivers from your event, as you don't want to be passed by the little Honda four cylinder cars. <grin>
If you non-S2000 drivers can get six drivers with the same make of stock car under 2:12 at Thunderhill in the same event, let me know, and I will post your names and pictures on this website, and make you famous. Until then, the S2000 guys are kicking your ass all over Thunderhill......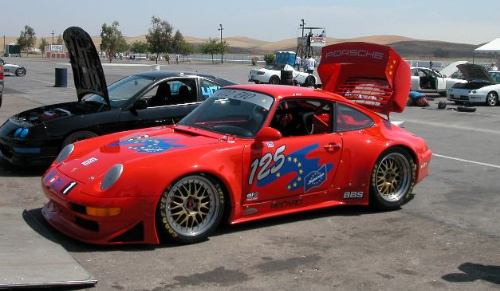 Uhhh.....I think this car would kick some ass
Shifting gears again
In late June, all my vehicles were broken again.
In the middle of June, I decide to get the Ferrari and BMW detailed at Classy Cars next to Erik's shop. They do an awesome job. Dagmar's 1995 325i convertible looks like new.
As Dagmar drives home her brake wear indicator goes on. I always feel like the BMW dealer rips me off so I decide to change Dagmar's brakes myself. Hey, I do it on the other cars. Anyway, I pickup the pads from the dealership and take Dagmar's car to the shop. After spending an hour trying to change the brakes and putting a scratch on the door (don't ask) I give up and drop her car off a the dealership.
A couple of days later, Dagmar is going down a street in our neighborhood, and a lady was trying to make a left hand turn into her own driveway. The lady was waiting for the automatic gate to open. The driveway is also on a curve in the street. Anyways, she was apparently intently focused on turning into the driveway as soon as the gate cleared, and didn't look to see my wife driving by. So as soon as the gate opened, she made her left-hand turn, and promptly clipped the rear quarterpanel of Dagmar's car.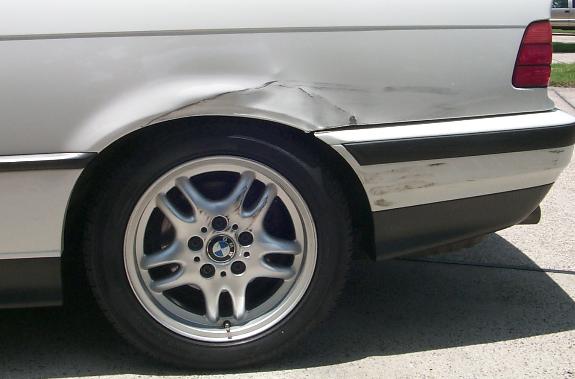 Dagmar's car was perfect, until this incident
Dagmar is a believer in Karma and because we narrowly missed getting tangled up in an accident on the freeway coming home from the FCA event, she felt like we somehow cheated fate (personally, I think it was just my quick reflexes and superb driving skills that saved us). Anyway which would you rather have... a slow speed fender bender with your 6.5 year old BMW or having your Ferrari side-swiped at 70 mph on a busy freeway. So apparently my wife decides to make a deposit into her bank of good karma and agrees to each pay their own damages.
I dropped the car off at the body shop next to Larry's, and told them to get cranking on it. But then apparently the other woman's husband decides to report it to their insurance company, even though he owns a car dealership and they claimed $0 damage to the insurance company. So then the insurance company calls Dagmar, to get her side of the story, and they tell Dagmar to stop all repairs on the car, as they want to send out a claims adjuster. Luckily, I took a bunch of digital pictures of the damage, as the body shop already had the Bondo work started on the car. Dagmar is annoyed because she wanted her car back for the weekend and the claims adjuster didn't even show up until Friday morning. Now her car won't be done 'til next Wednesday. On the bright side, the claims adjuster decides that the accident is clearly their client's fault and they cut a check to the body shop for the repairs. Karma continues to work...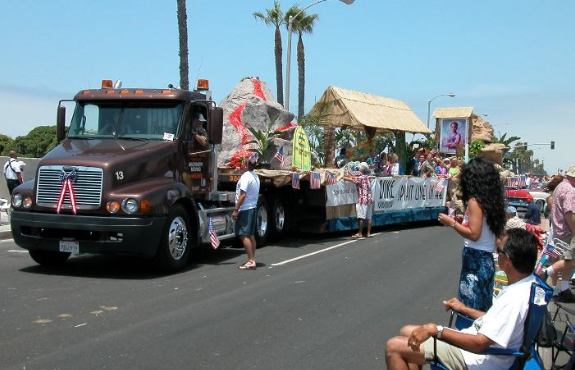 4th of July Parade, with a float dedicated to the "Duke" of surfing
So about a week later, the lady calls Dagmar, and starts complaining to that because Dagmar filed a claim against her insurance company, they now both have to file a report with the DMV and it will probably be on both their records - and today is the deadline to file. Dagmar calmly explains that she didn't call anyone, that the lady's insurance company called Dagmar, sent someone to see the car and immediately decided to pay for the repairs. They were probably happy my wife didn't claim any "injuries".
So Dagmar cruises the F355 around town for a week or so, but then it develops a real nasty exhaust note. Wayne and I check the car, and Wayne discovers that the Ferrari muffler connects to the rest of the exhaust system with a hose clamp, and the two flanges are like pressing two coke bottles together, and the hose clamp kind "cups" around the flanges. Of course it isn't a standard clamp. I call Ferrari, and they said it might take a week to get the clamp. And cost $51, just for the clamp. Bastards.
Dagmar gets the car back and it looks great. Next day I leave for Thunderhill and when she tries to start her car she discovers her battery is dead. The BMW convertible takes a special battery that costs $210 to replace. Dagmar gets a jump from the Auto Club and drops it off at Michelangelo Autowerks who agrees to replace the battery while she waits.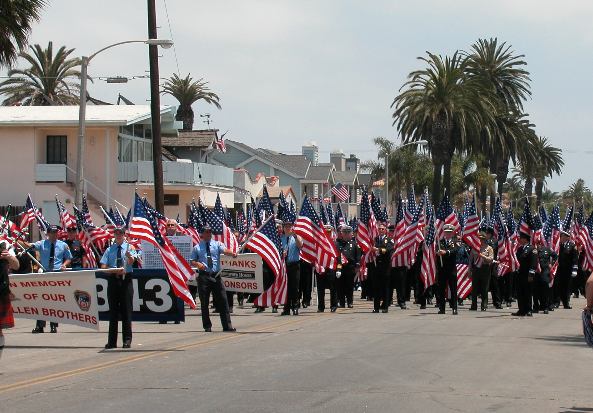 Fire fighters staging on a side straight to end the parade
The big truck is still leaking gas from the big external diesel gas tank. We can't find the crack in the tanks. So I remove it yet again. The tank is almost empty. Wayne says we should pressurizes it with the air compressor through the drain hole on the bottom of the tank. I tell him that is ricockulous, that we won't be able to get it to seal and get enough air pressure into the tank. He grabs the air hose, wraps a rag around it, and starts shooting air into the tank. The metal tank starts expanding, so his theory is correct! He shoots air into it for about 25 seconds, and the tank is bulging. We start listening for leaks......and then I guess too much air gets into the tank, and it decides to rapidly contract back to its original size. Which means all the air that went into the tank, now comes spewing out the tank, along with the left over diesel fuel, all over Wayne's pants and new tennis shoes.....so I guess we will just buy a new damn tank.
Dagmar picks up her car and goes to put down her roof and it gets stuck. Looks like it need to be re-synched. Car goes back in the shop...
The S2000 still has two shattered front rotors, as Honda has the rotors on back order.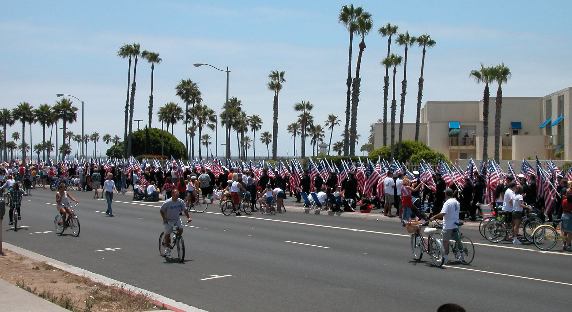 100's of fire fighters marching down Pacific Coast Highway, 200 feet from the ocean
Miscellaneous Rumors
Rumor of the month that I heard while at a Go-Fast lunch. A Go-Fast magazine for ricer cars has this competition called the Ultimate Street Car, or something like that. Last year, they invited some cars non-ricer cars, hoping that the little ricemobiles would be able to beat some of the bigger boys at the Streets of Willow. Unfortunately for them, James whupped some ass with his Ferrari 360 Modena. This year, the magazine was soliciting some more entries for the track event. Mumford sent in his application to get his Viper entered in the event. Apparently the authors of the article were real happy that a 10 cylinder American car was entering the event, so they could try to beat up on that car at Willow Springs. Until they talked to some knowledgeable people in the Go-Fast world told them something like, "You morons, don't you know who Mumford is? If you let him in the event, he's gonna wipe out the entire field with his Viper ACR". Needless to say, Mumford's application probably got thrown in the trash......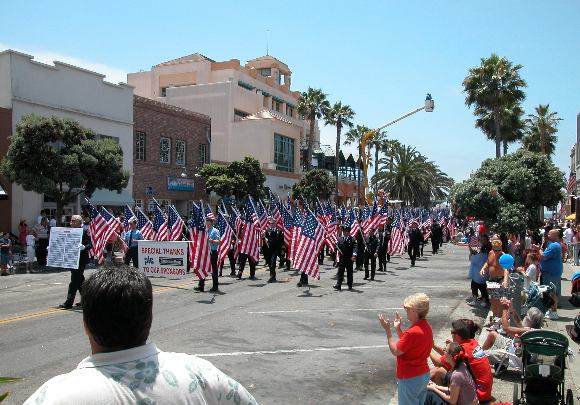 Marching down Main Street
The Hives Take Over America
The Hives blasted into Hollywood in late May(early June?). We got some tickets from some scalpers for one of their shows at the Roxy. The Roxy seats about 800 (well, I should says 800 people can stand inside the venue). The Hives blew the roof off the place. I've seen hundreds of concerts, and these guys from Sweden have an electrifying live show. Two weeks later, there is mention of them in Time Magazine and Newsweek Magazine. A week later, they play on MTV's $2 Bill show. A week later, they are on Conan and Craig Kilbourn. Highly recommended next time they come to your town. Here's a review of them. And another from a show at the Roxy in December. All your rappers and hip hoppers suck!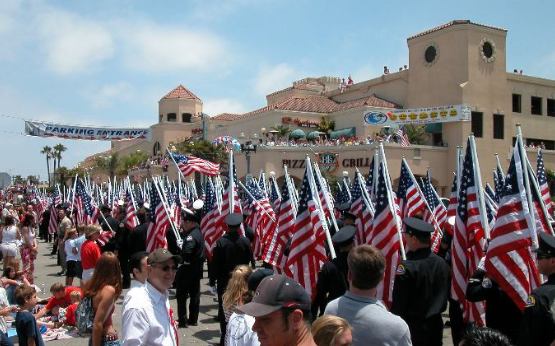 Wayne is on roof of building, along with Amy, who is taking pictures
(click here for bigger. Wayne has no shirt on and hat on, Amy is holding camera)
Quick Karting Update
We missed two karting races in a row due to the OTC and other car events. On June 23rd, we ran in a KRC race at the Streets of Willow. I figured that it would be a boring race, so I didn't setup the helmet camera or take any pictures. Instead, it was one of the better races. Despite not racing for three months, Wayne qualfied 6th, and I was 7th out of 20 karts. They also had 12 guys in rental karts in our race, for a total of 32 drivers. I was running 4th in the final race, until engine overheated and locked up. Damn. Wayne was a DNF in the heat race, barely got the kart fixed (thanks to some quick help from JM Racing) for the final race, started from the back, passed about 8 people, but then spun, and had to start trying to pass all over again. I ran a 1:22.xx in the race, which is 10 seconds faster than my S2000 time using the identical configuration, and 5 seconds faster than what Erik ran in my car at the OTC. I was running in the lead pack with five other karters, and then we starting lapping six slower karts, so it was chaos as we all tried to overtake each other while weaving through the slower traffic. We were hitting 100 mph before going into the chicane at the end of the back of the straight!
July 1st
Wayne finalizes the sale of his business! Part of the deal is that he gets a check every month from the new owner, so Wayne has to make sure that the new guy doesn't go out of business. So keep buying your business phone systems from 1-800-Phoneguys so we can still go racing! I tell Wayne he should buy an F40, but Wayne says he has to try to live on that money the rest of his life, and is trying not to blow it all in a couple of months.
4th of July Parade
Let's end this story on a patriotic note, since it is 4th of July weekend. Every 4th of July, Wayne, Amy, Dagmar, and myself hop on our bikes and go to the Huntington Beach 4th of July parade, which is one of the biggest 4th of July parades in the nation. This year, the parade was bigger than ever.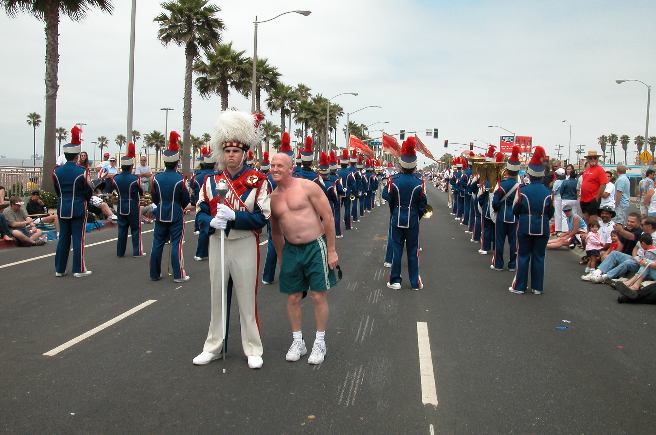 Wayne getting ready to do his Ferris Bueller imitation. Guard guy has no send of humor.
For the last picture above, I told Wayne to hop in the parade next to the "conductor", or whatever you call him. As I was taking the picture, a lady on the side of the street standing next to Amy and Dagmar looked at us and said, "All the Freaks come out today". Ten seconds later, the conductor dude blew his whistle, the rest of the band jumped and did a 180, and he lead them down the Pacific Coast Highway.
Wave the Flag proudly! God Bless America!