NSXPO 1998 - Mid Ohio May 11/12 "Houston, We Have Ignition"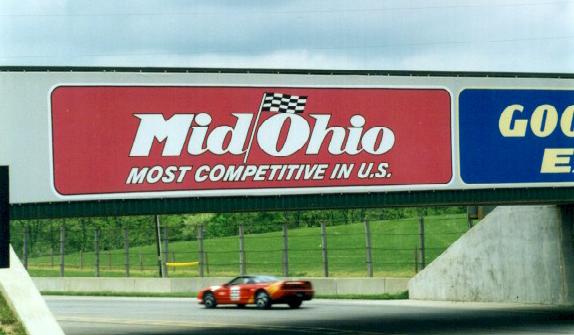 Exiting the front straightaway into Turn 1
April 1, one month prior to the NSXPO 1998 Convention.
I decided that I can no longer endure losing under any circumstances in the time trial track events that I go to. Last time at Willow Springs, I came in third(1:36.2) after Doug Ota(BMW - 135.5) and Wayne(944T - 135.8), and lost $50 bucks. True, the NSX wasn't running perfect, as it seemed like I was having trouble taking turn 8 flat out, I had to left for fear of doing a spectacular wipeout at 120+. But even if if I get the suspension correct, both Ota(Modified M3 with huge rear wing) and Wayne(Modified 944 Turbo) are running faster than I have ever run at Willow. And, to make matters even worse, there are also a couple of guys with Corvettes(one of them a ZR-1) and they are running 1:33 or so, which means no way could I ever catch them. Two years ago I came in 11th at the Virginia City Hill Climb, and last year I came in 19th or so, since everyone upgraded their hardware. Wayne has beat me two years in a row at the Hill Climb. So, instead of taking a driver's school class to get faster, I finally said, "screw this shit", and it is time to attack the problem with hardware.
I have been looking at the Twin Turbo setup and the Comptech Supercharger setup for about a year. I have heard the stories of how some people have blown up their engine using the Turbo setup. Comptech is certifying their Supercharger for California smog certification. Comptech claims it will boost horsepower from a stock 270 to a modified 380 or so....
I talked to Comptech about the Supercharger, as well as my local Acura Dealer(South Coast Acura in Costa Mesa, California) about the Supercharger. Larry Garcia is the NSX tech that works on my car, and he has been doing a pretty good job over the past year on my car. I made a deal with the parts manager, Anthony Cano. Comptech list the Supercharger at $9800 or so. Anthony said that he would sell it to me for $8800 if I throw on a "South Coast Acura" windshield sticker on my car for a period of one year, and give me another $400 discount if I place in the top 10 at the 1998 Virginia City Hill Climb(June 20/21). I decided to go for it, as I HATE to lose in anything, and Doug Ota and Wayne both beat me at Willow rather handily.....
So, one month ago I decided to get the Supercharger. I called Comptech, called the dealer, etc. and got it all lined up. The problem at the time is that Comptech didn't have any in stock, but Tim Smith said that he would have one soon, but could not promise when. I told him I needed everything for the Hill Climb in June, and he said no problem. I told him it would be nice to have it for Mid Ohio, as my dealer and Comptech would get a lot of publicity regarding the products and services they offer. Tim said he wasn't sure about the NSXPO date, but my dealer and I had high hopes that we could meet the date.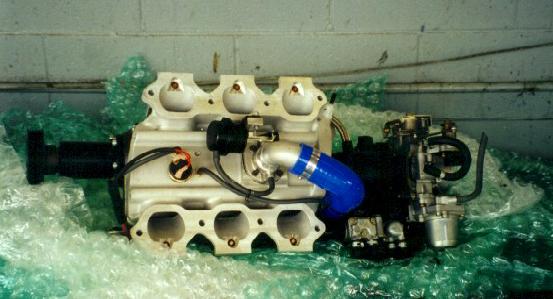 The Comptech Supercharger
Tim said that he had a list of things I would have to send to him for the Supercharger kit. He said, "Do NOT ship me the parts until you get the go ahead from me, as he didn't want to have my car taken apart if he could not positively, absolutely guarantee he had the Supercharger parts in his hand. The parts he wanted are:
- Intake Manifold Assembly-
- Intake Manifold (this may change in next weeks time)
- Fuel Injectors
- Fuel Intjector Seals
- Fuel Pressure Regulator
- Air Temperature Sensor
- Chamber Volume Control Diaphragm
- Front & Rear Harness Holder Covers (plastic injector covers)
- Install Pipe (vacuum hose manifold)
- Igniter
- Fast Idle Valve
- Idle Control Valve
- Crankshaft Pulley
April 6th
I dropped my car off at the Acura dealer, April 6th, and had to fly up to Redmond on business for a week. Told Larry that coming home from Willow Springs, my engine started making a horrible noise. It sounded like an exhaust leak, but I couldn't find where it was leaking. Larry said he would check it. Supercharger parts are on order, and I have almost a MONTH to get the Supercharger parts before NSXPO. Should be enough time, right????.....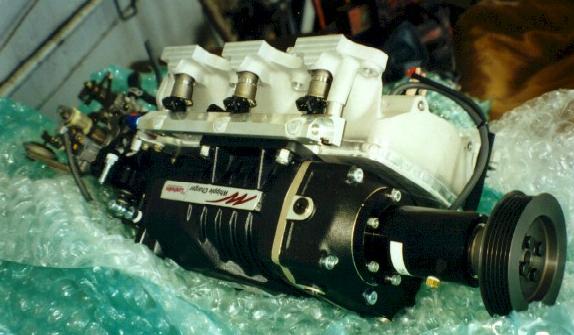 Supercharger is made by Whipple, modified by Comptech for the NSX
I decide to ship my car on an enclosed transport to Ohio. Kent was gracious enough to get us someone to ship my car, as well as Mark Johnson's car, to Mid-Ohio for $775 each way. Since I figure that this might be the only time in my life that I ever get to drive the NSX at historic Mid-Ohio, I decide to go for it. Wayne Mello to wimp out, and refuses to ship his emaculate, red 1992 NSX to Mid Ohio, as he doesn't want to ever take his NSX on the track for fear of damaging it. (however, he is quite content to drive on windy mountain roads like Angeles Crest Highway or Ortega Highway at triple digit speeds, screeching tires around the tires. Which is safer? I think way less people get killed on the all the racetracks in the US in one year compared to Ortega Highway and Angeles Crest)
Wayne says that to help with shipping the car, he will pay me $1000 to help offset the cost of the shipping and tires for the track event. I figure that is a fair price, because if he was shipping his car out, I would give him $1000 to trash his car for two hours a day for two days at Mid Ohio. We agree to ship out my car, along with his set of 1992 rims, and eight extra BFG R1 tires for the track event.
Every other day or so from April 8 to April 28th, I call Tim at Comptech and ask him, "so ya got the parts yet?" Every time, he says, not quite, but he is close. But in any circumstance, DO NOT ship my old parts to him until he can guarantee the Supercharger. My dealer, the parts manager, the service manager, and Larry the Mechanic are psyched about getting the Supercharger on. (true, they also have a financial motive, as well as excited about having the Supercharged car coming out of their dealer)

While we were waiting for parts, Anthony(Parts Manager) got my valve covers painted
Thursday, April 22nd.
My dealer says, "Let's just ship them the parts. Comptech said they just need to finish up the manifold, and then they can ship. If we pull off old parts now, ship them to Comptech, we can save a couple of days until waiting for the final go-ahead from Comptech that they have ALL the parts for the Supercharger ready.
Wednesday, April 29th.
Comptech says, "we ain't gonna make the ship date. What if you send your car up to Ohio, and Comptech will install it there?" I talk to the dealer about this, and dealer seems upset that they aren't getting the service dollars. Ya can't blame, can ya? Dealer gets Comptech to agree to ship parts to them and dealer will install.
Thursday, April 30th.
All the Comptech parts get to the dealer at noon. (Comptech warned me that we are cutting it close, but dealer and I agree to just get the parts and go for it, and we bitch at Comptech to ship us the damn parts, don't worry about it, we can make it work).
My car is set to go out on the transporter Friday at 12:00 p.m. Larry Garcia, the mechanic, works until late at night installing supercharger and parts. I feel pretty good about Larry's technical skills. 9:30 p.m., Larry says he ain't gonna make it in time for tomorrow, as he ain't got enough time to get supercharger, Dali sway bars, brake pads, new header etc. I planned all this a month ago, assuming Supercharger parts would get there 3 weeks earlier, but Comptech is also working on the IRL Indy Aurora racing engines, and unfortunately those IRL bastards get more attention than my NSX street car......Header diagnosed as massive crack 7 days earlier, and all NSX header manufacturers can't build anything for 3 weeks. So my car has been at the dealer for a month, hoping that we get the parts from Comptech any day...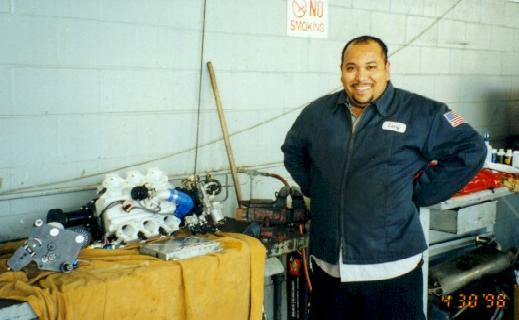 Larry Garcia, NSX Guru(Used to work at South Coast, now at Riverside Acura)
Friday, May 1
Kent says that I am in luck, there is another transporter in town, and I can wait until Sunday or Monday to go out, so the transporter is actually "on call" for my car. What luck! I need to get my car on the transporter by Sunday 3:00 p.m., or else Mark Johnson's car and a couple of other NSXs won't get there on Thursday, so some of the other NSX owners might be pissed if their car shows up late. Friday, we work until 9:30 p.m. to get the car working. My headers also cracked, everyone was out of headers. I get a used one from Scott, but there ain't no flanges for the catalytic converters. So after conferring with the muffler shop, we proceed to try to fix the severely cracked headers with a big welding job....hope they hold. Rear sway bars, new brake pads, etc, are installed.
Saturday, May 2
Everything is in place. We turn the key of the car. It idles horribly, idling at 1500 rpms, and then burst to 2500 rpms, then back to 1500 rpms, every five seconds. We call Comptech(they gave us the cell phone number of one of their Supercharger guys), and we repeatly call him trying to diagnose problem. Also, we are getting an extremely rich mixture of fuel from what appears to be leaky fuel regulator. So much fuel is coming out, that when the car is turned off, car backfires, and flames come out exhaust. Real flames. Wayne and I try to blow out the flames like a candle(but succeed in only give the fire more oxygen), and then we grab the fire extinguisher to put the fire out. We work on it with Larry and Reuben, until 10 p.m.
Sunday, May 3
We call the Comptech guy every hour or so, trying to figure out what is wrong. I borrowed Wayne's car so we can check to make sure everything looks the same(for the stock parts). Larry says, "would Wayne mind if we take his throttle body off and see if that is the problem?" I reply, "of course not, let switch parts". We agree not to tell Wayne we are pillaging his car for parts. We still have idle problem, and flames problem. We call Comptech, saying we just can't figure out what is wrong. Comptech says, "tell ya what. Ship the car to Ohio, and we will have someone go up a day early on Thursday and start working on your car first thing Friday morning." We agree, and push the car unto the transporter. Sunday night, Harry Somerfield emails me, and tells me to make sure we check oil, and if it smells like gas, change oil immediately, since the fuel mixture was so rich. Larry is bummed, since he is a car nut, he wanted to get the Supercharger running flawlessly at the shop.
Thursday, May 7th
Me, Wayne, Wayne's fiance Pilar, Harry, and Alex get to the Hotel around 6:00 p.m. I am informed by an NSX owner that Acura of Columbus tried to change oil, as it smell like gasoline, but feel that the oil drain bolt is pretty well stripped, and they recommend whole new oil pan, which was promptly ordered via Fedex, and cost about $370, as they also have to remove header to get to it. (what else can go wrong?). Comptech can't work on the car until we get oil into it........what a disaster.
Wayne, Pilar and I then decide to go gambling on the Riverboat, that is 169 miles away. Apparently is is legal to gamble IF you are on a boat and the boat leaves shore. The boat leaves shore every odd hour, so we aim for 11 p.m. We get there at 11:00 p.m., and are told that it is raining too hard, so the boat is not going to leave shore, they are going to park it at the dock. BUT, you can still gamble, even if the boat doesn't leave short, since it is raining. (who the hell writes these bizarre laws????) We gamble until 1:00 a.m., then eat and get back to hotel by 4:00 a.m. I win $365, so oil pan really only cost me 5 bucks. (How's that for positive thinking?) Unfortunately, Wayne lose $300......
Friday, May 8th
Oil pan arrives. Kurt and Tim Smith from Comptech arrives, along with spare parts. Kurt(Last year's crew chief of the Acura RealTime Racing team that won championships with the NSX and Integra) works with an Acura tech, immediately fixes flame problem with new regulator. Car is still idling badly. Kurt diagnosis idling problem to a bad forging on the supercharger intake, which allows too much air to get to the engine when idling. I go back to the Hotel, take a shower, and eat dinner. After dinner around 9:30 p.m., Howard comes in and says, "hey, saw your car outside the hotel lobby". Harry and I walk briskly to the lobby, see Tim and Kurt, and Kurt says he got a temporary fix to reduce air going to the engine. But now, my driver side window doesn't roll up, and it is raining. No problem, I know how to fix, this has happened before. I disconnect the battery, and "reboot" the car. Sure enough, window works again....
Harry and I take it for a cruise. It is a F****ing ROCKET! I mean the car accelerates WAY Fast. The hotel is at the end of a big looping street, probably 1.7 miles long, and it is in a business park area. We take a couple of hot laps. Feels real, real good. I pit into the lobby, and take about 4 people for some screaming rides around the loop. When the passengers get out of the car, they have a grinning, dazed look on their face, kinda like, "Holy Shit, I gotta get a Supercharger". Harry goes and pulls Wayne out of bed from his wife-to-be The NSX, Wayne and I, shriek around the loop. I hop out of the car, trying to find some window cleaner, as we can barely see through the windshield, and Wayne take a group of passengers for the rocket ride. Cop then pulls into the crowd waiting for a ride in the rocket by the hotel lobby, and makes a warning comment like, "you all going to bed now? we heard reports of a car racing around the loop here". Wayne is pulling in, sees the cop, and makes a beeline for the other side of the parking lot. Very close call.
We retire for the evening......rains starts to fall....but at least I got a car that now scares the hell out of me when I floor it....what a great, great feeling to have!!!!
Sunday, May 10th.
How cool, we get to go to the top secret Honda Transportation Research Center in Ohio. Honda was nice enough to setup a skid pad, an autocross course, and a small oval course(using cones). The TRC also has this really cool 7.5 mile high speed banked oval. Supposedly a Calloway Corvette hit 254 mph on this track, but unfortunately it takes an act of God and a bunch of safety equipment and a shitload of permits to get your car tested on the high speed banked oval. We still have the Yoko A032R tires on, which are the tires that I had on for driving around the streets of Ohio and incase it rained at the track. Well.....it looks pretty sunny today, and the track event is tomorrow.....we should save the tires just in case....but speed is a terrible addiction to have...so Harry, Alex, Francesco(of Motor Mail fame) and myself proceed to flog the car until the tires are almost shot. We pound the car on the autocross, the oval, the skid pad, etc....
Monday, May 11.
We arrive at beautiful Mid Ohio. There is only one problem. Right before we go on the track, it starts to RAIN. And we burned up our rain tires the day before at the TRC. So now we have two sets of BFG R1 tires, which are useless in the rain. Wayne and I take some tentative laps around the track in the wet, and Harry declines to even go on the track because he knows better. We also have all these novice students with very little track time, and they are running around like little puppy dogs dying to get their car on the wet track.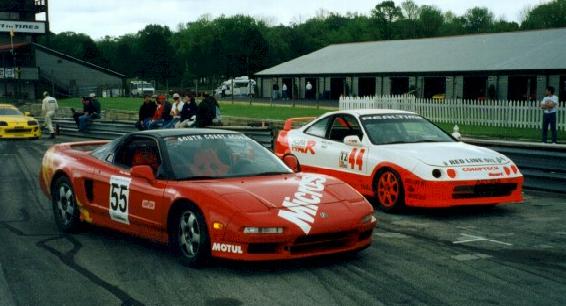 We end up having one incident where we have to tow an NSX off the track that goes into the tire wall, and then finally settles upside down. Both driver and instructor are fine, but the car is pretty bent up. This puts a bit of a damper on the event, and a decision is made to give the track to the Comptech/Realtime team to do some testing. They then look at us like we are crazy, and respond, "you crazy, it's raining, we don't want to go out there..." We end up having Peter Cunningham give a really great chalktalk on his approach to racing, how he drives the track at Mid Ohio, what line he takes in the rain, etc. Very informative.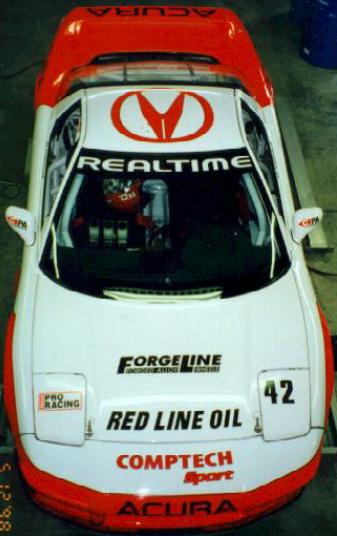 Tuesday, May 12.
Dry weather. We have three run groups, and Harry, Wayne and I take turns in each run group. We basically pounded the car to death. The Real Time team is on the track giving rides in their Integras and the NSX, and then are running rings around all of us. Wayne and I were running low 1:49's, with Wayne a tad faster going into the last session. Unfortunately for me in my last run group for best time, the header cracks, along with the muffler blowing out, so I have no power above 7000 RPMs. We figure we put about 400 hard miles on the track with the supercharger, and it held up fine. It was the other parts that died with about 30 minutes to go in the event.

Top 10 of Wot I learnt at Mid Ohio:


10. I have no sense of direction. Harry Somerfield is in the same boat. Alex Vizcarra is just as bad. Alex and I went 35 miles NORTH going to the airport, instead of 35 miles SOUTH to the airport. Needless to say, we missed the last flight out of Columbus......and were late for our respective meetings at work on Wednesday....

9. After pounding the Comptech Supercharger at the "Mid-Ohio 400", it seems pretty reliable. Harry, and myself ran the car continuously in each of the three run groups at Mid-Ohio, and probably put 400+ very hard miles on the Supercharger without any problems. Thanks to the Comptech folks for flying out Kurt Young a day early to get the Supercharger working properly. (The header cracked again during the last 10 minutes of the event.........but we didn't expect our re-welded header to last that long.)

8. The RM Racing Pads held up pretty good, considering we pounded the car at the Honda Transportation Research Center in the Autocross and mini-oval tracks that were setup by the Honda folks, as well as the Mid-Ohio 400. I was pretty happy with the pads....

7. There are now quite a few good track drivers that own NSXes........people that were probably as fast, if not faster than me, even though I had the supercharger and they didn't. But wait till they get to a West Coast Track.........
:-)

6. Mark Johnson of Dali Racing fame has this really cool, aluminum billet cup holder that fits over your handbrake on your console, and I am having a custom one made that will hold my raspberry Snapple when I am driving.......

5. Those Technomagnisio Rims look pretty nice.........

4. Always assume rain. I had on the A032 tires(my rain tires) on for the drive arounds and at the TRC. It was sunny at the TRC, there was this nice little autocross, and about a 3/4 mile oval autocross course setup...and we couldn't resist.....we thrashed our rain tires to the wear bars.....and of course, first thing at Mid-Ohio, it rains, and we burned out our rain tires........and had to drive slow with our R1s until it dried up.....

3. My two students at Mid Ohio, Nick Matteucci and Gary Milgrom, were both great students....and they have started the downward trend to spending all their waking hours figuring out how to get go-fast parts and how to get more track time. The needle is in, the racing heroin dumped into the veins.....they will never be the same, rational people...kinda like how I suckered Wayne into this "hobby"......
:-)

2. It was a great show of support from Honda and the RealTime Racing Team.......I feel like they really support the NSX owners...

1. The NSXPO planning committee can plan some very nice, well run events. I thought Denver was pretty damn good, this was easily twice as good. I look forward to having another great time next year over here on the West Coast.....see ya all there again!!!!!

More links to the NSXPO 1998 Mid Ohio Event: