Laguna Seca - Touring Car Club Time Trials May 23/24, 1998
"So How Fast Is the Supercharger?"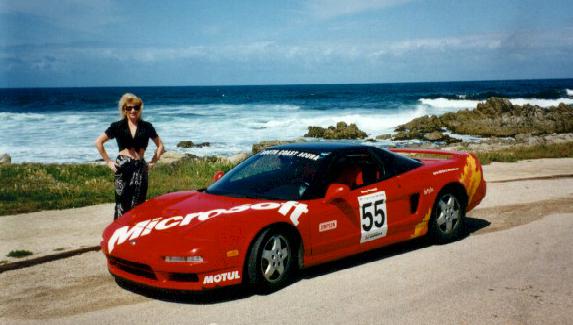 Scenic Point along the 17 Mile Drive by Pebble Beach
Okay, so Friday I take the 7:00 a.m. flight out of Orange County to Sacramento. Wayne wimps out, as he was at Mid-Ohio two weekends ago, and then right after Mid Ohio he drove 12 hours to Rhode Island to visit his mom the next weekend, and he didn't feel like driving a third weekend in a row. I get there around 8:30 a.m., and Al Terpak is gracious enough to pick me up at the airport and cruise me over to Comptech in his very NSX.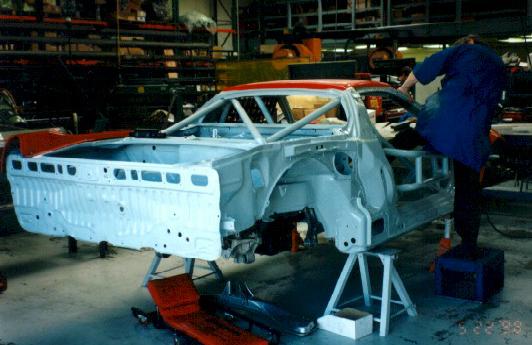 Comptech engineer building a racing NSX for the HART (Honda American Racing Team)
Driving there, my fear, as with any dealer/vendor, is that the car is not going to be ready, as my car never seems to be ready whenever I drop it off to get fixed/modified. We arrive at Comptech around 9:00 or so. Lo and behold, my car is already to go!!!! Supercharger is on, new airbox, new muffler that is designed to work with the Supercharger, headers, bushings, toe links, etc, are on. As I chat with Tim about the mods, etc, I invite Al to buzz the car around the area that Comptech is located. Really nice area for doing some short test drives. I proceed to sort our tires/rims/luggage/dirty laundry to be shipped back to SoCal, as I have no way of transporting all that stuff to Laguna.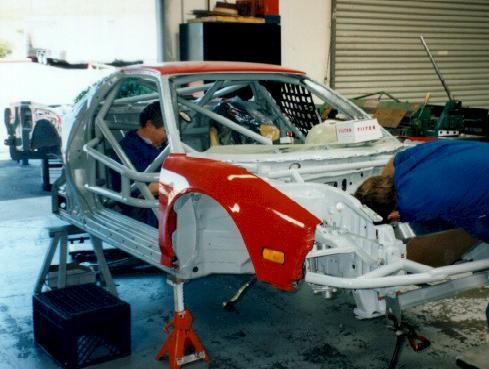 Another shot of engineers working on their new race car
So Al and I blast out of the Comptech parking lot, and Al is gracious enough to escort me to the 5 freeway, as he probably heard about the directions problem that I experienced with Harry, Wayne, and Alex at NSXPO. I get about 2 miles, and the car starts stumbling horribly again, as it is running way too lean. We make a U-turn, and I try to nurse it back to Comptech. We get there, and the car dies in Comptech's uphill driveway. A Comptech tech helps us push it back to the garage. Shad(I think that is how you spell his name), who helped crew one of the Indy teams last year, comes out and checks out the car. Looks like the diaphram for the the fuel regulator blew out again. Shad profusely apologizes, says that these are the same regulators they use on the RealTime Integras, and they have never had a problem. The part is manufactured by Mallory, and Shad says since I have blown through two of these, he is going to call Mallory and see if they are aware of any possible defects in this production run. Shad also gives me an extra diaphram, incase I blow out a third one, so I won't be stuck on the side of the road somewhere.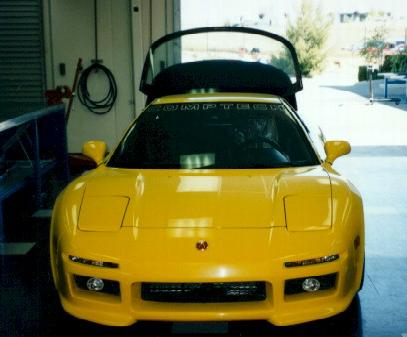 The Comptech Wide body kit
It takes me about 3-4 hours to drive to Laguna Seca. I had a set of rear BFG R1s sent to Monterey, as I needed to get them mounted on Friday afternoon. I get into Monterey about 3:00 p.m. to the tire place I shipped them to, and what luck, right across the street is an Acura dealer. I walk over there to see if I can get a quick oil change, which is much needed after the Mid Ohio 400. The service manager says "no, we are way to busy, and my mechanics want to go home, and it is a holiday weekend". Figuring I would rather have Acura do the oil change instead of some Jiffy Lube place that could screw up the car, I reply in typical Wayne fashion, "Are they too busy for an extra $20 bucks?". He checks with them, and says, "yeah, we can squeeze you in....". I check into the hotel, and then drive to the Monterey Airport to pick up Dagmar.
\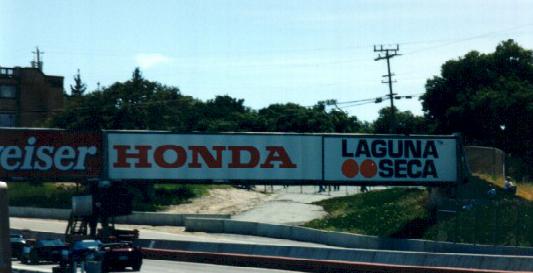 Honda replaces the big Toyota sign....
I am really anxious to test out the Supercharger at Laguna, because last year I ran 1:48.08 or so, and had the second fast lap time of all the 60 or so cars entered in the time trial. I was beat out by a guy in an RX-7 by a couple of hundreds of a second. I figure now that I have the Supercharger, I should kick EVERYBODYS ass. The car seems to be running pretty good, but how can you really tell unless you got some empirical data, like a lap time or a quarter mile time? The new Comptech muffler is more quiet than I wanted it to be, but at least I won't get busted for sound at Laguna Seca, where 92db at 50 feet is the the limit. You get three warnings if you exceed it, then they kick you off the track.
List members present where Larry C., Tino S., Dan B., Charlie G., Mark S., Alex V., Lou, so we had seven NSXes at the event!!!!
I go out for my first session(The TCC was a little disorganized today, the guy with the onsite tech forms was late, so we registered late, we did some parade laps, etc), driving kinda raggedy, as I don't have any rhythm going whatsoever. I as blast up towards the corkscrew, I get black flagged with the meatball. I pull into the hot pit, and ask them what the problem is. The track chairman says that I was at 95db, and this is my first warning. What a bummer!!!! How can this be? Alex's car is way louder than mine. I do a couple more laps, lifting as I go by the sound station that is on the uphill straight. I come into the pit, and apparently I blew out the baffles on my brand new Comptech muffler. What a bummer.....
2nd Session - I try to go a little fast on the uphill straight, but not full bore, and I get black flagged a second time. Now this is really a drag, as one more black flag and I am out of the event. I am currently running about 1:51 in these "warmup sessions", and really feel that there is a LOT left. Third session I really coast by the sound station going uphill, as I don't want to get a third violation. However, having to coast by the sound booth on this crucial uphill straightaway is killing my lap times....
That night, I go out and buy four V-8 vegetables juice cans, the 64 ouncers. I empty the contents into the sink....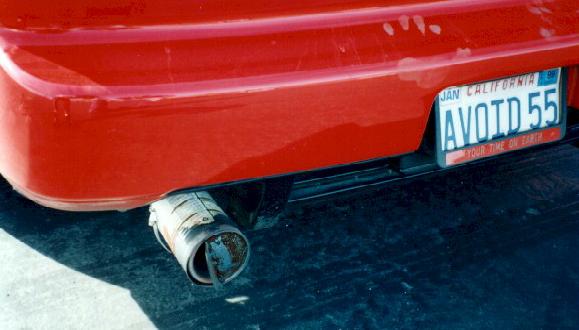 Trying to cut down on noise.....
Sunday Morning - I use the V-8 cans with some hose clamps to cut down on how much exhaust is coming out the muffler, trying to deflect the exhaust sound to the left of the car so the sound meter doesn't pick it up, hoping to get some full bore runs up that damn hill. (that's one way to get an V8 on your car, or in my case, two V8s. Honda, you know what I am implying....) It helps some in cutting the noise, but there is a nasty resonance coming the muffler at various RPMs that is loud enough to give me a headache, since it sounds like the damn baffles are rattling all over the muffler. Kinda sounds like a Winston Cup car. We experiment with trying to tire a block of wood to the muffler with electrical wire, to prevent the baffles from beating on the outside muffler assembly, but it looks unsafe......I would had to drop a block of wood on the track going 110 mph....Mark Schulten also gets busted a couple of times for sound with this Turbo NSX, so we use my other two V8 cans on his car.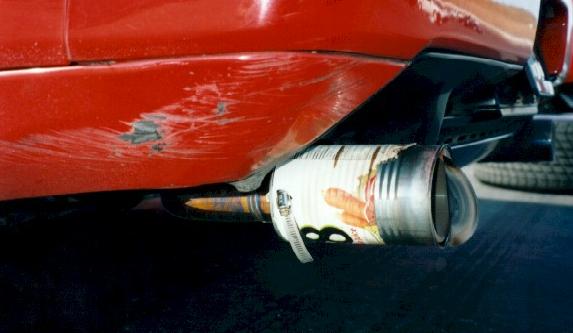 One way to get a V8 on your NSX.....
We get two practice sessions, and then we proceed to the time trials. We only get three timed laps, and I figure I should run the first two laps coasting by the sound station so I at least get a "registered" laptime, and then barrel through full bore on the third lap, hoping they don't black flag me, and if they do, so what, the event is over. I run a 1:49.66, then a 1:49.44 the first two laps. Third lap, I say screw it, I barrel up the hill full bore right in front of the sound station, but since I have been lifting in all my previous laps, I am not used to taking the turn at the top of the hill at such a fast speed, and I botch the turn and have to lift coming out of the turn instead of accelerating out of the turn. Anyways, I turn a 1:48.13, and apparently since a BMW spun off the track, they are giving my run group one more lap. I barrel up the hill again at full bore, this time a little cleaner but still not perfect, but this time I immediately get my third black flag, so I have to go into the pits instead of completing my lap......which coulda shoulda woulda perhaps been a pretty fast lap...I debated whether to just ignore the black flag, but then the TCC threatened a $1000 fine for anyone ignoring their third black flag(meatball) for sound, as at a previous event, people just ignored the black flag and kept going round and round and round and really pissing off the Laguna Seca track workers.
I end up with the fourth fastest time out of all the time trialers(about 60 or so, not everyone stayed until the official time trial laps). A ZR-1 ran a 1:46.5 or so, then two Porsche 928S's came in next at 1:47.xx, and then me). Two Corvettes also placed 1st and 2nd in the race group, and their owners said they felt they were in the 1:46 range also. There was a huge Vette contingent there, musta been at least 12 Corvettes. I used to really hate the 944 Turbos driven by the PCA drivers, as they usually kicked everyone's ass, but they haven't been showing up lately....I guess competition was too weak for them. Anyways, now it is the Vettes/ZR-1's that I really hate, especially after they dominated the weekend in the race group AND the time trial group......so it is now my new goal in life to crush the damn Vettes at the next events...
Damage Report: Blue Vette(the special blue one with white stripes) crashed in turn 1 into the wall, got body damage. A Ferrari replica of a 250 GTO? wrecked pretty badly. I think another Vette went off and had a lot of damage in the turn after the corkscrew. No damage and no spins by the NSX owners, we had a really good weekend.
The NSXers took home a bunch of trophies, I got a first place, Mark S. got a first place, and Tino got a first place. TCC has a zillion different classes, not sure how they figure them out......maybe it was first place Supercharged NSX, First place Turbo Charged, NSX, first place Stock NSX???? :-)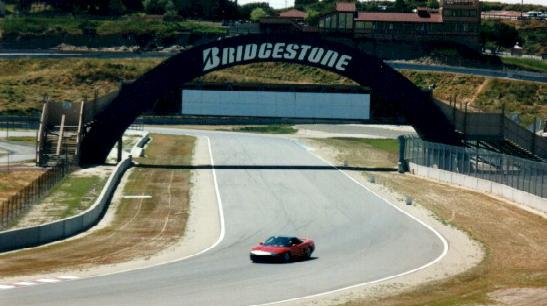 Alex blasting through Turn 4
Anyways, it was a real fun time, had a great dinner Saturday night with all the NSXers. So the car feels faster, but I ain't got no data. I really feel that the car can run 1:46s or better with me driving in it at Laguna.....but we won't know for sure until next time...
As soon as I got home tonight, I fired up the aircompressor, took out the power tools(which for me is like giving an AK-47 to a mentally retarded five year old who watches violent cartoons all day long). I took off the Comptech exhaust, threw on the old Supertrapp exhaust in a record 40 minutes. Car SEEMS to feel a lot faster now, as I do a couple of test runs up and down Pacific Coast Highway....since the muffler is actually working better.....perhaps times could have been even faster if the muffler was flowing correctly?????....but no empirical data yet.....stay turned.......
Other notes: I told Acura of Columbus to put RM pads on after the Mid Ohio event prior to shipping, but they couldn't find the pads in the car, so they put on stock pads, which sucked so bad after the first session, I had Alex help me change them out and put the RM pads in. That worked way better, but I was starting to get some fade on Sunday, I probably shoulda bled the brakes Sunday morning......
Dan B saw me pit after one lap in one of the sessions, and saw me retorqueing my left front tire....kinda embarrassing.....forgot to torque it down after replacing pads...I never said I was a mechanical genius.......but at least I knew that if the left front wheel is shaking, perhaps something is not tightened down correctly....
Got on video tape my car passing a Nissan Skyline.......heh heh heh......
I blew out the RM exhaust with the supercharger, then I blew out the Comptech exhaust with the supercharger.....I must be a vendor's worst nightmare.....maybe I should just use straight pipes????
It was really, really cool hanging out with the NSXers.....thanks everyone for coming to the event, it was a great weekend!!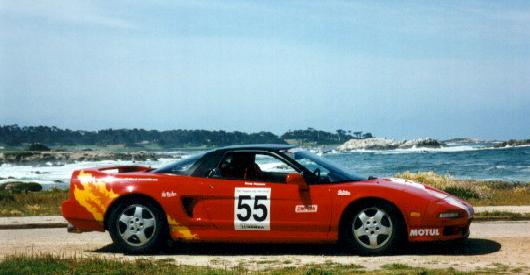 Laguna Seca - A race track that actually has some scenery nearby