NSXPO 1997, Second Creek Raceway, June 8, 1997


"Always Seek an Unfair Advantage"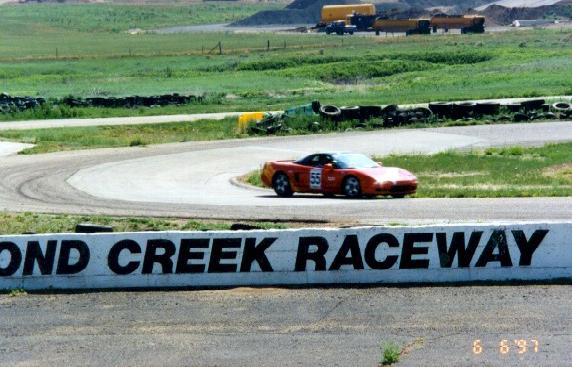 Sneaking on the track for a couple of "practice runs"
In June of 1997, a bunch of us NSXers got together for a convention in Denver. The highlight for me and Wayne, was of course, the track event. (I lost all the URLs to the people who posted info about the entire event, if you got a website about the Denver event, send it to me and I will put it here.)
Harry, Wayne and I were able to "sneak" on the track two days prior to the actual track event. I had my car shipped on the Honda enclosed transport out of Torrance, California, which is about 30 minutes from my house. In the video sequence, I am trying to chase down Bruce on his home track. Unfortunately, however, for the first time in 5.5 years, my car started to overheat. I guess it didn't like the mile high Denver altitude!
Below is my post to the NSX List Server(slightly modified for grammar and truthfulness)
-----Original Message-----
From: Doug Hayashi
Sent: Tuesday, June 10, 1997 12:57 PM
To: 'NSX List'
Cc: 'nsx-socal@ganglion.anes.med.umich.edu'
Subject: *NSX-SOCAL* NSXPO Highlights (Doug's)
NSXPO Highlights(from my slightly warped, long winded perspective)
Thursday, June 5, 3:00 p.m.
Wayne and I make it to the Orange County Airport for our America West Flight. We first fly into the hub in Phoenix, and then are promptly notified that the plane that was supposed to pick us up in Phoenix got hit by lightning somewhere in the Denver area, which pushes us back an hour later. Wayne recently broke up with his girlfriend, so he is even more "outgoing" to any female between the age of 16 to 60 years old, to put it mildly. On the plane, Wayne somehow beats me playing Gin Rummy for $40 bucks, so this puts him in a good mood. Harry Somerfield picks us up at the Airport, and we are one hour late, AND we had to check on baggage since Wayne's 25 cubic foot carryon would not fit in a 15 cubic foot space at the checkout while we were checking in at the airport. I blame Wayne for the baggage problem, he blames me because I told him to pack one big bag as I had three carryon bags for clothes, cameras, radios, computer, etc. 45 minutes later we get our bags. Harry said that the race track is close to the airport, and supposedly the guy lives there on the track. It is about 10 p.m. at night, so we say, "What the heck, let's go knock on his door and see if we can sneak some track time in on Friday." We knock on the door, hoping we don't get shot by some redneck Denverite. Harry talks to him, and finds out that it is an open track day from 9:00 a.m. to 2:00 p.m., and for $100 bucks, we can buzz the NSX around the track. Turns out the guy is really nice, and says, "Yeah, just come by tomorrow, we can probably get ya some track time." But, everyone else is going to be at the vendor event tomorrow, and we don't want to screw up the vendor event by having all the NSX owners come to the track instead. So we decide to …ah…not tell anyone that we have access to the track. Heh..heh..heh…
Friday morning, June 6th
We go to the Mile High Acura Dealer at 7:00 a.m. in the morning to get my car which was transported on the same trailer as three 1997 NSXs from the Honda Headquarters in Torrance, CA. Honda said that the shipping charge would be $1000, which is cheaper that what I could ship it for myself, and hopefully they will my pay part of the bill. :-) Mile High Acura charged me $76 to tech my car, which I think is excessive, but hey, they stored my car(well, stored it outside in the rain), and they used their facilities for the luncheon on Friday afternoon, so you can't complain too much. We pick up my car, and then sneak off to the track. The track is empty, except for one guy in a spec racer doing some testing. Harry alternates taking Wayne and I out in the NSX, showing us what he would use for a line and giving us some pointers. (Hey, if someone co-owns a 1972 March F1 car and laps Laguna Seca in 1:20's with it, you might as well get free personal instruction from them). The three of us agree to "save the tires and brakes" for the main event on Sunday. Harry tells Wayne and I to keep our RPMs limit at 5000 RPMs as we learn the track, and then add 500 RPMs per lap. Being impatient, Wayne and I are at the redline in gears 2 and 3 by the end of the first lap. By the fourth lap or so, aided (hampered?) by the electronic timing device we setup, Wayne and I are screeching tires around turns, smoking the new brakes, etc. So much for saving the car........two hours later, between the three of us, we toast 1/2 of the tread of the rear R1 tires.....but it was pretty damn fun. The Hot Lap timer indicates we are doing mid 1:21's around the track by the end of our short session. No spins or runoffs by any of the three of us.
We leave the track at 11:15 a.m., and arrive at the Mile High Acura around noon, just in time for lunch. Wayne are I are debating whether we should tell anyone that we actually drove on the track, or if we should just keep our mouths shut and blow by everyone on Sunday, as if we can learn the track in one or two laps like the pro racer dudes. Eventually, we come clean, and admit that we did a few "reconnaissance" laps around the track.
The lunch and dinner events were nice and very well organized. There was a Honda R&D woman speaking at the luncheon talking about wanting to get our input on the future improvements for the NSX. I debated whether to get the crowd riled up and start chanting "V-12 V-12 V-12", but decide not to as everyone seems very nice and gracious, and I didn't want to see the poor Honda employees suddenly have 100 NSX owners go from being nice and cordial to screaming lynch mob demanding more horsepower/cylinders for the mythical 1998/1999 NSX model years. Kent Shepley spoke for about 15 minutes, and he said he was real nervous about speaking in front of a crowd, but I though he was the best speaker of the bunch in terms of content, story, and presentation of his material! Kent, start doing infomercials if Honda doesn't give you a raise.
Saturday, June 7th
Nice, leisurely drive through the mountains. It is pretty hard to get a caravan of 40+ NSXes (or 40 of any vehicle for that matter) organized, even with two-way radios, but we did an okay job of making sure no innocent bystanders got killed and no one got thrown in jail.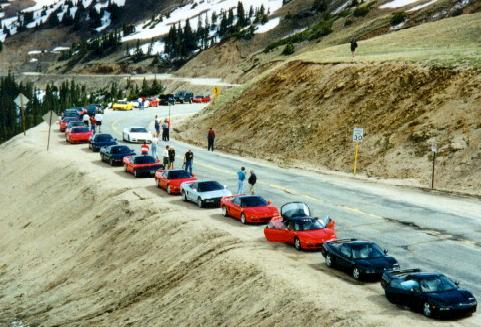 A bunch of NSXs on the Denver mountain drive around
But not by much...... By now, Wayne and I had 25% of the tread left on the R1's, which basically means you have a racing slick with one groove down the middle for rear tires. When it started raining, I had to reduce speeds down to 40 mph to avoid spinning the car when hitting a puddle. RV's were passing me in the rain giving flipping me the bird for going so slow in a car with flames and racing decals on it. For Dinner, another big, fattening meal, and some after dinner awards presented. By now, there is three inches of water on the highway due to rain, so it doesn't look like any racing for us tomorrow.
Sunday Morning, June 8th
Incredible. Bright Sunshine. Everything is dry! We get to the track.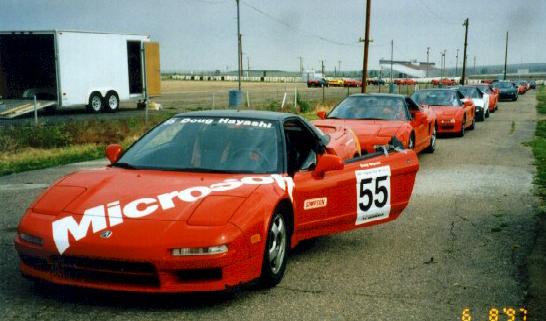 NSXes all lined up to get on the track
I buzz the NSX around for a session, and then let Wayne use it for the next one. Wayne comes back after his session and says, "we got big trouble Doug, we ain't got no rear tires left, I am sliding all over the track". I guess we boneheaded by not saving the tires on Friday. Then it starts to rain, which really means bigger trouble, as the R1s are sliding a lot when the track is DRY, and now we have rain. And no one is going to mistake Wayne or I for Michael Schumacher on a wet racetrack. Fortunately, the NSXPO organizers had in advance convinced George Lugo, High Performance Specialist from Yokohama Tire Corporation, to show up along with 4 guys from Discount Tire with a bunch of A022's for people to buy for the drive home if they burn up their tires, AND they brought two sets of NSX rims with those new A032 road racing tires already mounted for people to try out on their car by simply bolting on these new rims. Wayne and I immediately get in line to test out the new A032's. Wayne takes it out on the track for a session, comes back, and then says, "Doug, you gotta checkout these tires". The rain stops, and the track is now dry. I take the car out on the track, and am immediately within a half a second or so of my times from the day before and I also had a passenger in my car with the A032's. George comes by afterwards and says, "Whattya think", and I tell him I am impressed, and can I run the tires for another session. George, not being a sucker, says that he has to alternate the tires/rims between all the owners that want to try them out, BUT, he does have an extra set of A032's that he can sell to use for $140 each for rears, $132 each for fronts. This is the equivalent of giving a cocaine addict on a deserted island the first snort for free and then saying, "by the way, I got more for you, but it's gonna cost you a little bit.....". Wayne and I consult for about 30 seconds, and then coming running for George begging him to sell us the tires.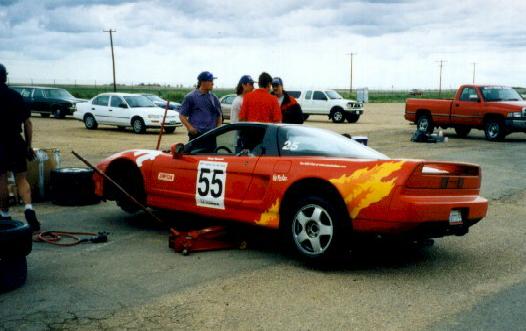 Quick tire change after we burned up our BFG R1 tires
Discount Tire also brought a portable tire-mounting machine, so we are set to continue to hot lap the track. With the new tires, we are running consistent 1:21's, fastest time being 1:21:21. We coulda dropped another second or so, but we then would of taken a chance at going off the track, and this was not a forgiving track where you could spin and be assured of no damage to you car. Instead of taking the fastest line through the hairpin at 1, Wayne and I were having fun throwing the car and screeching the tires around the hairpin at the end of the straight where all the spectators were, as the A032's gave you the ability to have a nice, fairly controlled powerslide. By the end of the day, we were running a couple of tenths faster than the R1's, AND we had a passenger in the car. AND, we have plenty of tread left. I will probably use these new Yoko's at the next track event. (Note: turns out it seems that the Yoko's seem to be about a second slower around the track, in my opinion) Neither Harry nor Wayne nor I spun the car or went off the track(probably a record for Wayne and myself). By the end of the day, I have 99,969 miles on the odometer, so it is only 31 more miles till I hit the 100,000 mile mark!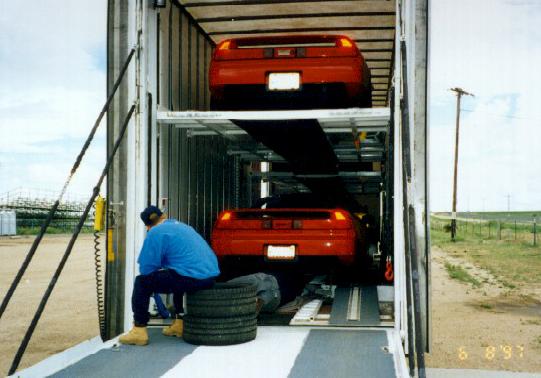 Packing the NSX on the trailer going back to sunny Southern California
Sunday night, on the plane flight home. Wayne takes me for another $60 in Gin Rummy. I can't believe it, I never lose in Gin Rummy.....and I never lose to Wayne....in anything..... :-)
All in all, it was a Great Adventure, a GREAT car geek weekend, a lot of fun, a lot of laughs, a lot of list friends I met for the first time, and it was as memorable a time as the 1995 Virginia City Hill Climb where Wayne and I did the first video tape footage for The NSX-Files Volume 1, where we got the before and after footage of the Ultima that missed turn 7 and went tumbling down the mountain side 400 feet, and Wayne also won $3,000 at the blackjack tables.
Looking forward to it next year. At Laguna Seca. Or Las Vegas. Or anywhere where it doesn't snow, hail, or rain. :-)
The organization by Ken Sax and crew was pretty damn good. Thanks to the NSXPO committee for a great event!